« Saturday Politics Thread: Base Favorites (Gowdy, Carson, Sessions, Lee) [Y-not]
|
Main
|
College Football Thread »
October 04, 2014
Saturday Gardening Thread: Special Guest Appearance by KT [Y-not & WeirdDave]
Autumn!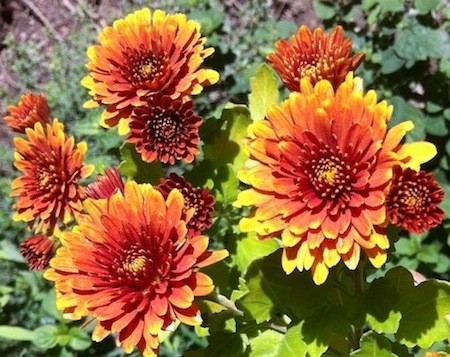 Well, we're in October now and many of us are enjoying the first few weeks of autumn. They are predicting a great fall foliage season this year throughout much of the U.S. thanks to the weather. Incidentally, here's a Fall foliage status map, courtesy of Weather.com.
To put you in the mood, here's a familiar song, "The Autumn Leaves" (or "Les Feuilles Mortes") being sung by the original artist, Yves Montand:
(By the way, did you know that Fall foliage can be seen from space?)
We are fortunate this week to have a guest appearance by moronette "KT" who is going to share her expertise on bulbs. (Think of this as an addendum to WeirdDave's unique take on garden bulbs from a couple of months ago!)
Take it away, KT:

"Already the slim crocus stirs the snow,
And soon you blanched fields will bloom again"
Oscar Wilde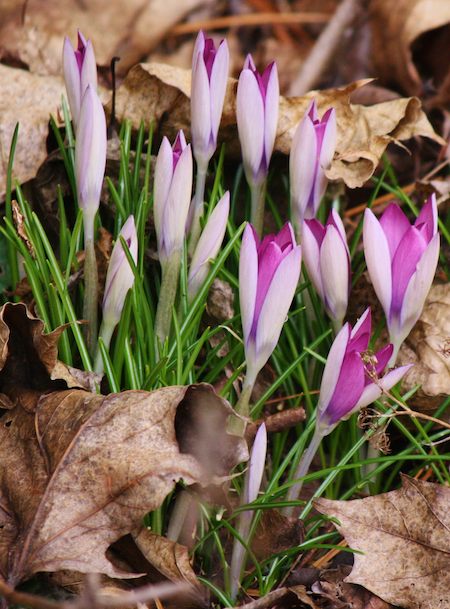 We had some interesting discussion about bulbs a few weeks ago. I have checked, and it seems that daffodils and other narcissi are resistant to gophers and deer. Crocuses - not so much. Daffodils among the day lilies still seems like a good idea to me. And crocuses in the lawn (in cold-winter climates where rodents are not a big problem) are absolutely charming. Crocus tommasianius and its variants are reported to be squirrel-resistant. And deer-resistant. No word on gophers so far.
Here's some information about other bulbs that squirrels don't like. Whether you're naturalizing, planting a few bulbs in a pot or creating a formal display with bulbs covered in chicken wire to keep the squirrels out, it can make a big difference where you buy your stock.
Local Sources
Walmart, Lowe's and Home Depot have had displays of bulbs, tubers, rhizomes, roots and corms out in our area for several weeks now. I try to avoid these as a general rule. Stock often seems small, or dries out rapidly. If you see something great and you kind of know what stock of the same type should look like, go for it.
Some local nurseries may have sources for very good-quality stock of this type. I am more confident in a nursery when I see proper storage and display bulbs, etc. Around here, it's a good sign that a nursery knows what it is doing if tulip bulbs are refrigerated, as most florist-type tulips require a period of chilling in warm-winter climates. It's also a good sign if the nursery seems to concentrate on cultivars known to do well in your climate.
Specialty Companies
There are lots of great little companies (and some not so little) that specialize in certain kinds of bulbs, roots or corms. These companies have often been started by someone who loves the type of plants grown from the bulbs, etc. offered. Consider these specialty companies if you are interested in irises, peonies, day lilies, lilies, dahlias, gladiolus, etc. The good ones will offer growing advice that seems intended to help you succeed. Check out their reviews or check with a gardening friend before you buy. Some of these have been mentioned in comments in previous Saturday Gardening Threads, so it wouldn't hurt to ask again.
Catalogs that may show up in your mail
If you're ready to put in hundreds of bulbs, Van Engelen is a good source. Their paper catalog has no photos, but their online catalog does. Some of those photos are really enticing.
Van Engelen is the wholesale version of John Scheepers Beauty from Bulbs. Their paper catalog has nice photos and good cultural information. I think it's one of the best standard sources for good bulbs. Check out their web specials.
If you order bulbs from them, you're likely to get a copy of John Scheepers Kitchen Garden Seeds. It was started just a few years ago. The comparatively thin paper catalog was styled after a couple of established up-scale New England seed catalogs, with charming line drawings of insects. Recipes were once included, but have now been moved to the website. I get the impression that they hired some experienced folks to help them broaden their product line for the bulb off-season. But they are really bulb people, as far as I am concerned.
But we can discuss seeds in the coming weeks. Back to bulbs: Both of the most prominent bulb "glossies" that I routinely get in the mail, Brecks and Van Bourgondien, seem to have been bought out by or to have merged with Gardens Alive. They seem to have been having some customer issues, according to reviews at Dave's Garden. This kind of thing often happens in association with corporate buyouts.
You also generally want to avoid the deep discounters like the sensationalist, tabloid-style Michigan Bulb Company unless you're desperate or into gambling. I think it's better to buy bulbs from Walmart.
Do you have a favorite source?

Y-not: Thanks, KT!
As it turns out, KT's post about bulbs is very timely because I was looking for help in identifying these flowers that I spotted during my recent visit to the botanic gardens at the University of Utah: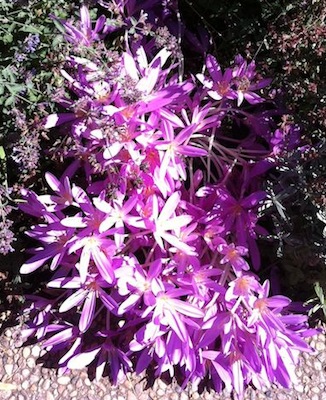 I snapped a picture of them, but I wasn't able to find the identifying marker. They sure seem a lot like crocuses. After a big of searching, I believe they are called "Autumn Crocus," but I'm not sure. The picture at this page sure seems similar. What do you think?

To close things up, here's Yves Montand being interviewed in the '80s. (He talks about making a film with Marilyn Monroe at the 7:30 mark.)
I kind of always had a thing for him.
I enjoyed watching this as it reminded me of a time when David Letterman wasn't a complete asshat and also of the old movie stars, like Montand, who knew how to give an interview.

What's happening in your gardens this week?

******************************************************************
Moron Speedster1, from Southwest Ohio, would like everyone to know about an upcoming Moron Meetup:
Saturday evening, October 18
7:00 - 10:00 PM (may run longer)
Beavercreek, OH 45431
He has set up an email address for more information: swohmome AT mail DOT com


posted by Open Blogger at
10:45 AM
|
Access Comments