« OT Thread - Unified Theory of Politics Edition [WeirdDave]
|
Main
|
Immigration "Activists" Relatively Quiet Right Now, But That Doesn't Mean It's Over [Y-not] »
August 23, 2014
Saturday Gardening Thread: Big Bulbs and Hot Peppers [Y-not and WeirdDave]
Good morning, gardeners! Welcome to your Saturday Gardening Thread. Today's thread is brought to you by the best laid plans: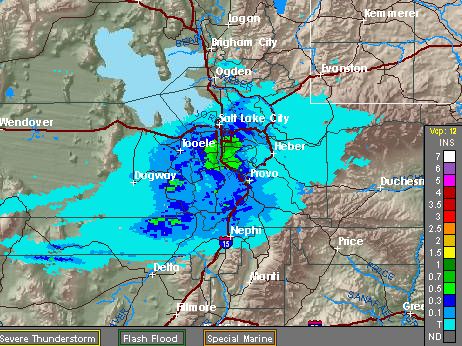 (Yup, I'm thinking we're not going to be dining under the stars tonight, after all...)
Take it away, WeirdDave:

I thought that I'd take a look at bulbs for this weeks thread. I'm a big fan of bulbs, you stick them in the ground and then leave them alone. Each year they bloom and spread, without you having to do any work at all. Talk about living the moron lifestyle! Once they are in the ground, your garden maintenance consists of drinking until you pass out. What could be better?
We're just coming into the correct time of year to plant your spring bulbs. First, sort your bulbs by weight. Put the bulbs that seem full and heavy to the right. These are the bulbs that you'll be planting. All of the other bulbs should be segregated to the left. These bulbs, you'll recognize them because they don't weigh as much, are know as "light" bulbs, and they are used in "light" sockets. Put them aside, you'll be glad you have them at night.
As for the rest, if you're smart and organized, segregate them again by the height of the eventual plants. plant them in the ground with shorter plants in front of taller ones. Of course, if you're not smart and organized, like me, what you have is a shoebox in the garage marked "bulbs" that you've been lugging around since the Truman administration. I'm planning to use a scientifically designed method for sorting them into the ground. This method is called "random". My garden is going to be real interesting next spring.
Anyhow, when planting bulbs, what you want is a hole a little wider around than the bulb, and about as deep as 3 bulbs stacked on top of each other on their sides (IOW 3X the diameter of the bulb). If your soil is dense and compacted, mix in a little sand so that the bulbs are growing in a loose medium. Cover them with an inch or two of mulch, and that's all there is to it. Professional gardeners will tell you to brush back the mulch in the spring as the first shoots poke through the soil to "enhance plant growth". If you've been reading this thread for any length of time, you know that it's about as far from "professional" as you can get and still be on planet Earth. IME (Which isn't much, remember, I've been keeping my bulbs in a shoebox for 60 years), bulbs come up just fine no matter how much mulch there is on top. Brushing back the mulch is simple an invitation for other plants (known as weeds) to join the growing party. I wouldn't bother if I was you.
Finally, if your bulbs come not from the 1940s but from outer space, I'd be real cautious about planting them at all. YMMV.

And now for a brief "Farm Report" from the glorious Wasatch front courtesy of your co-hostess Y-not:
As the picture above shows, we're getting rain. Earlier this month we'd been teased by cloudy days with a little shower or two, but this past week we've had several steady rains and today it's an outright thunderstorm. I've only been here four years, but it seems as though we've gotten more than is usual.
According to Intellicast, it looks like many of you may be getting wet today, too: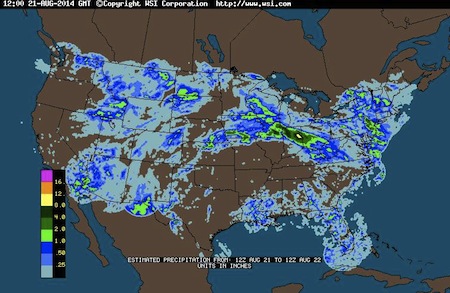 What's the weather been like for you this Summer? Has it made you adjust any of your gardening plans or affected how things are doing this year?
In any event, maybe because of the clouds and rain, my tomatoes are slow to ripen. I've also been unable to weed the flower beds, which are really out of control. But, I did pick a large batch of Padron peppers this week, so I thought it would be nice to devote a little bit of space to peppers.
I tried, unsuccessfully, to do bell peppers last year. The plants did not thrive, nor did the peppers themselves impress. Now it may be that I chose bad varieties or didn't tend to the ones I planted properly, but in the end I decided to devote my fairly modest vegetable bed space to peppers that are hard to find in stores (and expensive to buy on-line). So this year I planted a dozen Padron plants. Next year I plan on adding a lot of Shishito pepper plants, too. I would have this year but I was experimenting with some other veggies this summer (beets and onions) and didn't have the room.
You can see below that the Padrons are going great guns. Also, one of my tomato plants (the one on the right; there are two in that bed) is going insane. (Clearly, I was far too smug about my tomato cages but it may be too late to do anything about it without damaging the plant.)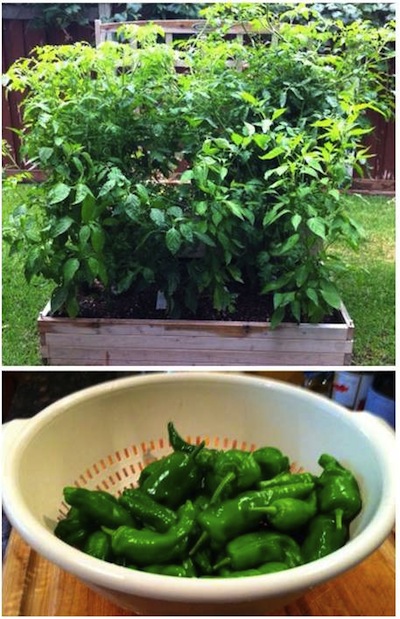 We have a pretty large and very sunny deck, so I've also been growing some peppers in pots. Peppers are so pretty and they seem to do fine in pots, so it was a chance to try some other varieties. I'm excited about my Ancho chili -- but there's only ONE, lol! If I like it, I'll probably put some of those in the beds next year.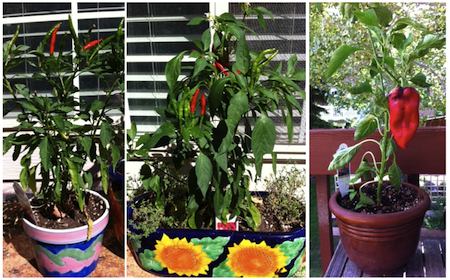 L TO R: Chile de Arbol, Thai Chile, and Ancho Gigantea.
It's shaping up to be a pepper-heavy crop, so I thought it would be good to figure out what to do with them. We've talked about pickling and canning, but what about preserving in oil?
I think I've linked to this blog (Honest Food) before, but I saw a tweet to another post this week that is very timely:
This way of preserving does a number of things. Roasting kills any enzymes in the peppers that might deteriorate them over time, as well as softening and sweetening the peppers -- not to mention getting rid of the indigestible skins. I then dredge the peppers in vinegar to up the acid level and give the peppers more tang. After that I salt them liberally to make things even more stable; salt also adds to the flavor. And finally I cover everything in olive oil to keep air out. Some tips:

* Dry the peppers after washing them, and oil them lightly before grilling or roasting under the broiler.

* Grill them hard, as in blackened. Very few peppers have the thick skin a pimiento does (pimientos are bred to be roasted and peeled, so they have unusually thick skins), and a thin skin can be a bear to peel off unless it is good and charred.

* Steam the roasted peppers for a long time, in a paper bag. Don't use plastic, as it will often melt. And you can wait on this step for up to an hour or so. Nothing quite so fun as to be scalded with nuclear-hot pepper juice when you're trying to peel them.

*Don't wash the peppers once peeled. You want all that pepper juice you can collect, and running the peppers under water will rob you of that. This is the secret to really, really good roasted peppers.

Go to his blog to read the whole thing. In that post, he also discusses how he manages to get pepper plants that are supposed to be "annuals" survive for several years. In any event, I'm going to try this method. I'll let you know how it works out.
More tips about preserving in olive oil here:
OLIVE OIL SOURCE: Preserving Summer Vegetables
CULINATE: Preserving in Oil and Vinegar
MOTHER EARTH NEWS: Preserving in Oil
Inspired by that Honest Food blog post, I also did a little digging into over-wintering chile pepper plants. Here's what one source, The Chile Man, says:
Of the five-domesticated/cultivated capsicum species (Annuum, Chinense, Pubescens, Frutescens & Annuum), Pubescens tend to over winter best in my experience. Their natural climate is the cool upper slopes of the Andes Mountains and they can quite happily tolerate the lower winter temperatures.
Have any of you tried to do this? How did it work for you?
I'm not sure I've heard of the Pubescens pepper plant before, so I did a little investigating:
The Capsicum Pubescens species is quite different from all other domesticated species of peppers and is also the least cultivated and least widespread of them all.

They are identified by their black seeds and hairy leaves (the name component pubescens means hairy). All of the peppers in this species have a distinctive capsaicinoid content, which gives them a flavour and heat that is different from all other peppers. Some of the cultivars are even hotter than the habanero! A significant trait of this species is its ability to withstand and even thrive in temperatures that are lower than the temperatures other pepper plants can handle.
Anyone ever try these things? They look kind of cool -- purple flowers, apparently. Might be worth a try next year.
To wrap things up, here are a couple of songs about Peter Piper's peppers:
And follow this link for audio of Danny Kaye singing about Peter's peppers.

What's happening in YOUR gardens this week?

Please send questions, brags, requests, tips, and large unmarked bills to me on Twitter at moxiemom or to bailesworth AT g m a i l.


posted by Open Blogger at
12:06 PM
|
Access Comments