« Overnight Open Thread (9-15-2014)
|
Main
|
Top Headline Comments 9-16-14 »
September 15, 2014
Tropical Storm Odile (tmi3rd)
Good evening, Morons and Moronettes. As you can tell from the title, we've got some tropical weather to talk about, and this time, it's going to be a problem for the desert southwest, particularly the cities of Phoenix, El Paso, and areas in between. If you're in these areas, you don't need me to tell you you don't need any more rain in that neck of the woods.

More below the fold...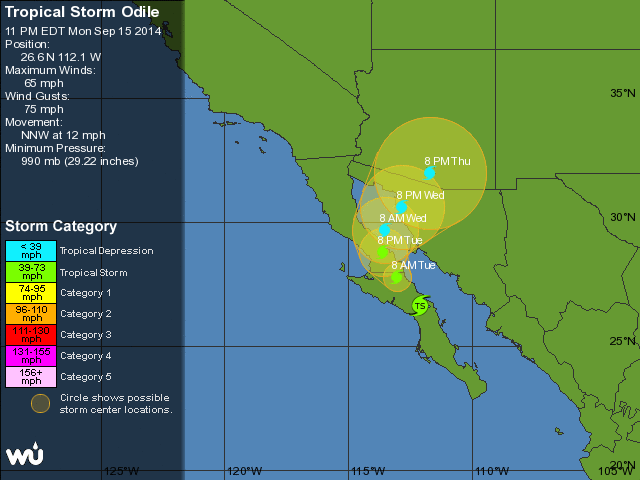 First of all, the good news is that you won't have to deal with hurricane-force or even tropical storm-force winds as this storm reaches the southern border of the US. Tropical cyclones don't like being over land, so they spin down pretty quickly.

The other good news is that it should be going pretty quickly by the time it gets there. Current speed is (as you see) to the NNW at 12 mph, but it should maintain that speed as it turns northeast.

The current thinking is that it's going to interact with a cold front that's going to sweep it off to the northeast at a high rate of speed. Now let's look at the flood advisories and severe weather statements...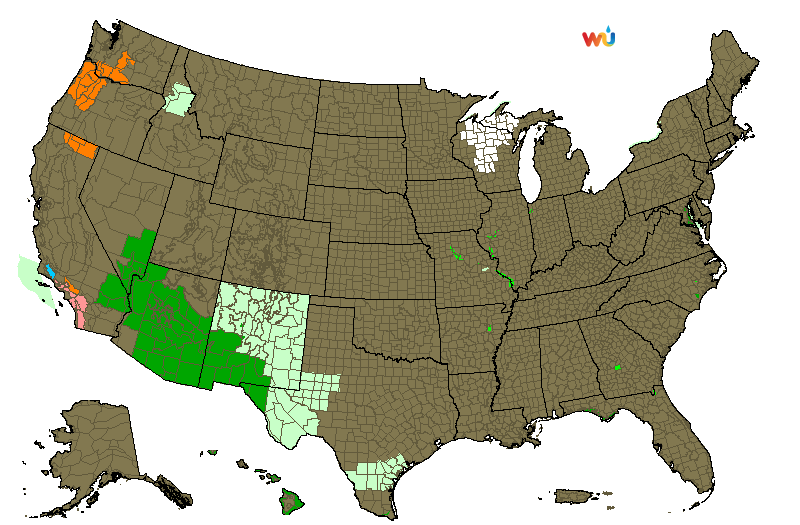 As you can see, Arizona, New Mexico, and west Texas are going to get mighty wet. The thinking right now is three to five inches of rain, and that's going to start tonight as the outer bands of Odile start pushing in. As I mentioned beforehand, you've already had a wet end to the summer, and the timing of this stuff is pretty poor, to say the least.

I know ABSOLUTELY NOTHING about the local rivers and streams, so if you've got hydrology questions, you're going to need to consult your local National Weather Service office's webpage. The only river I ever spent any time around was the Guadeloupe outside of San Antonio, and I saw it come up in one hell of a hurry.

So here's the long and short of it: stay the hell away from floodwaters. Flooding is what kills the most people in any tropical system, and with the way water comes up in the desert, it can sneak up on you with little to no warning.

Don't drive over visibly running water, don't get close to rivers and streams, and you can expect this system to start moving out sometime on Thursday. Flooding should be the only major concern, as the other usual elements of tropical cyclones don't really apply this far inland.

If you've got questions, best bet is to hit me on Twitter. I'll be around. I'll reiterate that I don't know that area of the country well enough to tell you what rivers and streams are going to rise, nor how much they'll come up. Just stay safe!

-tmi3rd

posted by Open Blogger at
11:48 PM
|
Access Comments