« Emergency Last-Minute College Football Thread [Y-not NOT in Texas]
|
Main
|
Obama Announces That He Will Avoid Accountability, Delay Immigration Power Grab Until After The Election »
September 06, 2014
Saturday Gardening Thread: It's Minty Fresh! [Y-not]
Welcome Gardeners!
Today's thread is brought to you by the Doublemint Twins:
(Sorry for the crappy resolution of this clip. I couldn't find a better one.)
Some cool facts about the famous twins here, such as this:
Joan and Jayne Knoerzer were the first set of Doublemint Twins. Billed under their mother's name Boyd, the identical 21-year-old sisters were hired by company president Philip W. Wrigley in 1959.

In a 2011 interview with Chicago Business, Joan explained that Wrigley was adamant his twins be model citizens while peddling his chewing gum. "He wanted to know where the twins lived, did they have a good reputation, and that they didn't dance on tables or get drunk," she explained, "but ironically, we weren't allowed to chew gum in the ads." Her [sic] and her sister starred in more than a dozen commercials over four years and appeared as representatives of the brand at various events across the country."

Eventually, twins were required to chew gum in the ads, but every set of Doublemint ladies was required to learn the proper technique for putting gum into their mouths.
*Imagine for a moment what our friend WeirdDave could do with THAT set up!*
What today's edition of the gardening thread lacks in WeirdDave's quirky humor it makes up for with minty freshness! Yes, today's thread is about all things mint simply because mine is going great guns right now so perhaps yours is, too.
To get us started, how about some historical background about mint:
Its modern name came from the ancient Greeks, who believed that Pluto, ruler of the underworld, had eyes for the lovely young nymph Minthe.

Persephone, the god's jealous wife, became enraged and transformed Minthe into a plant, so that all would be free to trample her. Unable to undo the spell, Pluto gave his now-rooted heartthrob a sweet smell that intensified when she was tread on. The name Minthe eventually evolved into the name of the herb, mint.

The Greek physician Hippocrates armed himself with the Pluto/Minthe story and promptly warned men that eating too much mint caused impotence. On the positive side, the Greeks also gave mint its reputation as the symbol of hospitality.

The popular story is that two hungry strangers were walking through a village and were being ignored. Finally, an old couple with the names Philemon and Baucis offered them food, but first refreshed the table with a swish of mint. Turns out, the strangers were the gods Zeus and Hermes in disguise, and they rewarded their hosts by turning their humble home into a temple.
Mint is a member of a family of flowering plants called Lamiaceae. Here's a bit about their identification:
If you pick a plant with a distinctly square stalk and simple, opposite leaves, then it is very likely a member of the Mint family. Be sure to smell it too, since many species of the family are loaded with aromatic volatile oils.

The rich, spicy quality of these plants makes them useful in cooking, and nearly half the spices in your kitchen come from this one family, including basil, rosemary, lavender, marjoram, germander, thyme, savory, horehound, plus culinary sage (but not sagebrush!), and of course mint, peppermint, and spearmint.

For the beginning botanist, that is all you really need to remember: "square stalks with opposite leaves, and usually aromatic". Worldwide there are about 180 genera in the Mint Family representing some 3500 species. Approximately 50 genera are found in North America.
3500 species... that's a lot of mint! Mr. Y-not and I often joke when we're visiting a botanical garden and looking at the identification tags that most plants are members of the rose, lily, or mint family. Sure seems like that way, anyway!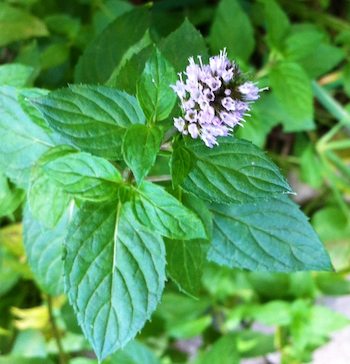 Peppermint in flower
A bit more about the mint family:
Not all members are edible, though. My flower garden has hosted numerous mint relatives: bee balm, lamb's ears, lamium, ajuga, physostegia, coleus, catmint, calamint, bells of Ireland, perovskia, endless salvias and even a few shrubs such as caryopteris. There are thousands more I may never try, such as splitlip hempnettle and San Mateo thornmint.
Which members of the mint family do you have in your garden?

So with that set up, here's a potpourri of mint-related topics starting with, what else?, how to make mint potpourri. This is my abbreviated version of their recipe:

Step 1
Gather mint when buds have formed on the plants, but before they have bloomed. Oils are strongest at this time.

Step 2
Pick the entire stem in early morning after the dew has dried. The oils in herbs are strongest in cool mornings.

Step 3
Rinse the mint in cold water. Dry.

Step 4
Gather four or five stems of mint into a bundle. Tie with twine

Step 5
Put the bundle into a paper bag and secure the top so the bundle of herbs hangs [upside down] inside the bag.

Step 6
Cut or rip holes in the bag to allow air circulation. Hang the bag in a dry, well-ventilated area to dry.

Step 7
Check the mint every three to four days for any signs of mold or mildew.
Mint dries in 10 to 14 days.

Step 8
Remove the leaves from the stem and store in an airtight container in a cool dark location

Step 9
Place dried leaves in open jars or decorative containers to provide fragrance to any room. You can also simmer dried mint leaves in water or put them in a potpourri pot to release fragrance into the room.

I've always found potpourris to be underwhelming as air fresheners, but I DO have a heckuva lot of mint. (As well as a lot of lavender.) Have any of you tried this or similar?
In honor of ace's spider-dog thread yesterday, I bring you Death by Mint Oil (a short article on natural pesticides from a few years ago).
Speaking of mint's uses, here's a short primer on menthol, a compound that occurs naturally in mint.
You science-y types might enjoy poking around the PubChem page for menthol, where you can even load an interactive 3D rendering of its chemical structure.
Did you know...
Menthol stimulates the body's cold receptors, producing a cooling sensation when it is inhaled or applied to the skin. As with the chemical capsaicin found in chili peppers, which stimulates the heat receptors, the compound does not actually change the skin's temperature, but merely produces a feeling of cold. The anesthetic properties of menthol are thought to be due to the fact that it binds to kappa opioid receptors. These are cells found in the brain, spinal cord and neurons; among other things, they help control the perception of pain.

Another important property of this compound is that it can act as a counterirritant, that is, a substance that causes mild irritation or inflammation in one place, distracting attention from pain in another. It also increases the penetration of medications applied to the skin. Menthol suppresses the urge to cough and creates a sensation of increased openness in the nasal passages in people suffering from nasal congestion, although it appears to have no actual decongestant effect.
One thing I love about mint is how wonderfully fragrant it is, especially in the morning or after the rain. My dogs will run through our patch of mint and it's just a delight to enjoy the aroma. It's also so fun how many different types of mint there are. We have peppermint (which has the strongest smell), spearmint (which I prefer for cooking), chocolate mint (how cool is that?), and pineapple. Here's a list of some of the varieties out there:
Here are some of the best varieties to try in your garden. All grow 1- to 3-feet tall and spread unless otherwise noted.

'Apple mint' - This mint has a strong green-apple fragrance and makes a great tea and addition to fruit salad.

'Banana mint' - A low growing (6 inches tall) mint with round, furry leaves, it's not as aggressive as other varieties. Its banana-like flavor is good in tea, ice cream, and cookies.

'Chocolate mint' - A type of peppermint, the dark green leaves have a definite chocolate fragrance combined with the refreshing qualities of peppermint.

'Corsican mint' - This mint only grows 3/4-inch tall with small rounded leaves and a peppermint scent. It needs a cool, moist, shady area to grow, but makes a perfect plant to grow between stepping stones in a walkway.

'Ginger mint' - A colorful green-and-yellow foliaged mint with red stems. It has a spearmint-like fragrance and is good used in fruit salads with melons. It likes a cool, shady place to grow.

'Lavender mint' - This mint features grey-green leaves with purple undersides and a lavender scent. It's good for potpourris.

'Peppermint' - Traditionally used for tea, it has pink flowers and a strong fragrance. It also can be used medicinally. Japanese mint is a version of peppermint with high oil content and the ability to grow in a wide variety of climates.

'Pineapple mint' - A white-and-green variegated leaf mint that is less aggressive than others and beautiful in the landscape. A good variety for potpourris.

'Spearmint' - This traditional variety has been used for centuries in cooking meats, and more recently, to make mint juleps.
Which ones do you like best?
Of course, mint is wonderful in the kitchen. I use it very frequently, especially in Vietnamese bun and both my Mediterranean and Middle Eastern cooking. I thought this article had a lot of nice inspirations for using mint. I think I'll be trying this one:
Typically when you have an abundance of mint in your garden, you also have an abundance of tomatoes you don't want to let rot.

Preserve the tomatoes by roasting them in oil; toss the sliced tomatoes with salt, pepper, and olive oil on a sheet tray, then let them cook in the oven until they're nice and soft and tender, but obviously dry. If you have time, do them overnight at 190 degrees. If you need them quickly, roast them at 400; it's basically the same, just not quite as good. Then sprinkle as much mint as you want, and the result is amazing. The mint softens it out almost into a tomato butter.

I always end up using the preserved tomatoes in harissa. Chop them with roasted peppers and garlic and Champagne and you have that beautiful tomato with the wonderful mint flavor and coriander and cumin coming through, plus heat from the pepper. It all goes back and forth in your mouth in a fun little fighting game.
What are your favorite recipes that use mint?
Finally, because this IS Ace of Spades and we like to PARTY!, here's a list of some cocktails made with mint. This one sounds good:
Minty Cucumber Gin & Tonic

Gardening app Sprout it came up with this combo that uses primarily garden-fresh ingredients: In the bottom of a highball glass, muddle a few fresh mint leaves and some thinly sliced English cucumber.

Fill glass with ice, pour in two ounces of gin (they like Watershed's Bourbon Barrel gin) and top with tonic. "Stir once and garnish with mint and a lime wedge"
In the summer, I like cocktails made with gin, ice, some sort of soda (or tonic) and MINT. 'Not sure if I should denounce myself or not. What do you think?
To close things up, here's Mint Royale (hat tip: Mr. Y-not):
He tells me they're a techno group. I hate techno, but I like this song.

What's happening in YOUR gardens this week?

BTW, I think we'll be doing another Show & Tell thread soon. Send your goodies to me on Twitter at moxiemom or to me geeee ma il account, which is bailesworth.

posted by Open Blogger at
01:31 PM
|
Access Comments