« Weekend Headline Roundup [CBD]
|
Main
|
Fresh Scroll-Friendly Thread: Asleep At The Wheel [Y-not] »
August 02, 2014
Saturday Gardening Thread: Y-not's Mailbag and WeirdDave's Post of Horrors
Good morning, gardeners, and welcome to another Gardening Thread. Today's thread is brought to you by hobbies:
Man uses his nose to push a Brussel sprout up a mountain
And now, let's dump out the contents of Y-not's Mailbag, shall we?

MYSTERY DISEASE
From moronette Barefoot Sue, via Twitter, we have this question for the gardening horde:
Do you know anything about pests in leyland cypress trees? Lots of little white round balls/eggs on some branches.
Here's a photo she provided: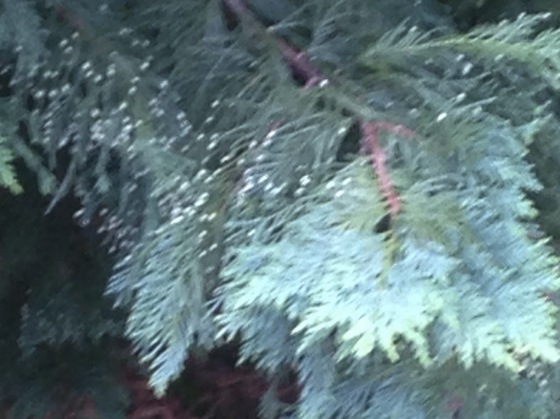 Apparently, when they appeared last year her county extension office kept saying it was bag worms, but she says it's definitely not that.
My quick check found this page on leyland cypress diseases -- none of which resemble that photo. Maybe they are the egg cases of some sort of benign insect? Perhaps there's something helpful at this extension site. Do any of you recognize BarefootSue's pest?

PLANT TRIUMPHS
From IllConsiglieri (aka moron Hrothgar) via Twitter, we have this gorgeous view of a hibiscus: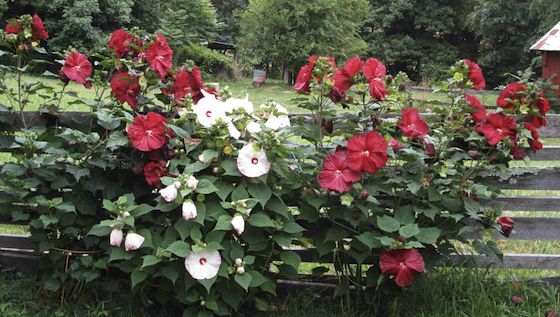 He adds:
These are hibiscus that survived extended cold here in NoVA. Mrs H told me not to give up on them & she was right! I was amazed that "tropical" plants (my view of hibiscus) made it through our winter!
He also has a bougainvellia that he's kept alive by bringing it into a sunny room during the winters.
That got me thinking about those pleasant surprises we occasionally get when a plant that is not "supposed" to survive in your climate, actually thrives.
We have a small olive tree that we moved with us from SoCal. It's kept potted indoors in the winter, but during the warmer months it sits on our front porch. Hrothgar's success with hibiscus is making it tempting to try a few other plants that we grew to love in SoCal but that aren't "supposed" to make it here. I wonder if I could get manzanilla, jasmine, and citrus trees to survive here?
Do any of you have similar success stories?

Also in the Plant Triumphs category, we have this from Gardening Thread regular "moron" Farmer who is in Illinois in Zone 5b: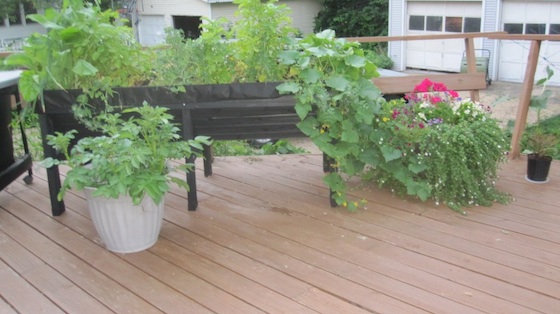 It's my Veg-trug I mentioned a while ago, wife bought it for me for Christmas from Gardener's Supply. It looked a bit better before the July heat, took this 7/20 and some stuff was already starting to die back a bit, like onions and potatoes.
I planted mesclun (varied lettuces), red & yellow onions, peas, cucumbers and Yukon Gold potatoes. I really like it, not only the fact you can garden standing up, but it allows me to garden on the huge deck we have that gets the best sun for this in our backyard. BTW, in front to the left is a pot w/ 2 Yukon Gold potato plants.

And, from GeraldinaWinters, we have this:
Raised bed. In Vegas. Where it's 109 in shade W misters on.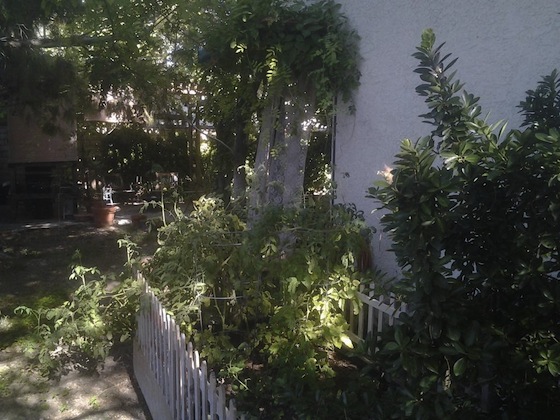 I don't know about you, but I'm mightily impressed by anyone who can grow things on the surface of the Sun!
PLANT TRAGEDIES
From FastFreeFall via Twitter, we have this tragic photo: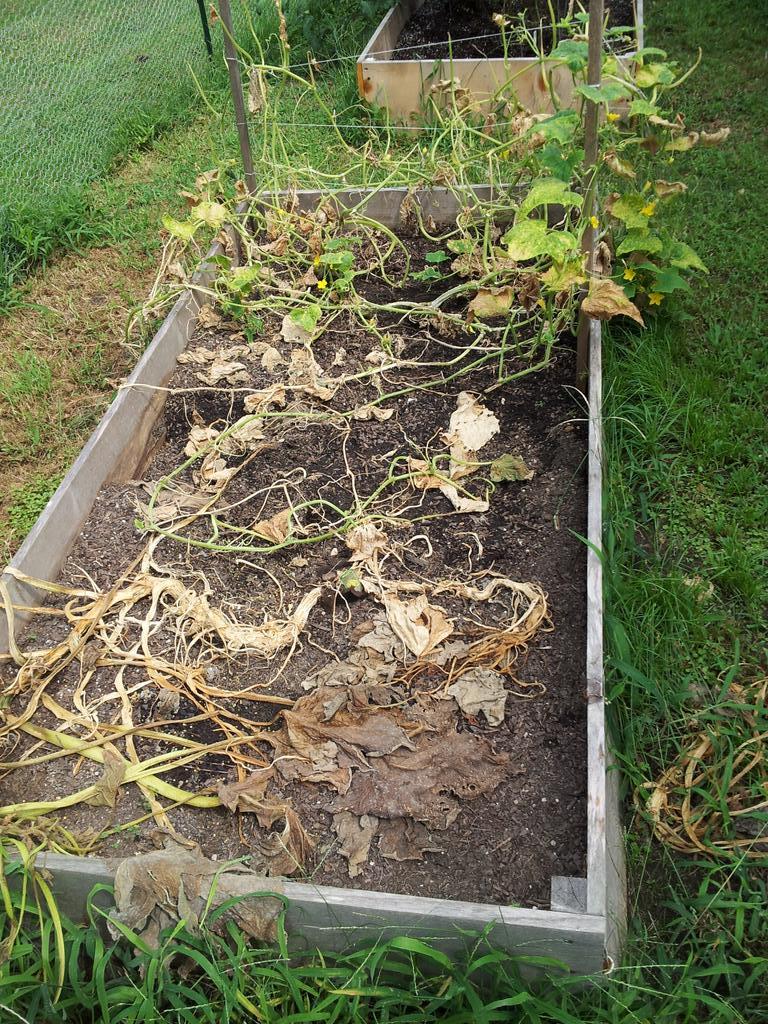 My squash and cucumber plants were devastated by heavy rain while i was away. Rats.
How are all of your gardens faring thus far? IIRC last week one of our morons returned to find his garden decimated by some sort of critter. Any idea of what it was? I had someone digging earlier in the year. I'm pretty sure it was a skunk and am very grateful the dogs never encountered him!

GARDENING PROBLEMS
Not exactly a Tragedy, but under the heading of Problem Areas, several of us seem to be wrestling with weeds invading our flower beds. I had a question from a moron several weeks ago (I think it was tsrblke) about weeds invading his flower bed and I'm also struggling with that in a couple of my beds.
I don't have any magic bullet, just two strategies I've tried that have been at least somewhat successful. One is to plant perennials that spread and hope they'll out-compete the weeds. This seems to be working with a semi-shady bed under some pine trees. After a couple of years, the anemones and wild geraniums we planted seem to be winning the battle versus the weeds. I go in and pull the weeds every three or four weeks. The plants do the rest.
The other is to resign myself to not having tillable soil that is suitable for annuals (because prior owners put down landscape fabric over our clay soil), but to just plunk down pots of interesting plants on top of the mulched bed.
I still have to weed every few weeks (you can see some maple saplings growing in the mulch), but at least I can have the fun and interest of swapping out flowering plants or interesting pots without struggling with in-ground annuals. I suppose if I was really serious about eliminating weeds altogether, I could try swapping out the bark mulch with some sort of rock or gravel which I assume would not support plant growth.
What strategies do you all use?

LOOKING FOR RECOMMENDATIONS
While we're on the topic of weeding, I have some very aggressive weedy grass that grows up between some perennials. They're impossible to pull, so I was thinking it might be easier to use a power trimmer. We don't currently have one, so I'm looking for recommendations.
Features of the one we're thinking of getting:
Battery-operated
Variable power
Automatic feed spool (cutting line)
Relatively light
It would take a lot for me to mess with a gas-powered machine. I guess I'm open to it, but only if the other qualities are so much better than either cordless or corded electrics.
I really don't have an opinion about cutting line versus some sort of blade. My only prior experience was with the line-type, but that was decades ago.
It would be great if it was relatively light and maneuverable because some of the applications I have in mind require me to be able to lift it up to at least waist-high.

USING THOSE SUMMER VEGGIES AND HERBS
Now that many of our gardens are starting to produce, here's a recipe for gazpacho that I made earlier this week. As with most great recipes, it's based on what I had fresh in the kitchen (and garden). In this case, I tossed in some Padron peppers to provide the "heat" (in lieu of tabasco, which many recipes use, or some other type of hot pepper).
In a food processor, finely chop the following:

1 red pepper, peeled (Jacques Pepin does this and I do think it's worth the effort)
6 Padron peppers, core and seeds removed (you could probably substitute 1 poblano or a 1-2 jalapenos)
3/4 large cucumber, seeded but not peeled
1/2 sweet onion
2 cloves of garlic
1 slice of bread (I removed the crusts)

Then add the liquids and process:

15 oz can of diced, peeled tomatoes
1/3 cup of a flavorful vinegar (in my case, I used a "fancy" pomegranate vinegar)
1 small can of V8 vegetable juice (start with this, add more to get the consistency you want)
1 tbsp good olive oil

Taste. Then season/blend with:

1/2 tsp ground coriander
1 tsp cumin seed
1/2 tsp paprika (I used sweet smoky Spanish paprika, aka "the good stuff")
fresh parsley
fresh basil (or whatever herb you like)
salt to taste

Let sit in the fridge for several hours so flavors can blend. Taste and season again just before serving.
I had a bag of avocados from a Costco run, so I topped the soup with chopped avocado, chopped cucumber (peeled, seeded), diced (fresh) tomato, and some more parsley.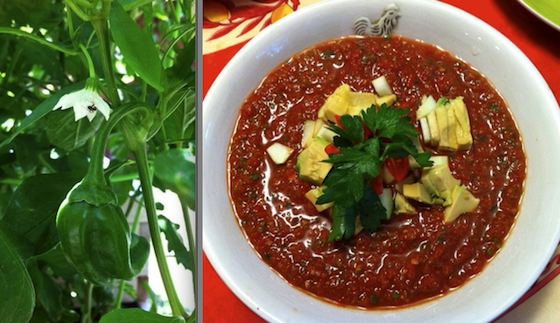 It's been hot around here, so I served the soup with chilled boiled shrimp and crusty bread grilled with oil, cheese, prosciutto, and garlic. You can never have too much garlic.
I recommend a nice bottle of wine, imho either red or white works well with this meal, and listening to some Gipsy Kings:

And now, here's WeirdDave to... uh... "entertain" you:
WeirdDave's Garden Thread BLOODY HELL! Edition
Thanks Y-not, that was great. I hope all of you enjoyed the preceding, and if you have any sense at all you'll take my strong advice and skip right to the comments. That's right, scroll, scroll, scroll down and tell us about your tomatoes or your tomato worms, or weeds or watering or deer. Talk about soil composition, fertilizer and harvest. Talk about anything, but whatever you do, do not click this link.
Ahh, you're back. Trust me, that was loads of fun compared to the real link you shouldn't clink. It's related to gardening, yes, but if you don't understand the concept behind rule 34 (and the link has nothing to do with sex), don't click on the link
You're still clicking, aren't you? I swear, now I know how Grover feels. Go back to that last link and take the test, then seek professional help. Do not participate in the gun thread tomorrow, do not handle sharp objects. Take some lithium. Here, look at this picture of a kitten. He's begging you not to click on any more links.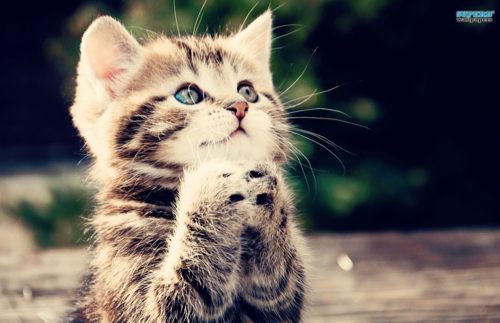 You're bound and determined, aren't you? Fine. We're all adults here (except for the person who wrote the article at the link). You think you can handle the truth? You can't handle the truth. Truth is, there are a lot of sick people out there, and when fetish and ideology rule your life, it distorts your view of everything, even something as simple and wholesome as growing lettuce for a salad. You wanted it, you got it, and trust me, as bad as you might imagine that this link is going to be, it's worse.
OK then, fell better now that you've vomited? I warned you. What utter insanity. It does bring a few questions to mind, however. What's so special about menses? It's just blood. Not that I'm suggesting anything, mind you, but wouldn't just slitting one's wrists over your crop have the same effect? How about if I want to utilize your fully organic method of gardening? I'm an evil cis-gendered male. Would jerking off on my plants have the same effect? Maybe I should stick an apple up my ass, not for fun but to allow it to absorb nutrients. How about pee? I mean, now that we're warping perfectly normal bodily functions into twisted statements of "empowerment", what can we do with pee? We really should find something, it's a fun word to say. Try it. Pee. Pee. PEEEEEEEEEEEE! WHEEEEEEEE! There's gotta be something we can do with pee. Finally, note that the author winds up the article by stating "The fact that I grew something from my body is still exciting to me". Listen sister, use that vagina for it's intended purpose, maybe have some of the parade of hookups you brag about having go bareback, and you'll grow something from your body that's a miracle that shames the Seven Wonders, and you won't have to worry about disposing of a jar of rancid crotch soup (have you even heard of a refrigerator?) afterwards.

Y-not: Ahem. What's happening in your garden?

If you have questions, comments, tips, brags etc to share, send them to my Twitter account at moxiemom or my G Mail account at bailesworth.

posted by Open Blogger at
11:10 AM
|
Access Comments