« Are Republicans Scheming To Get Amnesty Out of Conference?
|
Main
|
Top Headline Comments 7-18-14 »
July 17, 2014
Overnight Open Thread (7-17-2014) - Breaking of the Second Seal Edition
On this day in 1962 the US conducted its last above-ground nuclear test at a test site in Nevada and it was an unusual one - it was a Davy Crockett recoilless rocket system with a tactical nuclear warhead.
After many rehearsals, including a live-fire of an actual warhead suspended three feet above the ground (Test Little Feller II on 7 Jul 62), a Davy Crockett crew fired their weapon at a simulated enemy force 2,852 meters distant. They launched the projectile in front of trench-covered friendlies and - much further back - bleachers full of observers, including such VIPs as Robert F. Kennedy (then Attorney General) and Army Chief of Staff Max Taylor. ...The weapon functioned flawlessly.
And contrary to most reports you read on the web it's blast radius was not larger than its launch radius - it was always meant to be used up close and personal (under 4000m). And with launch authority planned to be given to individual battalion commanders it scared the holy shit out of the Russians - even long after it was withdrawn from service in 1971.
The Special Case That is Matthew Yglesias
He literally doesn't know what he doesn't know. And there's a lot he doesn't know. And he seems unable to learn and determined to stay that way. But then he went to Harvard and his self assurance goes to 11 which is why he's part of the evil 1% and you're not.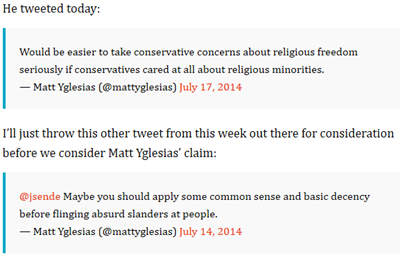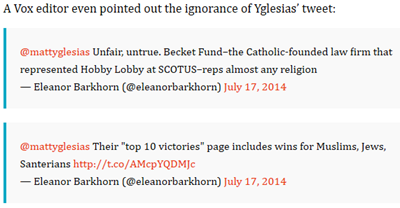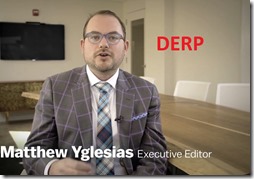 Jonah Goldberg: Is Our Culture More Conservative Than We Think?
Conservatives refuse to celebrate, or even notice, how much of the popular culture is on their side.

Sure, Hollywood is generally very liberal, but America isn't. Judging by their campaign donations, Hollywood liberals are very supportive of abortion rights. But there's a reason why sitcoms since Maude haven't had a lot of storylines about abortion. Indeed, nearly every pregnant TV character treats her unborn child as if it's already a human being.

The Left may be anti-military, but such movies tend to do poorly, which is why we see more pro-military films. Similarly, it's a safe bet that Hollywood liberals loathe guns. But you wouldn't know that by what they produce. Not many action stars save the day by quoting a poem. Most Hollywood liberals probably oppose the death penalty, yet they make lots of movies where the bad guy meets a grisly death to the cheers of the audience. The Left rolls its eyes at "family values," but family values are at the heart of most successful sitcoms and dramas.

One explanation is that while it is true that culture is upstream from politics, reality and, I would argue, morality are upstream from culture. Good stories must align with reality and a sense of justice. They can be set in space or Middle Earth, but if they don't tap into something real about the human condition, they will fail. As Margaret Thostaer used to say, "The facts of life are conservative."
Zinn's A People's History of Tattooine
What if Mos Eisley wasn't really that wretched and it was just Obi Wan being racist again?

The Sand People used to know their place until those Imperial carpetbaggers came here and started putting ideas in their heads.

all I'm saying is that I don't blame the Tusken People for steering clear of the racist, violent and armed old man

Face it - Obi-Wan killed Uncle Owen and Aunt Beru in order to let Luke to sell his speeder for funds to leave the planet.

all I'm saying is that for a place he allegedly hates, Obi Wan sure knows exactly where the best cantina is
Fake TSA Screener Probed Women at SFO
Some men just see a hassle to be endured while other men see....an opportunity.
The allegedly drunk man suspected of posing as a security screener at San Francisco International Airport long enough to direct a couple of women into a private booth for pat-downs has been identified as a private-equity executive with a big-time international resume.

...Law enforcement sources tell us the incident started when Slighton entered the security area wearing khaki pants, a blue polo shirt and blue rubber gloves - an outfit that might have been mistaken for those worn by screeners with the private Covenant security firm.

Slighton, apparently without saying much, steered a woman into one of the private screening booths used to pat down selected passengers, our sources say. What happened inside isn't known, because the woman, who was Asian, soon disappeared to catch an international flight.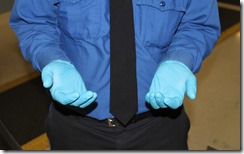 Are:
Female
42 years old
Unmarried
Have a household income under $100,000
Work in a professional position (i.e., as a doctor or a lawyer).
In The Paradox of Declining Female Happiness published by the American Economic Journal, researchers Molly Stevenson and Justin Wolfers found that although women's life circumstances by most objective measures have improved greatly over the past few decades, women's happiness has declined both absolutely and relatively to men.
But but but how can this be since fish don't need bicycles and you can have it all baby!?
The Modern Updated Russian Soldier
Note the new AK-9 rifle chambered in 9x39mm.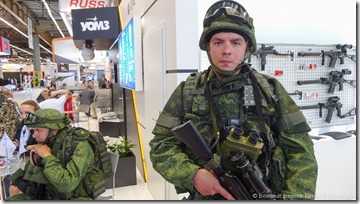 Jesse Ventura's Trial Is Not Going Very Well For Him
You know you might not want to sue a dead man's wife and kids when there are multiple witnesses backing up the story in his autobiography. But then Ventura is not known for his brains or judgment or decency.
Jesse Ventura may have to get his reputation back some other way - his lawsuit against slain hero Chris Kyle's widow and children is not going so well.

Ventura's defamation lawsuit has been playing out in a Minnesota court for a week now as he seeks punish the estate of late "American Sniper" author and former Navy SEAL Chris Kyle. Ventura is suing Kyle's widow Taya and his two children because of the damage done to his reputation by a story Kyle told about him in his autobiography.

Chris Kyle, who served in Iraq and had 160 confirmed kills, making him the deadliest marksman in American military history, mentioned Ventura by name as the  person he punched at a bar popular with Navy SEAL personnel in Coronado while promoting his book American Sniper in 2012. Kyle claims Ventura had been loudly and obnoxiously slamming the Iraq War and the troops who fought it, during a wake for Michael A. Monsoor, a Medal of Honor recipient and Navy SEAL who had been killed in action in Iraq. Kyle, having heard enough,  hauled off and decked Ventura. Allegedly.

Witness after witness came forward Tuesday to claim they heard at least part of Ventura's ranting and saw parts of the fight - although there is a dispute about exactly where it occurred.
Chelsea Clinton Finishes Jury Duty in NYC
Oof - must have been a bad face day. Even allowing for the pregnancy thing.
Yahoo group. That is all.
Come on be a smartie and join the yahoo group party! For the children.
And my lo-fi Twitter spew.
Tonight's post brought to you by modern Israel: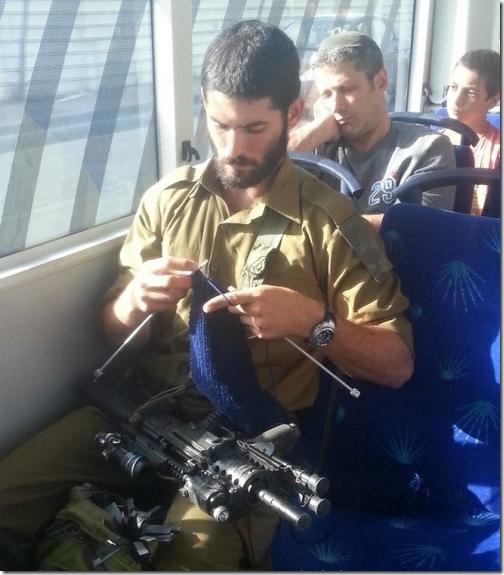 Notice: Posted by permission of CTMafia Inc. Please send offerings to maetenloch at gmail. Otherwise shelter in place. Happy-fun ball will have his revenge. Oh yes.

posted by Maetenloch at
10:34 PM
|
Access Comments