« Saturday Morning Open Thread
|
Main
|
Saturday Morning Gardening Thread: Solo Edition [Y-not] »
April 05, 2014
Is Support for the Death Penalty Dwindling? [Y-not]
For those of you who do not want to talk about gardening, here's some thread-fodder from a report released by the Pew Research Center late last month:
According to a 2013 Pew Research Center survey, 55% of U.S. adults say they favor the death penalty for persons convicted of murder. A significant minority (37%) oppose the practice.

While a majority of U.S. adults still support the death penalty, public opinion in favor of capital punishment has seen a modest decline since November 2011, the last time Pew Research asked the question. In 2011, fully six-in-ten U.S. adults (62%) favored the death penalty for murder convictions, and 31% opposed it.
Per their study and trends data, it appears support for the death penalty waxes and wanes a bit, though the support is always there: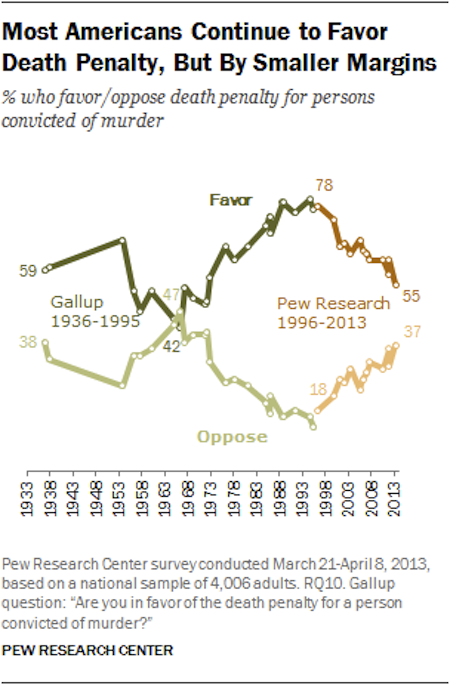 Obviously, some parts of the country are more comfortable with the death penalty than others. Here's a report on the top states in terms of executions published by Policy Mic last year:
On Wednesday, Texas executed its 500th person: Kimberly McCarthy. McCarthy was a former nurse and cocaine addict who stabbed her neighbor to death before robbing her. And while her story is striking, the real shock is that there were 499 people executed before her since the United States resumed the death penalty in 1976, when states began to meet the criteria laid down by the Supreme Court in Furman v. Georgia. In that time, Texas has put more prisoners to death than the next six states combined.
The top ten states were: Texas, Virginia, Oklahoma, Florida, Missouri, Alabama, Georgia, Ohio, North Carolina, and South Carolina.
I think Utah warrants an "honorable mention" for this story from last year:
Five sharpshooters fired bullets through the heart of double murderer Ronnie Lee Gardner on Friday, making him the first U.S. prisoner in 14 years to be executed by firing squad.

Shackled to a chair and with a black hood covering his head, Gardner, 49, was put to death just after midnight in a brightly lit execution chamber at Utah State Prison.

Asked if he had any last words, Gardner, who had been on death row for 25 years, replied: "I do not. No."
'Might want to bear this in mind if you decide to go postal.
(In the interest of full-disclosure, I actually oppose the death penalty. I do not like giving the State that much power over its citizens and the notion runs counter to my belief in the sanctity of human life. It's not a big issue for me in terms of my voting patterns, but I wish society put more serious effort into prison reform and rehabilitation. My dad was a probation officer in D.C. for decades and my sister is one now. That may have contributed to my attitudes on the death penalty.)

Open thread.

posted by Open Blogger at
09:30 AM
|
Access Comments