« Anyone Who Said The Left Would Blame the Flight 370 Disappearance on Global Warming on Day 13, Please Go to the Cashier to Collect Your Winnings
|
Main
|
Gun Thread (3-23-2014) »
March 23, 2014
NASCAR: Race Day In Fontana - [Niedermeyer's Dead Horse]
Today the Sprint Cup Series take it to the two-mile track at Fontana, California for the Auto Club 400.
A newby fan of racing I'm looking forward to seeing a race on a longer track. My initial impression is that I don't care as much for the short tracks, such as Bristol.
Speaking of Bristol, last week's race was another race against the weather with the checkered flag eventually waving Carl Edwards (Roush Fenway team) in as the winner. The race ended under the caution light, an accidental occurrence due to someone bumping into the switch in the flagstand.
I wish I had more for you but I missed most of the race because.... Neil Simon.
Here's where the chase stands thus far. If anyone would like to explain how these scores are calculated, that would be terrific because, frankly, I can't figure it out.

Here's a cute thang for the Moronettes:
And for the Morons, here's Dale Jr.'s main squeeze, Amy Reimann: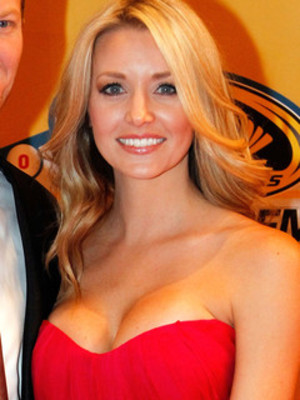 posted by Open Blogger at
02:55 PM
|
Access Comments