« Obamacare cratered the highly educated demographic.
|
Main
|
Top Headline Comments 11-13-13 »
November 12, 2013
Overnight Open Thread (11-12-2013) - Capitalist Running Dog Edition
If you listen to artists, writers, academics and journalists, you would think that thousands of them operate in a radical underground. They say the right things. They 'speak truth to power', 'transgress boundaries', and all the rest of it. But you will have noticed that they are careful only to challenge religions that won't hurt them (Christianity) and governments that won't arrest them (democracies).
And here is where the Great Revolution begins: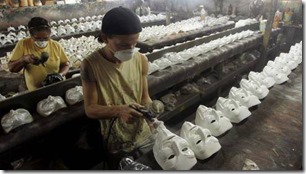 Yes, that's right, the revolution starts here - in some Third World sweatshop!

But, alas, not in the way that Leftists have traditionally fantasized about: the bloody uprising, the cowed elite, the self-appointed and strangely middle-class functionaries of the proletarian dictatorship coldly dispensing "justice."

The workers are busy. They have orders to fill, and there won't be a "revolution" unless the young Western leftists get their silly masks to give them a sense of fake camaraderie and being part of the night.
Today most 'radicals' on the left are merely engaged in dissident role-playing along with a bit of revolutionary cosplay and puppetry.
Useful Term of the Day: Caplanization
Caplanization is the process by which the proponents of a particular policy (in this case unrestricted immigration) argue for it in such a manner than virtually all reasonable people are attracted to the opposite position.
Is Bullying Heading Up the Shark Ramp?
Well it does seem that the usual suspects have glommed onto the anti-bullying bandwagon and are now using the term as just another synonym for 'being offended by someone'.
Case in point: Moms Demand anti-gun activists who claim they were 'bullied' by open-carry activists in Dallas. Here's a picture they released of the open-carriers intimidating and 'bullying' people.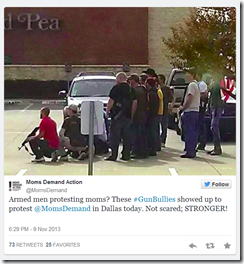 And here's another picture showing the same exact scene as posed for Moms Demand. Bullying content: Zero.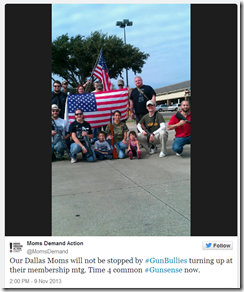 Venezuela Goes Full Banana Republic
President Maduro ordered the government-sanctioned looting of an electronics chain for charging 'too much'.
Thousands of Venezuelans lined up outside the country's equivalent of Best Buy, a chain of electronics stores known as Daka, hoping for a bargain after the socialist government forced the company to charge customers "fair" prices.

.Members of Venezuela's National Guard, some of whom carried assault rifles, kept order at the stores as bargain hunters rushed to get inside.

"I want a Sony plasma television for the house," said Amanda Lisboa, 34, a business administrator, who had waited seven hours already outside one Caracas store. "It's going to be so cheap!"

.The president, who took over from Hugo Chávez in April 2013, appeared on state television Friday calling for the "occupation" of the chain, which employs some 500 staff.

"This is for the good of the nation," Maduro said. "Leave nothing on the shelves, nothing in the warehouses . Let nothing remain in stock!"

.Daka's store managers, according to Maduro, have been arrested and are being held by the country's security services. Neither Daka nor the government responded to requests for comment.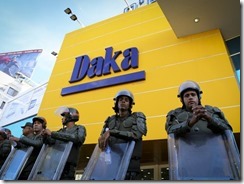 Why France Said 'Non' to the Iran Deal
Because they know from experience that the Israelis mean what they say and will act accordingly; Obama and his feckless advisors not so much.
Though few people remember nowadays, in 1967, Paris occupied much the same position that Washington occupies now with respect to Israel: Not only was France Israel's chief arms supplier and Security Council patron, but it was the only country willing to supply Israel with essential equipment such as fighter jets. Israel's air force fought the Six-Day War with French Mirages; only the following year, in 1968, did America for the first time agree to sell it Phantom jets.

Consequently, Charles de Gaulle had every reason to think that when he spoke, Israel would listen. And the French president's message in 1967 was unequivocal: Under no circumstances must Israel launch a preemptive strike; if it did, it could kiss French patronage goodbye. Israel heard the message loud and clear-and preempted anyway. Facing what it deemed an existential threat, it decided that even the loss of its sole military supplier was the lesser evil.

France knows that today, Israel deems Iran's nuclear program an existential threat. France also knows that Israel would probably risk less by defying the Obama administration than it did by defying France in 1967: De Gaulle severed the military relationship completely, refusing even to deliver planes and gunboats Israel had already paid for, at a time when Israel had no assurance that Washington would fill the gap; today, given Israel's strong support in Congress, a similarly total American arms embargo seems unlikely. As a result, France may understand what Washington seems not to: that utterly disregarding Israel's concerns about Iran could push it to preempt despite its patron's objections, just as it did in 1967.
In fact French help in the 1960s is the main reason that Israel has nuclear weapons.
As pointed out by pixy. In fact just a few weeks ago I used this video as a perfect example of a song just popular enough to appear on MTV a time or two but otherwise stay obscure.
A Modest Proposal For Dealing with the Social Security Insolvency Problem
Spike Lee Getting Sued by the Couple Whose Address He Retweeted as Zimmerman's
On the other hand he already settled and paid off the couple in March 2012 but now they're coming back for even more money. Too bad both can't lose.
Table Saw Kickback Video Ends Badly
Heed this lesson from 'nearly called stubs' Tom.
The average 10 inch table saw blade has an edge traveling at around 103 mph, or 166 kmh. As [Tom] demonstrates in his video, it's just not possible for a person to react fast enough to avoid injury. Please, both personal users and hackerspaces, understand general safety with all the tools you're using, and use proper safety equipment. As for [Tom], he's learned his lesson, and is now using a SawStop Table.
YouTube + Netflix = Half the Internet's Traffic
While file-sharing is less than 10%.
Vagisil: Weapon of the Patriarchy
It's tough being a feminist perpetual victim when you're beset on all sides by hate and misogyny along with oppression by creams and ointments.
What Vagisil does is pretend to be our friend, helping us deal with this smell that's been plaguing our social life; in reality they are manipulating us into thinking we stink in the first place. adding yet another paranoia to the long list carried around by the 21st century woman trying to survive in a system that teaches them to hate themselves.

...I'm not buying Vagisil. Ever.
But it's not like men don't have their own struggles with hygiene advertising...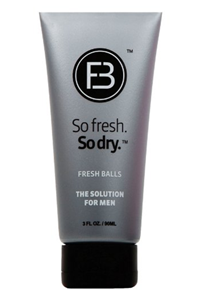 This is one of those disturbing ideas that would never occur in a normal brain - but once you've heard of it, you'll never ever be able to get it out of yours. You have been warned.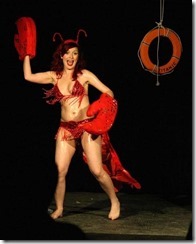 The AoSHQ group. Yeah.
Teh Tweet!
Tonight's post brought to you by Sgt. Spock: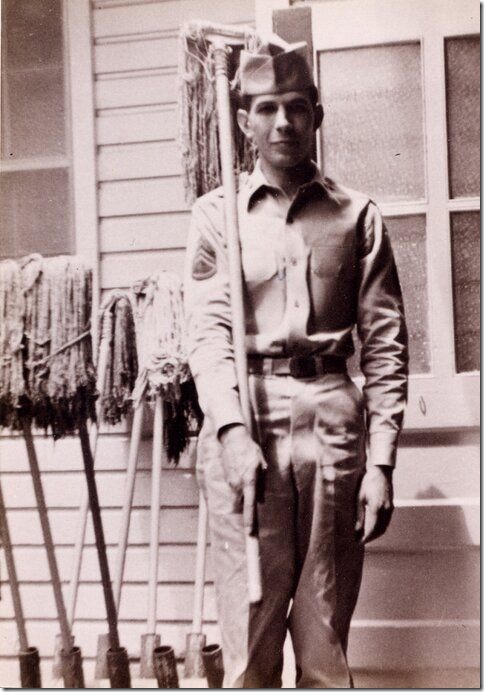 Even if he had never played Spock, Leonard Nimoy would still have been a very interesting man.
Notice: Posted by permission of AceCorp LLC. Please e-mail overnight open thread tips to maetenloch at gmail. Otherwise send tips to Ace.

posted by Maetenloch at
10:28 PM
|
Access Comments