« Open/Political Thread
|
Main
|
Non-Elbow Open Thread [OregonMuse] »
October 20, 2013
Spaced Out Challenge: The Sky's The Limit
[We Politely Request That All Off-Topic or Political Comments Be Directed to the Thread Directly Below This One, Which Will Serve Officially as the Current "Active Conversation" Thread for All Discussions Not Related To This Topic.
-- Sincerely, the Fascist MGMT]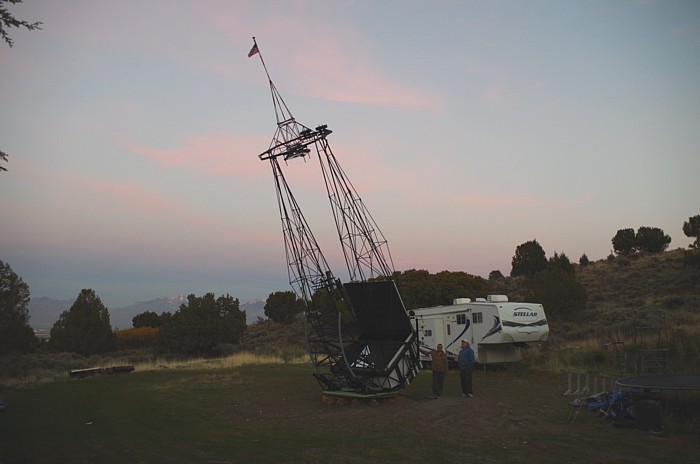 photo by Chuck Hards
Welcome again to the Spaced-Out Challenge. Whether you have a question about a scope, a new astronomical discovery you want to expand on, or just want to kick back and enjoy the cosmos above, come one come all on our weekly journey through space and time.
The monstrous creation you see above is the work of amateur Mike Clements. His creation has shattered the previous record for an amateur telescope (Jimi Lowrey's 48" beast Barbarella) by almost two feet with a seventy-inch primary mirror. Even more impressive is the story behind it:

Clements began began building a steel structure to house the mirror in 2012. He did it without formal training in telescope construction or welding and without any blueprints.

"He's got nothing on paper," said Clements' friend, Steve Dodds. "He did make a model out of popsicle sticks."

Clements finished the telescope and in late September, he said he put a reflective coating on the mirror with a weed sprayer.

"It was grass roots from beginning to the end," he said.
If you are imagining the view through such a colossal scope, Clements intends to take his 900 pound, school bus-sized "go-to" scope across the country, so keep a look out for a four story steel tube at your local star party.
With a full moon out, focusing on any deep space object seems a bit silly. So this week's discussion isn't going to focus on any target in the sky, but rather what drives us to appreciate the wonders above.
I'm blown away by Clements' creation, mostly with his dedication and ingenuity. Since he didn't have professional counterweights, he has attached a series of barbells off the frame. Nine hollow tubes make quick work of guiding the scope to the general area he or any other observer wants to focus on. Folding the optics with an additional mirror drops the observer's position from nearly four stories off the ground to just twenty feet. I mean, the guy used friggin' Popsicle sticks to design it.
Part of his obsession I'm sure came from wanting to have the biggest, and he's got that without any competition in sight, but I know that unyielding yearning that really drove him. The call of the stars has been with us since we were shivering in caves. Observing them was vital to all of our earliest societies. Without the sun, moon, and stars, we would have had no effective large-scale agriculture. No agriculture, no civilization. No civilization, no us in any conceivable modern sense.
Beyond the "cornerstone of civilization" element, there's something deeper behind our modern sense of awe at the universe that lay up and outwards. We are a part of something so mind-blowingly vast, so frighteningly violent yet simultaneously beautiful (see the Crab or Veil Nebula), so chaotic yet organized (see the Andromeda and Sombrero Galaxies), so incredibly foreign yet so near (see the moon), we often feel overwhelmed. Dwarfed. Insignificant.
But we are Creation made conscious. We're made of the same stuff that we eyeball, image, or peak through our scopes and binoculars at, with the very significant differences of awareness, observation, appreciation, and sense of connection. The sky is something we can all enjoy, for our own reasons. So for followers of the Spaced Out Challenge, what do you get out of looking up?
****
Again, with Christmas and Comet ISON both around the corner, it's never been a better time to get a telescope. The Beginner's Buyer's Guide can be found in the master index of all Spaced-Out Challenge threads here, but of course you can always inquire about binoculars, telescopes, and all the rest in the comments. As always, if you have astrophotography, product recommendations, or astronomy news you'd like to see on a future Spaced-Out Challenge, email me at theonandonlyfinn (at) gmail.com. Until next week, clear skies and keep looking up!

posted by CAC at
06:37 PM
|
Access Comments