« Monday Night Football Thread
|
Main
|
Top Headline Comments 10-8-13 »
October 07, 2013
Overnight Open Thread (10-7-2013) - Guaranteed to be an Ace-Free Zone
The Six Most Important Things You'll Learn At Racing School
Some of these tips I've stumbled onto on my own just through going faster than I ought to have been in various cars over the years but a couple were new to me. And kinda obviously good ideas once you think about them for a bit.
1. Imagine a string tied from your steering wheel to your gas pedal.

This is one of the most fundamental pieces of advice I got about driving fast, and it seems obvious once you hear it, but thinking about it while driving makes a big difference. Essentially, what this business of strings tied to gas pedals means is that you can only really go fast when your wheel is straight. If the wheel is cranked far in one direction or the other, your string will be tight on the gas pedal, and you can't push it much. When the wheel is straight, there's plenty of slack, so you can stomp that gas.

Lots of gas with your wheel cranked will usually just get you in trouble. So, you let up in the turns, and bury it in the straights. As you're driving, keep imagining that string, and you'll be surprised how much easier it is to adjust your throttle to what your car is actually doing.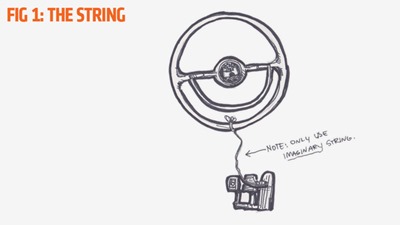 But of course for driving lessons more attuned to your everyday lifestyle I will point you to PJ O'Rourke's classic educational work, "How to Drive Fast on Drugs While Getting Your Wing-Wang Squeezed and Not Spill Your Drink".
Comments of the Day
53 We've got two factions in this country: The Drama Club, and the Business Club. The Business Club wants to help out deserving needy people, but they want to run the numbers first to see if it doesn't bankrupt everybody, waste a lot of tax dough to no effect, or just siphon money to connected elites. The Drama Club just feels that everybody needs health care, or whatever need everybody is talking about this week, and that if you wish hard enough it will magically happen and everything will be just so super-awesome!! Needless to say, the Drama Club has been running things for the last 5 or 6 years.........

Posted by: Sort-of-Mad Max at October 07, 2013 05:23 PM (DLu2s)
193 ...
A lot of people think of the government as an endless supply of money, and "Conservatives" are assholes that want to keep people from getting it.

Posted by: Diogenes' Lamp at October 07, 2013 05:39 PM (bb5+k)
Jerry Brown Signs Law Repealing California's Retroactive Business Tax
A little island of sanity in cuckoo land.
In 1993, California created the Qualified Small Business Stock (QSBS) incentive. The QSBS program encouraged founders and early-stage investors to start, grow, and keep businesses in California by offering a 50 percent personal tax exclusion on capital gains if the company was ultimately acquired. Nineteen years later, in August 2012, a California appellate court ruled one of the California-centric provisions unconstitutional. The Franchise Tax Board responded in December 2012 not only by cancelling the entire program but also revoking it retroactively back to 2008. Suddenly, without warning, 2,500 California start-up founders-me included-were personally on the hook for over $120 million in 5-years of retroactive taxes, interest, and penalties.
Vaclav Havel and the Poster Test
"The manager of a fruit-and-vegetable shop places in his window, among the onions and carrots, the slogan: "Workers of the world, unite!"

"Why does he do it? What is he trying to communicate to the world? Is he genuinely enthusiastic about the idea of unity among the workers of the world? Is his enthusiasm so great that he feels an irrepressible impulse to acquaint the public with his ideals? Has he really given more than a moment's thought to how such a unification might occur and what it would mean?
Let us take note: if the greengrocer had been instructed to display the slogan "I am afraid and therefore unquestioningly obedient; he would not be nearly as indifferent to its semantics, even though the statement would reflect the truth. The greengrocer would be embarrassed and ashamed to put such an unequivocal statement of his own degradation in the shop window, and quite naturally so, for he is a human being and thus has a sense of his own dignity. To overcome this complication, his expression of loyalty must take the form of a sign which, at least on its textual surface, indicates a level of disinterested conviction. It must allow the greengrocer to say, "What's wrong with the workers of the world uniting?" Thus the sign helps the greengrocer to conceal from himself the low foundations of his obedience, at the same time concealing the low foundations of power. It hides them behind the faηade of something high. And that something is ideology.
From Havel's 1978 essay 'The Power of the Powerless'.  Have you stopped to think what the signs on display in your own office or store are really saying?
Meet Mr. Benjamin 2013.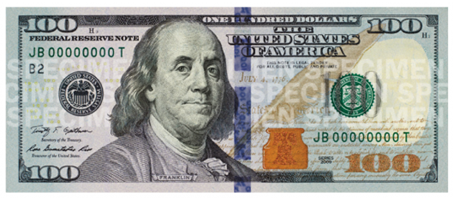 Puny humans - the Earth will always win.
I know..it's very disheartening to realize that all of the carbon emission savings you have accomplished while suffering the inconvenience and expense of driving Prius hybrids, buying fabric grocery bags, sitting up till midnight to finish your kids'  "The Green Revolution" science project, throwing out all of your non-green cleaning supplies, using only two squares of toilet paper, putting a brick in your toilet tank reservoir, selling your SUV and speedboat, vacationing at home instead of abroad, nearly getting hit every day on your bicycle, replacing all of your 50 cent light bulbs with $10.00 light bulbs...well, all of those things you have done have all gone down the tubes in just four days.

The volcanic ash emitted into the Earth's atmosphere in just four days - yes, FOUR DAYS - by that volcano in Iceland has totally erased every single effort you have made to reduce the evil beast, carbon.   And there are around 200 active volcanoes on the planet spewing out this crud at any one time - EVERY DAY.

I don't really want to rain on your parade too much, but I should mention that when the volcano Mt. Pinatubo erupted in the Philippines in 1991, it spewed out more greenhouse gases into the atmosphere than the entire human race had emitted in all its years on earth.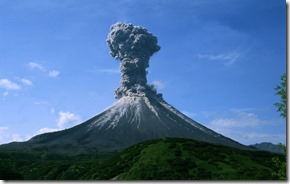 Cracked's View of the Future From 1983
Well they got some details dead on and others dead wrong. This predicting the future thing is really hard (unless you've got a time machine like a certain Ewok does).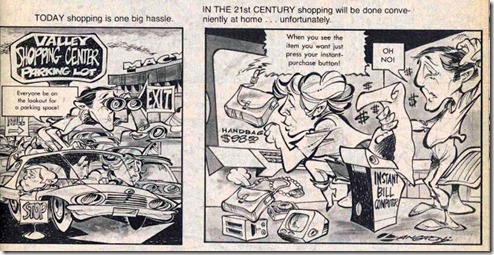 Well as much as I enjoy a good machete in hand the Swiss Army classic or a Leatherman are probably the most practical overall.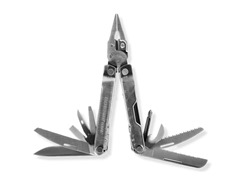 The Yahoo AoSHQ group. Bla bla bla.
And my twitter thang.
Tonight's post brought to you by the final assault: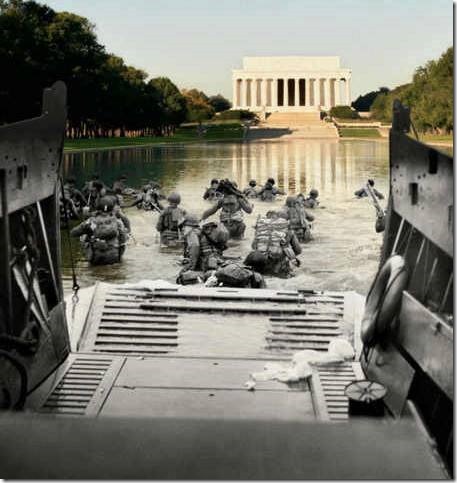 Notice: Posted by permission of AceCorp LLC. Please e-mail overnight open thread tips to maetenloch at gmail. Otherwise send tips to Ace.

posted by Maetenloch at
10:27 PM
|
Access Comments