« Bubble Boys: Most Republicans Vote For Cloture, Joining 100% United Democratic Caucus
|
Main
|
Topless Feminist Protestor Storms/Disrupts Fashion Catwalk; British Model Punches Her In The Face »
September 27, 2013
Now They Tell Us: New York Times Editorial Announces It Was A Mistake to Take the Mann Hockey Stick "Seriously"
You may wonder why such a statement would be made in the New York Times.
Well, not because they're giving up on the Cult of Angry Gaia. No. What's happened is that given the 15 year long hiatus in temperature change, certain proofs that the Science Is Settled You Guys have to be tossed out in order to save the rest of it.
In the editorial, the author argues that the Hockey Stick was always silly and therefore we shouldn't be misled by reliance upon it. The Hockey Stick showed, and projected, ever-rising global temperatures; well that was just plain ol' silly, this writer now says, and you shouldn't hold it against Global Warming that one of their most widely publicized Political Advertisements turns out to have been bunk.
You should still totes believe in Global Warming. Just don't put any stock in that silly Hockey Stick graph that was used to sell Global Warming for the past, what, 30 years?
See, if you ignore that Hockey Stick, and accept, as the writer (now he tells us) announces, that the Hockey Stick always had " too much certainty and inappropriate simplicity," and just accept that Global Warming might be much more variable and unpredictable than previously claimed, then you can accept the truth that it's Totally Predictable and We're All Going to Die So Just Believe Us Please.
The writer claims he "predicted" the 15 year pause in temperature increase:
"Suppose... future measurements in the years 2005-2015 show a clear and distinct global cooling trend. (It could happen.) If we mistakenly took the hockey stick seriously — that is, if we believed that natural fluctuations in climate are small — then we might conclude (mistakenly) that the cooling could not be just a random fluctuation on top of a long-term warming trend, since according to the hockey stick, such fluctuations are negligible. And that might lead in turn to the mistaken conclusion that global warming predictions are a lot of hooey. If, on the other hand, we reject the hockey stick, and recognize that natural fluctuations can be large, then we will not be misled by a few years of random cooling."
A few years of random cooling = a fifteen year pause?
He then admits he predicted nothing:
O.K., I didn't actually predict a pause in the warming but a possible period of cooling. But that's close enough.
Um, no it's not. All you "predicted" was that overly confident cocksure predictions might blow up in the predictor's face (especially if they're based on bullshit!), which any number of charlatans and Astrologers throughout history could have told you.
That's why they write Astrological Forecasts vaguely.
Apparently a Scientific Prediction now consists of:
(It could happen.)
And also of conflating a "few years of random cooling" with "a sustained decade-and-a-half of no warming at all."
We are now in that pause...
The pause he didn't predict but is still implying he did, by calling it "that pause," the one I predicted.
No you didn't. You admitted that, briefly, then went right back to asserting what you'd already conceded as false.
...and too many people are taking it too seriously[.]
Ahem. I think too many people are taking your Finagler's Constant nonsense seriously, including yourself.
The guy wants credit for a prediction he never made.
"Science."

I don't know what to say.
Speaking of 2004 Predictions... In early 2004, a foul-mouthed time-traveling Baloney sandwich named Johnny Coldcuts predicted a 4-0 Red Sox World Series sweep.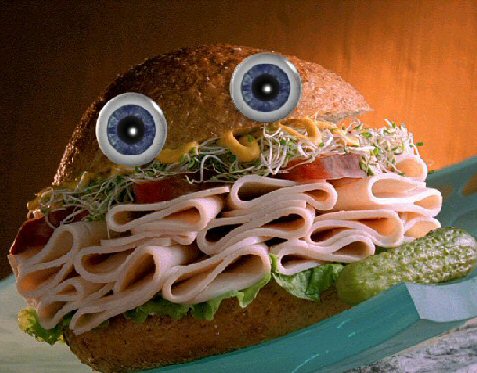 No seriously I -- through my alter ego of Johnny Coldcuts -- actually predicted that.
I used "Science."
Which, in some cases, looks very much like a silly guess.
The New Science of Global Warming: Flatbush Joe writes:
NYT Science: Sometimes Global Warming Takes A Pause

Also, Every so often, the universe decides to take a moderate siesta. Instead of tossing you impossible to hit curve and knuckle balls -- in the form of deeply challenging alignments -- suddenly you are given a break to either relax or take a couple of giant leaps forward. The key vibration in the early going today revolves around a grand triangle in water signs where the Moon in Cancer trines Saturn in Scorpio (7:57AM) as well as Chiron in Pisces (9:22AM). Saturn is the ruling planet of chronological time while Chiron is in charge of synchronistic time. When both Saturn and Chiron have a resonance with -- potentially on this day when the Moon is linking up to both of them -- then strange forces can be unleashed that propel you into a fifth dimension often known as the twilight zone. Thus, be on the lookout for oddities, quirky conditions, twists of fate, omens, enigmas, and maverick figures that may hold essential clues to what directions to follow right now.

Trust Science, [Mofos]!
There's a good explanation for this form of "Science" -- Barnum Statements.
RiverC. explains it in a different way.
retcon

This is a retcon. Retconning is where you go back and change things as if they always were that way, and claim that they always were that way, even and despite contrary evidence.

Yes, like when you announce that a character on a show has a long-lost presumed-dead brother despite having already announced he was an Only Child.
Frasier Crane was claimed to be an only child on Cheers, before it was retconned that he had a brother named Niles for the Frasier show.
And we're not supposed to notice this backfilling and retconning is Slightly at odds with their previous claims that they had it All Worked Out Down To the Tiniest Details, Yo.

posted by Ace at
03:14 PM
|
Access Comments