« Global warming? No, actually we're cooling, claim scientists
|
Main
|
Anti-War Protest in Hollywood »
September 08, 2013
Spaced-Out Challenge: Beginner Tips, A PSA, & the Venus Moon
Greetings again and welcome to the Spaced-Out Challenge, the weekly astronomy post here at Ace of Spades. Last week's edition offered some great tips for those living under urban lights, and this week we will focus on a few more tips to help you on your first night observing.
But before that, a public service rant. Ace's tale of woe over Kaboom cereal reminded me of something truly depressing from my own childhood. His daily discouragement came from a breakfast cereal, whereas mine came from a horror that can only be described as a red tube of pain. Sure, the cheap red plastic toy for the "budding astronomer" may not seem so awful, but read on.
When I got my little red Tasco back in 1993, I was so pumped. Saturn was up, the moon high, and I was finally going to see the universe (or at least more of it as my father forbade anyone from touching his 8" SCT at that time). Setting it up on it's tripod, I was a little worried about it's shakiness, but my excitement couldn't be stalled. I had to see the rings of Saturn. I knew exactly where to look, so I set up the scope, aimed at the ringed planet, and this, roughly, is what I saw: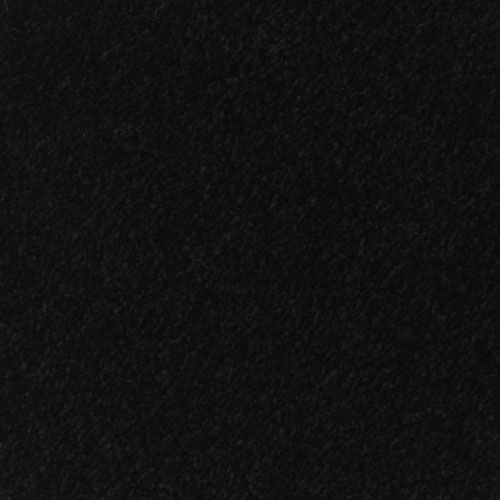 Nothingness. Absolute nothingness. The same went for the moon and every star I attempted to aim at. Heartbroken doesn't begin to describe the sensation. I loved astronomy and all things space. I had books on the night sky, books on the planets, I watched every space show that used to air on The Learning Channel, and had read
Cosmos
cover to cover. But that disappointment? That absolute, unavoidable failure? Coupled with my dad's misaligned telescope that also failed to work at the time of my "inheriting" it, my once explosive interest imploded, I doubled-down on art, and we all know how well that turned out. I didn't look through another telescope for a decade. Now, said horror has returned to destroy a whole new generation.
You may have spotted these lately at CVS: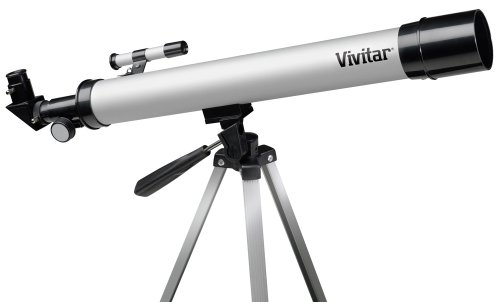 Vivitar's Aluminum Tube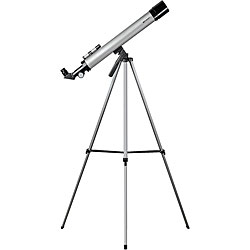 Emerson's Godless Monster
I have no beef with Vivitar or Emerson selling these as a toy. That's because they ARE toys. That these are sold as "telescopes" on Amazon is shameful, because there are those who actually bought one of these believing they were encouraging their kid with an aluminum pipe and a doll's eye. Whereas many amazon reviews are silly, sometimes petty, and often totally unrelated to the product sold, there are plenty for these two monstrosities that lay out
just how God-awful this garbage is
:
Even if you want to buy it for a kid, don't. They will never use a telescope again. You do not want their first experience to be so bad. It is cheaper to take them to a local observatory; you will find a lot of hobbyists with their own instruments. They will be more than happy to demonstrate for free.
I can imagine the sweet thoughts of a well-meaning grandmother while shaking my head and shivering at the anguish they are unintentionally unleashing. Please don't do this to the kids. Don't shatter their dreams and crush their curiosity with something that makes the horrific Tascos of the late 80s/early 90s (my childhood hell) seem usable. Instead of destroying your child or grandchild's passion, make it thrive with a great little bargain: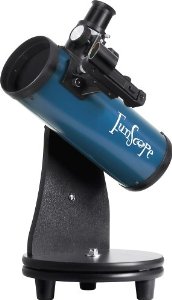 The Orion 76mm FunScope
At just $56
, it offers a better image than department store scopes costing 3x as much (whilst falsly advertising OMGZ675XPOWAH), comes with two eyepieces, and can be adapted to mount on virtually any camera tripod for non-tabletop viewing. It's lightweight and dobsonian mount makes it ideal for your grade-school astronomer. Nice views of the moon, Jupiter's moons, the Orion Nebula and the Seven Sisters are easily within your kid or grandkid's fingertips. After a go with it, you may consider one of the fine beginner scopes mentioned in the buyer guide, but for now, this will go a great way, and won't leave your child quietly concocting their revenge fifty years and a rest home decision later. If you are looking for a family scope, I'd still go with the XT8 mentioned in the buyer guide (see Spaced-Out Index at the end of this post), but for a kid? You can't beat it.
Don't take my bashing of department and drugstore astronomical instruments as all-encompassing, though. The 1960s and 1970s saw the beautiful Sears refractor which in today's dollars sold for $1000 and for it's time offered great optics, a great mount, and launched a thousand careers: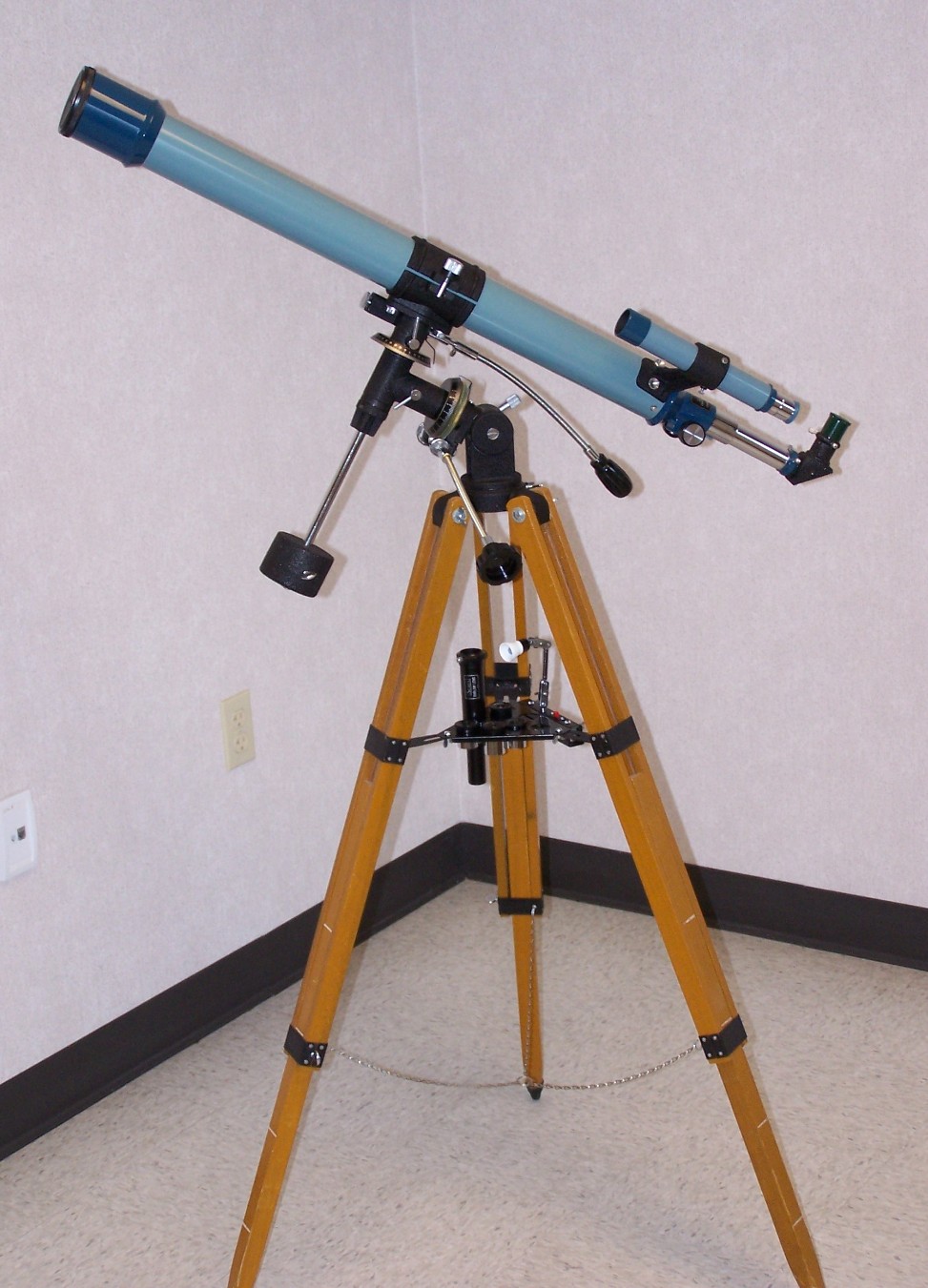 vintage Sears Discoverer refractor
Costco sold the Celestron NexStar C102 refractor for a steal ($200) just two years ago. JCPenney carried the first mass-produced dobsonian telescopes in the 1990s. There are some great buys out there, but there are some real stinkers too, so always research before you buy.
This public service rant and solid recommendation out of the way, let's move forward with some tips for your first observation session.
Check your instrument before you use it
This may sound incredibly obvious, but you've probably never driven 50 miles before realizing you had disconnected your finderscope back at the house.
Maximize your darkness, regardless where you live
To expand off last week's ideas on light shields and goggles, even from a dark site, distractions arise. A sensored porch light you could have turned off. Driving another 500 feet to the darker end of a parking lot. Shielding your labtop. Sporting your astro-goggles from the start of set-up. Planning your session involves controlling your environment as best you can to minimize interruptions and distractions.
Plan out a list of objects you aim to see, with a range of difficulty
For beginners, a few easy targets (bright planets, setting moon, the Orion Nebula) mixed with a few challenging ones will give you a nice observation session. Too many easy targets may leave you bored, and too many difficult ones will leave you just frustrated. Don't expect to see the Eskimo Nebula your first night out, which brings me to my last big tip.
Avoid Grand Expectations. Instead, Build Grand Moments.
Amateur astronomy is incredibly rewarding. I find inspiration in knowing that faint blob that wandered into my eyepiece is millions or even billions of light years distant, it's light just now striking my eye. If you are expecting Hubble, you will be sorely disappointed. Our eyes, with patience and time, can see incredible structure and beauty in space. Color can be detected in many planetary nebulae and some emission ones. The space telescope, and large ground-based equipment, generates images that often us a false-color schematic. We won't see objects in the same way because of this manipulation. As your experience grows, you will notice details you may have never spotted before in even the largest, brightest targets. It took me years to catch the Pillars, despite observing the Eagle Nebula dozens of times. Leave yourself open to what your equipment can reveal. Buy additional eyepieces and filters along the way to enhance your views.
But for your first time, expect to see absolutely nothing. Assume your instrument is faulty, eyes not adjusted, the sky will be unstable. So when you peer through your eyepiece for the first time and see the rings of Saturn, the moons of Jupiter, the craters on the moon, the star nursery of Orion, the Pleiades, or a comet, you will never forget it.
***
The Venus-Moon Hookup
Tonight after sunset, take a walk outside and enjoy a fine pairing of celestial wonders: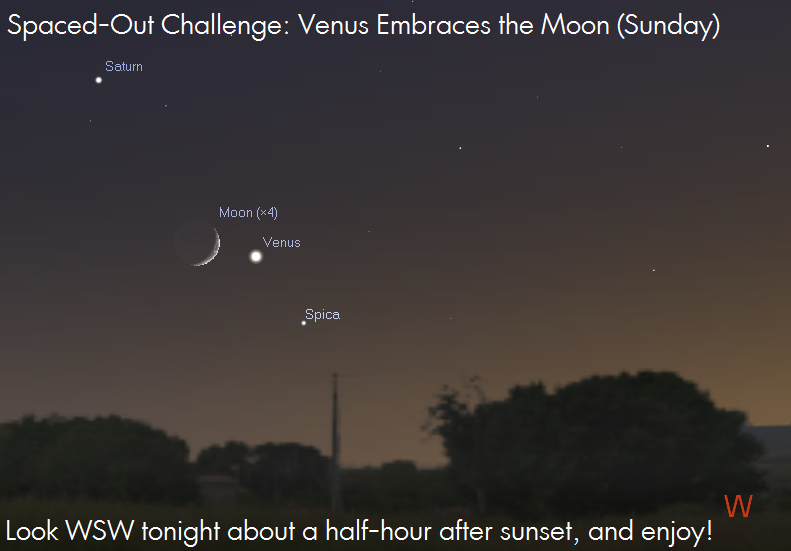 If you recently bought a telescope or large binoculars, this evening is a great time to spot a range of easy targets. The setting moon and Venus are rather obvious, but Saturn is just a few degrees to the east of the Moon, and the bright spring star Spica hangs just above the twilight horizon. As the moon fattens and hangs around longer this week, you will need to push any deep sky object observing further back into your evening, so take advantage of the next few nights, go through the Milky Way Galaxy Guide, and try your luck at a few bright targets. Your last chance to target the clusters and nebulae in Sagittarius in 2013 are September 8, 9, 10, and 11th.
Fall is a time of celestial transition, with Scorpius setting and Orion rising, the faint aquatic constellations in our southern sky, and a world of clusters and galaxies high overhead in Cassiopeia, Perseus, and Andromeda. The northernmost portion of the Milky Way hangs around for the entirety of the evening, so you'll be referring most to Parts 5 and 6 of the Galaxy Guide.
For the Buyer's Guide, DIY light shields, the Milky Way Guide, and other Spaced-Out Challenges, check out the index here. Comet ISON is continuing to brighten (currently coming in at magnitude +12.3) and will be well within view of most amateur scopes by month's end, binoculars by mid-October, and *fingers crossed* the naked eye by November.
I will hang around and answer any of your astro-questions, clear skies to you and as always, keep looking up!

posted by CAC at
05:37 PM
|
Access Comments