« Evening Open Thread
|
Main
|
Top Headline Comments 8-16-13 »
August 15, 2013
Overnight Open Thread (8-15-2013) See thread below for links. And the middle class.
Nothing to see here - move along please.
Per Larry Sabato. I think he's a bit behind on Christie and Cruz's momentum and I would have switched their places. Of course with 1180 days to go before the 2016 election this mostly means nothing.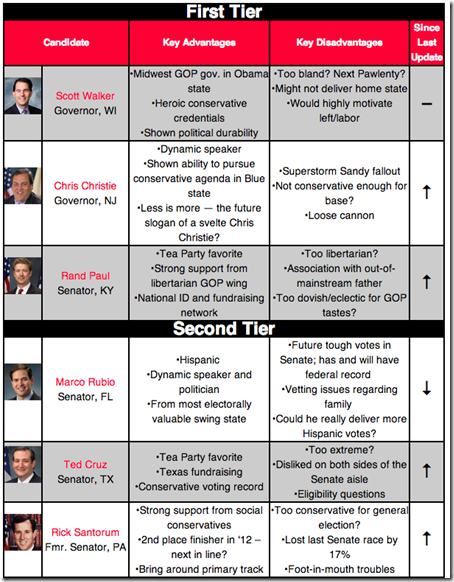 Buckley and The Hand Reaching into Your Shower to Adjust the Temperature
Now they want to adjust your AC as well.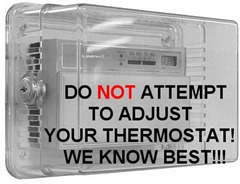 Kathleen Parker: Only Women Bring Peace So Vote Hillary! to Save the World
The other WaPo 'conservative' columnist:
Here's a thought: She [Hillary Clinton] can save the world.

Let's begin with a working (and provable) premise: Women, if allowed to be fully equal to men, will bring peace to the planet. This is not so far-fetched a notion. One, men have been at it for thousands of years, resulting in millions and millions of corpses. Two, countries where women are most oppressed and abused are also the least stable.

Three, as women become more empowered, especially financially, countries become more stable.

What does this have to do with Hillary? Quite a bit.
But per Parker a President Palin would be bad, bad, bad!
Even Journalism Grads Don't Read the Papers
Or magazines or books. But somehow they still will always know far more than you.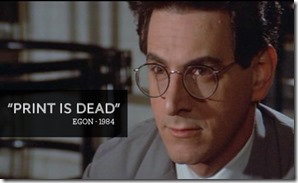 CNN in Talks for a New Series About Timothy McVeigh and 'Gun Show Culture'
It will be 'fictional'.
The Next GOP Congressman From Louisiana?
I've only seen one episode to date and it was entertaining. I may watch more.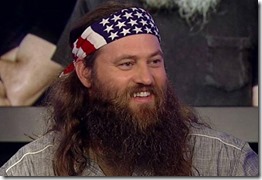 And that's a bad thing. There's a name for this problem: Detroit
RIP Admiral Sir 'Sandy' Woodward
He commanded the British carrier battle group Task Force 317.8 during the Falklands war and died last week at the age of 81.
On the passage south Woodward visited as many ships as he could, though his message to the various ships' companies of the destroyers and frigates was uncompromising: "You've taken the Queen's shilling. Now you're going to have to bloody earn it. And your best way of getting back alive is to do your absolute utmost. So go and do it."
Kwikset Lock Vulnerability Found?
Hide your kids, hide your wife and go with Schlage man-traps.
Was Little House on the Prairie Meant to be an Anti-New Deal Fable?
Wilder and Lane responded with their now-famous sequels. From the start, there was tension between their approaches. Wilder argued for strict accuracy, while Lane, the seasoned commercial writer, injected made-up dialogue, took out stories about criminals and murder, and-most significantly-recast the stoic, sometimes confused pioneers as optimistic, capable people who achieved success without any government help.

Laura Ingalls Wilder never got used to Lane's heavy rewrites, but the evidence suggests that on the main approach, playing up toughness in adversity, she agreed with her daughter. Both women believed fervently that the nation in the depths of the Depression had become too soft. In 1937, Wilder wrote Lane that people's complaints about having no jobs made her sick. ("People drive me wild," she wrote. "They as a whole are getting just what they deserve.")
I have vague memories of seeing commercials for this show.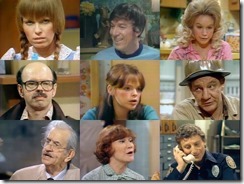 Yahoo group. That is all.
And my Twitter spew.
Tonight's post brought to you by hats:
Notice: Posted by permission of AceCorp LLC. Please e-mail overnight open thread tips plus $1 for S&H to maetenloch at gmail. Otherwise send your scraps to BizarroAce.

posted by Maetenloch at
10:26 PM
|
Access Comments