« Gun Thread (8-4-2013)
|
Main
|
A Reasonable Cop »
August 04, 2013
Sunday Morning Book Thread 08-04-2013: War and Peace [OregonMuse]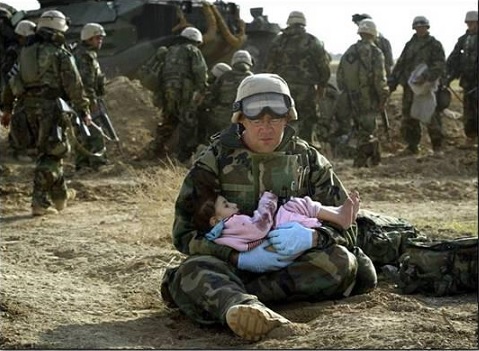 Evil, Murderous Oppressor of Brown People

Good morning morons and moronettes and welcome to the the award-winning AoSHQ's Sunday Morning Book Thread.
It's time to be proud to be an American again
OK, so when the U.S. military shows up to kill bad guys, how should the results be rated?
a) Unquestionably bad
b) Sometimes good, sometimes bad
c) Pretty good most of the time
If you're part of the Noam Chomsky/LuapNor Axis of Poo, or are sitting around waiting for your Obamaphone to arrive, you'll probably think the answer is (a). If you hear nothing but MSM accounts of the Iraq War and post-war phase, you might also be inclined to choose (a).
However, author Michael Banzet, a now-retired Air Force officer who spent his last tour in Iraq helping to rebuild the post-Saddam Iraqi Air Force, might want to have a few words with you. Not only would Mike choose (c), but he probably thinks it doesn't go far enough to describe the overwhelmingly benign influence of the U.S. military, even when its soldiers are doing their primary jobs, i.e killing people and breaking things.
Mike discovered that not many people seem to know about this, and one of the reasons is that the MSM simply did not report the good news coming out of Iraq.
So he wrote his book, A Flowershop in Baghdad, (available on Kindle and paperback) as a corrective. I'm mentioned this book in a couple of previous threads, but now I've finished reading it, so I can review it. It's full of amazing stories about what the American military personnel were doing to help rebuild Iraq, and this also includes accounts of some brave Iraqis who risked not only their own lives, but the lives of their families, just by showing up every day as students at the schools Mike helped set up to train the new generation of Iraqi leadership.
Think about this. We complain about going home from work because the rush hour traffic is bad. At least we have the expectation of getting home alive. But an Iraqi who is working close to the Americans might get ratted out to the terrorists and killed when he is outside the secure perimeter of his work environment. So many stay there all week, and when they do go home, they take randomly chosen circuitous routes so they won't be tailed.
The stories Mike tells are amazing, funny, and poignant, and sometimes all three. Especially the one I am about to repeat. I picked it because I think it best encapsulates everything Mike is trying to get his readers to understand about how beneficial the U.S. military's involvement in Iraq actually is, and how utterly at odds it is with how it got reported in U.S. media outlets:
Mike showed up at work one morning and all the Iraqis were upset and agitated about something and he was told thst a member of one of their families were taken at gunpoint by an armed group after first smashing in the door. Nobody yet knew who the snatchers were. It could have been terrorists, usually backed by Iran, or an ad-hoc Iraqi security force called the "Wolf Brigades". Or, it could have been Americans. So Mike goes out to make some inquiries about this, and was told there were no operations in the area where the relative was taken. So Mike goes back to the Iraqis, and they're not as agitated as before. He was then told that the armed men were using Humvees, so it most likely wasn't terrorists. Mike then goes out to make more phone calls, and again comes up with no information. Dejected, he goes back, wondering what he's going to say to the Iraqis and what they're state of mind they're going to be in:
So, fully expecting the worst, I opened the door and walked in. To silence.
The guys were back at work, typing on the computers, drinking tea, and chatting. It was a Twilight Zone episode. I literally took a step back, absolutely flabbergasted by the bizarre world that I just stepped into. I stood there for a second, trying to get my bearings.
"Asad, what is going on?" Asad returned a quizzical look as an answer. I got a bit exasperated.
"Asad, what is going on? You were very worried for your family ten minutes ago, and now everyone is acting as if nothing happened. What is going on?"
Asad blinked as if something clicked. In that instant, I got the feeling that he realized that he had to explain something to me that was obvious to everyone else. His eyes crinkled into a soft grin.
"I'm sorry, my friend. It was the Americans."
Then he clapped me on the shoulder and returned to work.
Oh, hell no. I needed more of an explanation than that. We were the bad guys, right? We were the ones oppressing and exploiting the brown people by taking their oil. And here, in a clear-cut case of oppression or imperialism or, at the very least, racism, Asad didn't have the common decency to be mad about it.
I stopped Asad. "You said that they smashed in the door and took a relative."
"Yes?"
"Aren't you pissed?"
He gave me a little shoulder shrug and a noncommittal no. But, looking at my slack jaw, he saw that a little explanation was in order.
"Mike, at first we thought the people were attacked by terrorists, maybe from Iran, maybe from another country. They are very, very bad. They kill everyone, but first they make them tell everything. And then they get the next one and the next one…" His voice trailed off thoughtfully. "But then we thought it may be the Wolf Brigade, and that would be very bad, but not as bad. They hurt many people, but not all. There is hope if they are taken by the Wolves. Maybe one of the Shia here could call them and let them free. They don't like the Sunni, but one of our friends could talk to them. But the Americans. When the Americans take someone, they are safe. We are not worried about their safety."
"But aren't you mad that they break down doors and take people?"
"Mike…" Asad looked at me for a while. "Not everyone is good. The Americans are sometimes wrong, but it is many times that an Iraqi has given them bad information. And sometimes, if they are very wrong, they will pay you to fix what they have broken. No Iraqi would do that. But the Americans-the Americans are mostly right."
I looked around at the scene. The regular murmur of office work going on. Samir had come out of the corner where he had bravely hid. He was grinning. "It was the friendly side!" he said, as if that explained everything. And to the Iraqis, it did.

As I said, I don't remember reading anything like this in the New York Times, Washington Post, or even a long treatment in one of those hoity-toity mags like Harper's or The Atlantic.
The only complaint I have about the book is that being primarily about military matters, there's a crap ton of acronyms used that my aging memory had difficulty keeping track of. I wish there were a glossary or appendix of all these terms, I could flip to when necessary.
FiB has a slight bittersweet taste: Not everyone makes it out alive. Mike both makes and loses friends with Iraqis and other servicemen stationed with them, and he has great respect and admiration for these brave men and women. And then there's the poltroons and sanctimonious know-it-alls, and he has to put with a bunch of them, both American and Iraqi. Those he mocks mercilessly.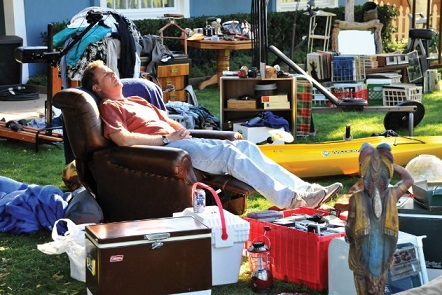 Moronette author Sabrina Chase e-mailed to tell me about the
The Human Wave Garage Sale
Which is going on right now. No, this isn't cut-rate sex trafficking. "Human wave" is a distinct sci-fi sub-genre. Of the "garage sale" itself, Sabrina says
a bunch of writing friends with a similar kind of outlook are doing a group promotion involving free or cheap (discounted) ebooks for a full week. It continues until August 8.
"Human wave" novels and stories are written with old-fashioned values in mind, like love, honor, courage, etc., rather than the fashionably post-modern negation of virtue, where the moral landscape is as dystopian as the actual landscape. In human wave stories,
the ennui of the cognoscenti no longer holds sway. The...characters might sometimes be trapped in dystopia but never helpless. And if they must go down fighting, they do so gloriously and for principles bigger than themselves.
Sabrina has compiled a list of human wave authors and the books they're offering at this garage sale, and rather than copy-and-paste it here, you all can go over to Sabrina's site and peruse it for yourselves. Me, I picked up the first book of Ms. Chase's Seqyoyah trilogy, The Long Way Home for $1.99. So go over to the garage sale and you're bound to find something you like.
___________

Books By Morons
This author, a former NBA cheerleader, is a "girls' night out" friend of moronette Jane Do'h. Ms. Do'h mentioned in a thread earlier this week that she writes murder mysteries. Lois' latest novel, Liquid Lies, has just been released. The story
is set in an affluent lake town in Wisconsin, and asks the question "Would you tell the truth, even if it meant losing everything?" In Liquid Lies, the main character Cecilia "CiCi" Coe has to answer that question, before anyone else is killed.
And you can't beat the $0.99 price for the Kindle edition
___________
Long-time lurker and occasional commenter artemis has a new book out. I mentioned it a few weeks ago, but it hadn't been release yet. But that was then. Murder in Thrall is now available on Kindle or hardback. It's a contemporary British murder mystery featuring first-year Detective Kathleen Doyle and her senior partner, Chief Inspector Michael Acton, a British lord turned cop.
Acton selects Doyle out of the newbie squad to partner with him on a series of investigations because she always knows when someone is lying - a trait that comes in handy when interviewing suspects and witnesses. Acton and Doyle are sent to investigate the murder of a trainer at a racetrack. Soon, new killings related to the first start unfolding, dragging the two into ever more perilous situations.

___________

So that's all for this week. As always, book thread tips, suggestions, rumors, and insults may be sent to OregonMuse, Proprietor, AoSHQ Book Thread, at aoshqbookthread, followed by the 'at' sign, and then "gee mail", and then dot you-know-what.
What have you all been reading this week? Hopefully something good, because, as I keep saying, life is too short to be reading lousy books.


posted by Open Blogger at
11:05 AM
|
Access Comments