« Goin' Back to Peruvia
|
Main
|
Overnight Open Thread (7-28-2013) »
July 28, 2013
CAC's Spaced-Out Challenge: Galaxy Guide Part 6
Our final part in the summer Milky Way Galaxy Guide brings us to the constellations Cepheus and Cassiopeia.
As always, the Milky Way is best enjoyed from a dark site, but the focus objects this week are visible with binoculars or a telescope from more urban areas.
We will also briefly discuss a particularly bright deep sky object in nearby Andromeda, one which is intriguing from any optical viewpoint (naked eye, bino or with a huge telescope).
An overview of Cassiopeia and Cepheus
Through this portion of the Milky Way, we will focus on some of the numerous clusters hat enrich this region. In the maps included, you will note two nebulae you can try your luck at from a dark site (IC 1396 and NGC 281), but they will not be discussed here.
Cassiopeia and Cepheus are circumpolar constellations, so objects in both can be viewed every night of the year (weather and the moon permitting) in the Northern Hemisphere. The W of Cassiopeia is made of five bright stars northeast of the Summer Triangle and the Great Square. To its north, the kindergarten shape of a house marks Cepheus. Our first object of note is the variable star Mu Cephei.
Mu Cephei, the Garnet Star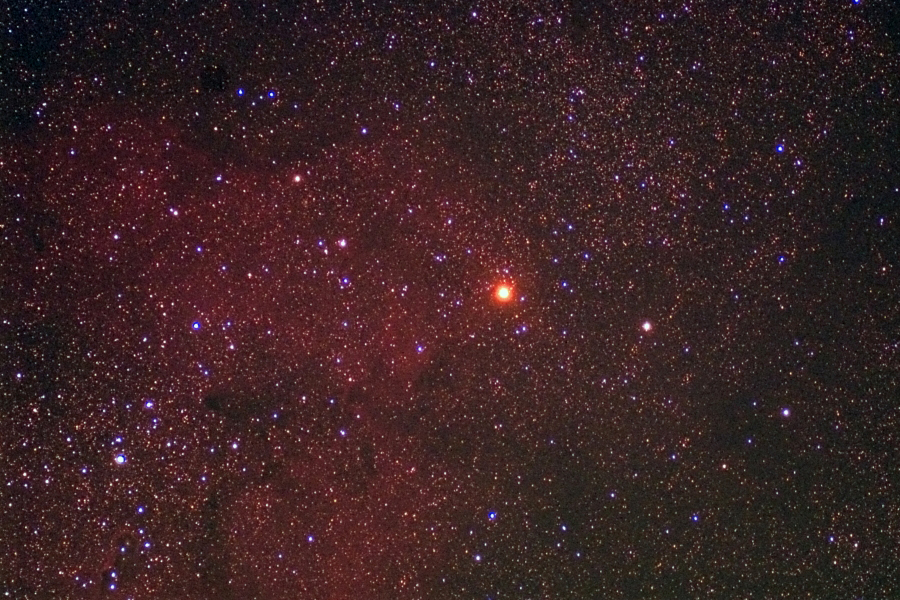 Image Credit: MujiMuji
From the AAVSO website on Mu, some background on it's color and incredible size:

This star may be the largest star visible to the naked eye - it is roughly 2.4 billion miles across! If it replaced our Sun, it would extend beyond the orbit of Saturn. Mu Cep is a slow semiregular variable that is easily visible to the unaided eye in suburban skies when at its maximum brightness of magnitude 3.4, but may be a little more challenging at its minimum of 5.1. The color of the star is quite magnificent and has been the source of some discussion. It is most often described as "a deep red" or "reddish orange" but has sometimes been noted as "orange" and even having "a purplish tint". The most famous observation of Mu Cep comes from Sir William Hershel who commented on its "garnet" color, an observation that lead to the popular name "Herschel's garnet star":

A very considerable star, not marked by Flamstead, will be found near the head of Cepheus. Its right ascension in time, is about 2'19" preceding Flamstead's 10th Cephei, and it is about 2o20'3" more south than the same star. It is of a very fine deep garnet colour, such as the periodical star o ceti was formerly, and a most beautiful object, especially if we look for some time at a white star before we turn our telescope to it, such as a cephei, which is near at hand.

...Mu Cephei is really big. It is so big that it is one of the largest stars known; estimated to be the third largest star in the sky after its neighbor VV Cephei and the even larger Epsilon Aurigae (both are eclipsing binaries). If you were so inclined, you could fit one billion suns inside mu cephei and have room to spare...It is a red supergiant that probably started its life at a substantial 20 to 25 solar masses (a high mass star is considered to be 10 solar masses or more) and has evolved "quickly" (high mass stars burn energy faster than lower mass stars). The life expectancy of a star like Mu Cephei is only around a few million years - short for astronomical time scales.
Its massive size and age make Mu Cephei unstable, pulsing and varying in brightness, bringing it in and out of naked-eye view for urban astronomers:

The pulsations in Mu Cep, although relatively small, have driven off the outer parts of the star, producing a shell of dust and gas around this variable...But what causes the pulsations of Mu Cep? Dr. John Percy...writes that the "pulsation is 'driven' by the same process that drives other kinds of pulsating stars -- the 'heat engine' effect of ionization of hydrogen and helium. As the pulsating star contracts, these elements absorb radiation and become ionized. As the star expands, this ionization energy is released, giving an outward 'push' which keeps the pulsation going -- just as a carefully-timed push on a playground swing keeps the occupant swinging, happily."
While not the most massive, clearly a gigantic star worth eyeballing. What color do you see when observing it?
Clusters in Cassiopeia
The larger map shows nearly two dozen objects, but we will focus on three open clusters easy to spot.
Messier 103 (best with: binoculars)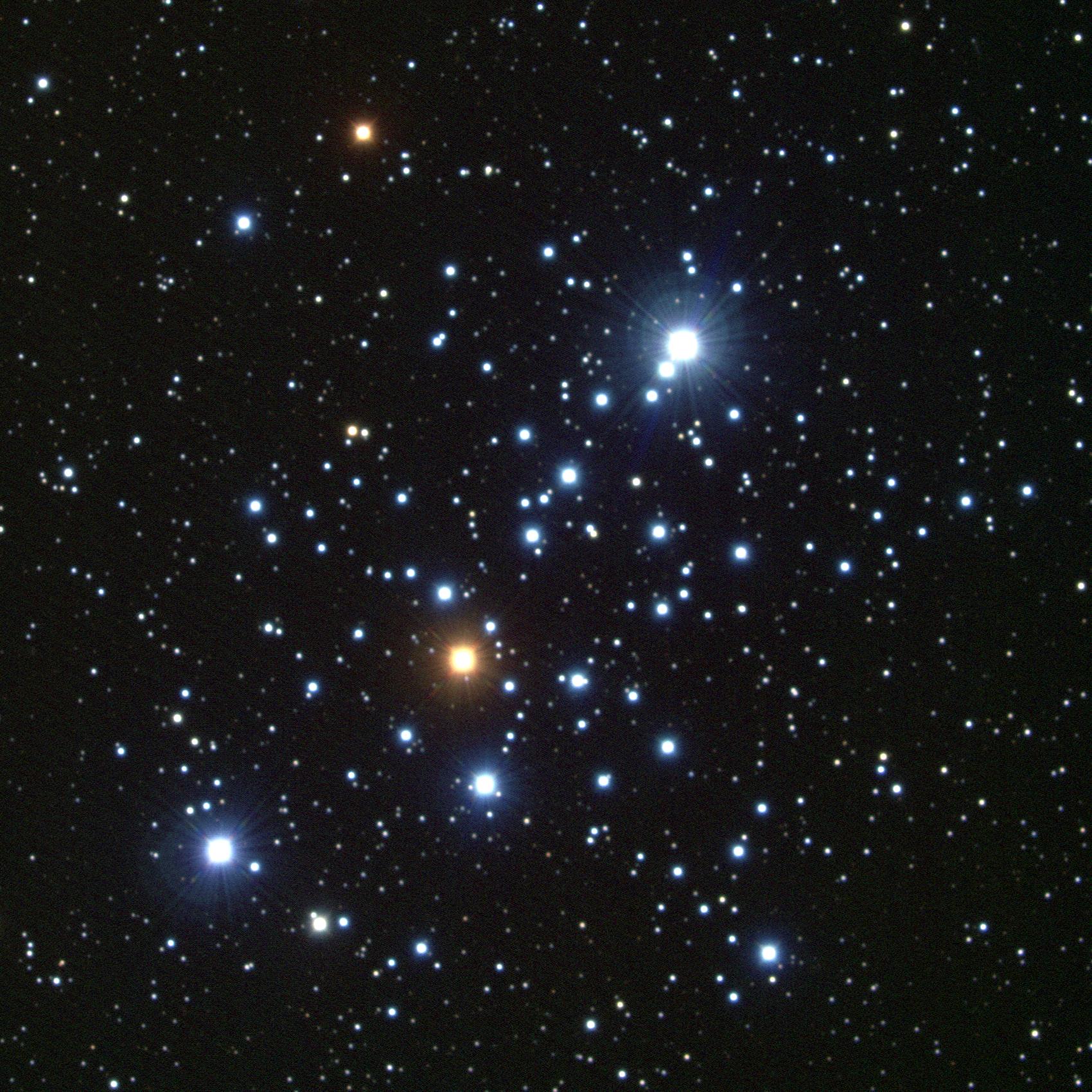 image credit: Hillary Mathis, N.A. Sharp, NOAO/AURA/NSF
In binoculars, this cluster is easy to find and ID, well visible as a nebulous V-shaped patch. In good viewing conditions, binoculars or finders as small as 10x50 can resolve it into idividual stars. Because of it's looseness, it is not as easy to identify through a telescope, where it can be confused with clusters or star groupings in the vicinity. More fainter members do reveal themselves through at least 4" aperture though, so give it a try, even if you have a light bucket.
The E.T. Cluster (best with: binoculars, telescope)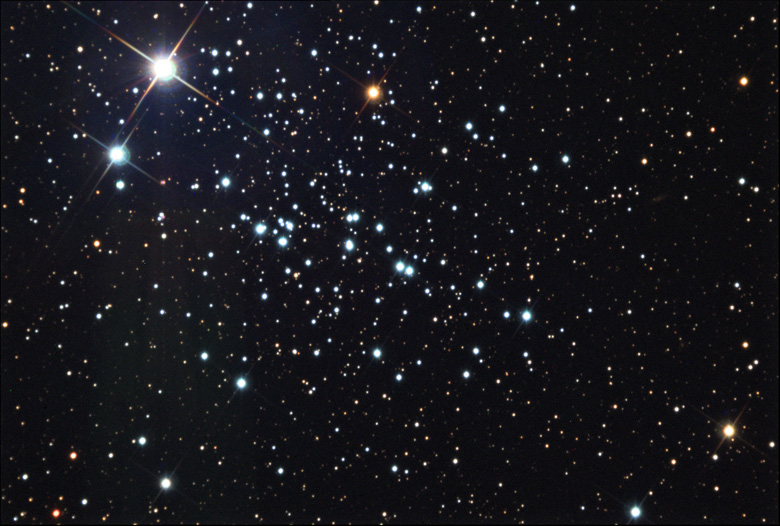 image credit: Ken & Emily Siarkiewicz/Adam Block/NOAO/AURA/NSF
One of the brightest clusters in this part of the Milky Way, the ET or Owl cluster (more properly called NGC 457) stands out among the non-Messier objects for its distinctive shape. I'll let Math Heijen of backyard-astro.com take it from here with his great observation notes:

When you first look at the cluster through big binoculars or a telescope, you might think you see a little man, a bird (owl), or even ET waving at you. To me NGC 457 looks like a man with two bright sparkling eyes, his arms widely spread to welcome me. The two eyes are two bright stars, that will draw your attention immediately. They stand out well from the rest of the cluster. The brighter of the two stars is Phi Cassiopeia, a yellow star of magnitude 5.0. The other is HD 7902, a blue star of magnitude 7.

In my 15x80 binoculars I see about 20 to 30 stars up to magnitude 10, when observing from my backyard. The "body" of the man is made up of a 13' long northwest-southeast bar of stars. The arms are clearly visible. The feet are hard to see but sometimes pop in to view as 4 or 5 stars in an arc at the end of the long bar. In the 8-inch telescope NGC 457 is just lovely...Go and check out NGC 457, a friendly man (owl or ET) with two bright eyes, his arms spread out to greet you. A great sight.

The Salt-and-Pepper Cluster (best with: binoculars, telescope)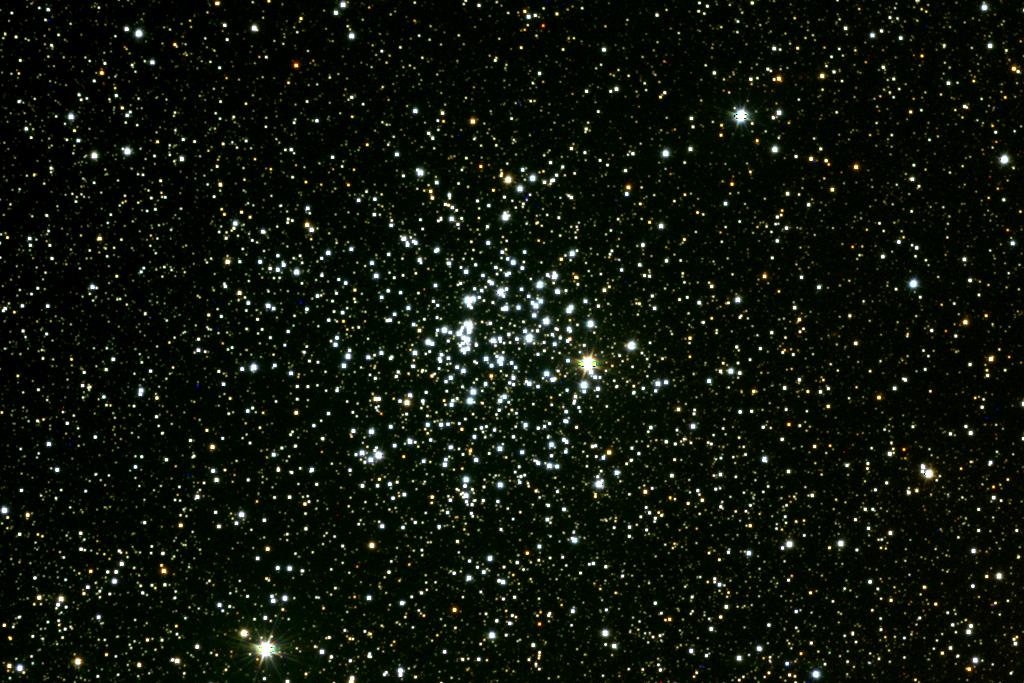 image credit: NOAO/NSF/AURA
Discovered by Charles Messier in 1774 when a comet skirted past it, Messier 52, superimposed on the Milky Way star field, takes on its namesake in large binoculars and small telescopes. It appears as nebulous patch in good binoculars or through a finderscope. In 4-inch aperture instruments, this rich compressed cluster of faint stars can be fully appreciated, taking on a fan/V shape with a bright yellow star in it's SW edge. Do you notice a needle-shaped inner region?
A Most Glorious Cloud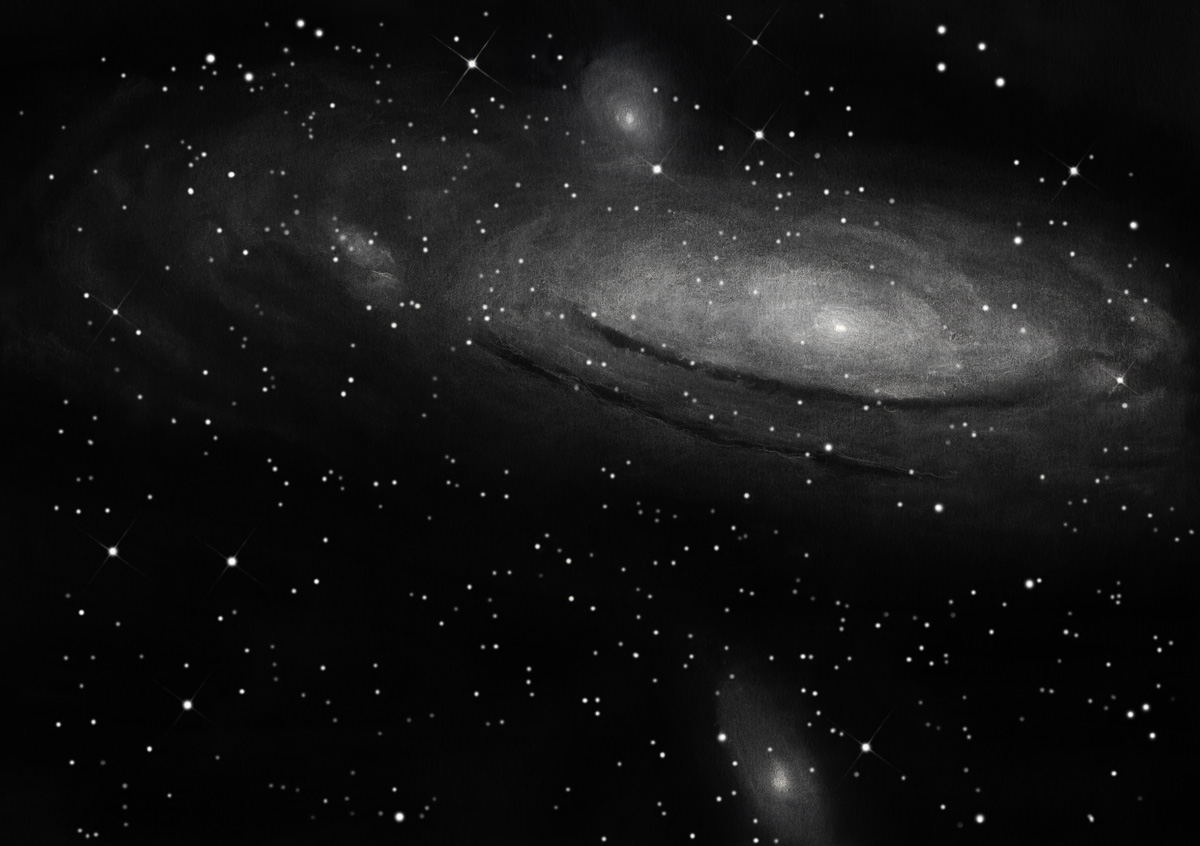 Sketch by Serge Vieillard through a 16" telescope
This beautiful sketch illustrates our closest spiral neighbor, known since the Dark Ages as a "cloud" between Cassiopeia and Andromeda. The Andromeda Galaxy was critical in Hubble's successful argument that many faint "nebulae" were actually whole galaxies, expanding the scale of the universe from thousands to trillions of light years.
Professor Brian Cox has a few words about the significance of this, the most distant object our eyes can resolve:

The Andromeda Galaxy is the largest in our Local Group, at over twice the mass and nearly twice as large as our own Milky Way. It's apparent magnitude is around 3.5, bright enough to eye directly or with averted vision in all but the most light polluted skies:
Covering an area many times the size of the full moon, the galactic core is the bright patch we can eye, with the outer arms and dust revealing itself through binoculars and telescopes.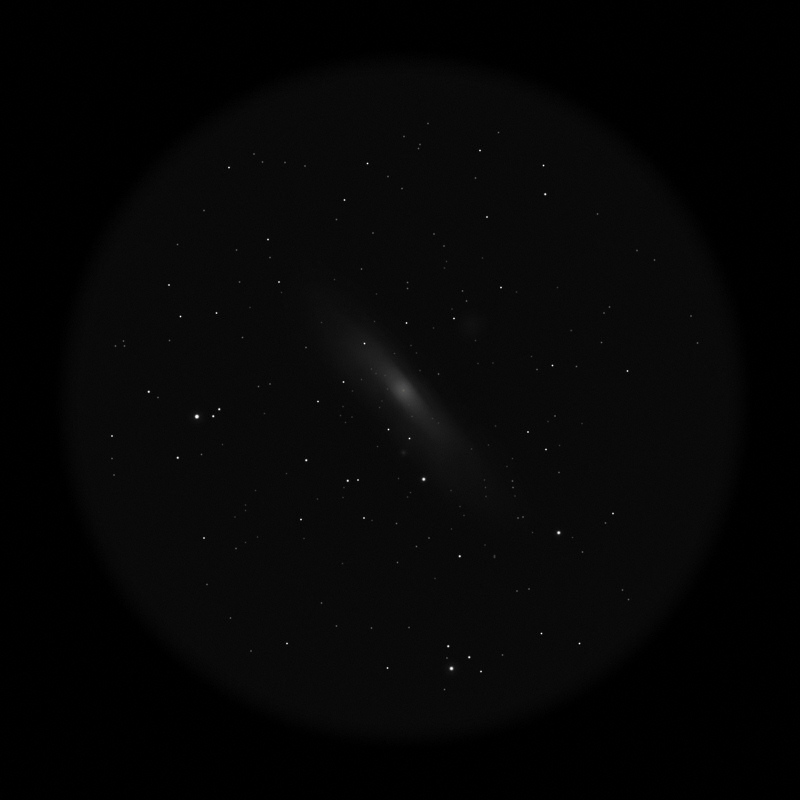 Sketch by Rony De Laet
French amateur De Laet created this wonderful sketch and posted some detailed observational notes on his ETX site. While the galaxy appears smaller and fuzzier through his binoculars, the view still wowed him. Pay attention to several of his suggestions for pulling out detail:
In general, binoculars are not the preferred instrument to study galaxies. But what an amazing view has the Andromeda Galaxy to offer in a pair of binoculars! The large central bulge of M31 can be seen with direct vision. The nucleus appears star like. The elongated halo fades slowly away in the background. With averted vision, the halo can be followed for 1 ˝° on each side of the central bulge. While nucleus, central bulge and halo are visible as distinct features, they happen to be merged together as one solid body. The NW side of the galaxy is tilted towards us. Here is where multiple dust lanes absorb the soft glowing light of the galaxy in our line of sight. That is why the NW side of the galaxy appears 'bordered', while the SE side shows a softer edge. I did have the impression that another dust lane could be seen on the SE side of the galaxy, or just behind the central bulge. If the dust lanes don't look obvious to you at first, try to gently rock the binoculars. The motion will stimulate your night vision. As if the Andromeda Galaxy isn't interesting enough to observe, there is more to go after: satellite galaxies! One of M31's satellites is M32. It can be found just S of the central bulge. It appears like a small star that is put out of focus. The other satellite galaxy, M110, can be found at ˝° NW of the central bulge. M110 looks like a faint isolated cloud when seen with averted vision.
Through a modest telescope, the satellites and dust lanes come into better focus than with binoculars; with a scope of at least 4" aperture, starfield NGC 206 becomes visible; and if you are lucky enough to own a scope of at least 8" aperture, globular cluster G1 can be teased out about 2.5 degrees away. G1 is the brightest, largest globular known in the Local Group of galaxies, putting Omega Centauri to shame by several orders of magnitude. Below is a guide for the brightest features visible in most amateur scopes:
With that, we close out our Summer Milky Way Guide.
CAC's Summer Milky Way Guide
PART 1 The Galactic Core HERE
PART 2 The Nebulae of Sagittarius & Serpens HERE
PART 3 The Clusters Near the Core HERE
PART 4 From the Shield to the Arrow HERE
PART 5 Secrets of Cygnus HERE
Be sure to check out the FULP light pollution targets list, Ace's amazon store for your astro needs, and clear skies to you and keep looking up!
Next week: the Perseid meteor shower

posted by CAC at
08:31 PM
|
Access Comments