« CAC's Spaced-Out Challenge: Galaxy Guide Part 6
|
Main
|
Top Headline Comments 7-29-13 »
July 28, 2013
Overnight Open Thread (7-28-2013)
Wait - The National Conversation on Race Has Rules?!?
Of course it does - and they're all designed to shut down (and shut up) any argument a white person might have. I learned this early on in high school when I fell for the classic 'frank conversation about race' gambit - which is never a conversation but rather an occasion for white people to be confronted about/confess their racist errors and seek absolution from any non-white members of the 'conversation'.
Given this why would any white person ever voluntarily enter into one of these traps? Well apart from sheer cowardice.
Anyway Jenée Desmond-Harris of TheRoot has issued some rules about the Great National Conversation which are about what you'd expect:
1. Talking about race isn't racist. Don't say that. Vilifying people who discuss race and point out racism - making them the bad guys - is one of the ways racism is maintained. So is acting as if "blacks suffer from racism" and "whites suffer from reverse racism" are equally valid points of view.

...

5. Black people shouldn't have to fit your definition of what's respectable to deserve equality or justice. It's silly and unfounded to blame inequality caused by institutionalized racism on, say, sagging pants or rap music. If you want to celebrate black people who are educated and high-achieving and defy persistent stereotypes, great, but that can't be a requirement for fair treatment. We got into trouble with this type of thinking when evidence that Trayvon Martin was a normal teenager messed up so many people's impression of him as a sympathetic victim.
Patterico has some fun with her claim that they're for 'everyone' - not just white people.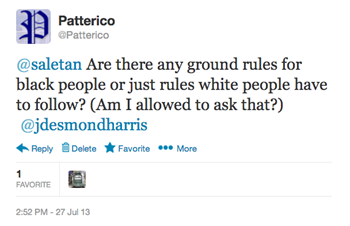 Is This The Next Zimmerman Case?
Always remember how abysmally the media 'reported' the Zimmerman case at the start and keep that in mind when reading the details of this case.
Merritt Landry, a 33-year-old "white caucasian" shot the victim, a 14-year-old black boy, in the head. A single spent cartridge case was recovered at the scene, indicating that a semi-automatic weapon was used and suggesting that a single shot was fired. The hour of the shooting was approximately 2:00AM, on Friday, July 26, 2013. As of this writing the victim is reported to remain alive, in critical condition at a local hospital.

The victim was shot within feet from the rear door of Landry's dwelling in New Orleans, in an area accessible only by having to scale a locked fence, suggesting forcible entry onto the property by the victim.

...The Hazouri recording purportedly shows the two teens talking in the middle of the street outside of Landry's house at about 1:44AM. One wore a dark tank top and the other wore a light tank top. The teen in the light tank top climbed over Landry's fence and into the yard. Landry's large dog began to bark, alerting Landry to the intruder.
Hazouri reports that Landry, who has a baby daughter and whose wife is pregnant, believed that the victim was trying to break into his house. "All I know is that Merritt had told his family that he had said: 'Freeze!' and it looked like the guy turned at him and had his hand on his hip," Hazouri reported.
So of course Landry is being charged with attempted second degree murder. No word on his relationship with Peruvia or the notorious race-criminal, G. Zimmerman.
Same Weather Programs + Different Computers = Different Weather Forecasts
Most major weather services (US NWS, Britain's Met Office, etc) have their own supercomputers, and their own weather models. But there are some models which are used globally. A new paper has been published, comparing outputs from one such program on different machines around the world. Apparently, the same code, running on different machines, can produce different outputs due to accumulation of differing round-off errors. The handling of floating-point numbers in computing is a field in its own right. The paper apparently deals with 10-day weather forecasts. Weather forecasts are generally done in steps of 1 hour. I.e. the output from hour 1 is used as the starting condition for the hour 2 forecast. The output from hour 2 is used as the starting condition for hour 3, etc.
One thing you learn in Numerical Analysis is that non-linear systems can be quite sensitive to initial conditions (and guess what - most weather models are non-linear). So under some conditions just the errors from floating point rounding operations can be enough to make your results diverge. Now this is weather modeling not climate modeling  but it's a cautionary tale about betting the farm (and world economy) on the output of computer models. But hey SCIENTIFIC CONCENSUS!
Gawker: 80% of All Adults in U.S. Face Near-Poverty or Unemployment
During their lives. Which ends up casting such a gigantic net as to make the statistic meaningless.
Also true: 84% of all Adults in US Face Car Fires, False Imprisonment, and the heartbreak of Psoriasis.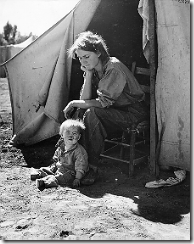 Chicago Firearms Confiscation Begins
Or reason #57 why registration always leads to confiscation.
In Illinois, gun owners are required to get a Firearms Owners ID card, or FOID. It's good for 10 years, and then you need to renew it. But if you don't renew your card, or if you do something that displeases the powers that be, your FOID is NULL and VOID. Which means you can't own guns legally.

Cook County police officers have become increasingly worried that when someone's FOID card is revoked, their guns aren't instantly confiscated. So they're doing exactly what gun control advocates have said that registration would never result in - door to door confiscation.
Unless the reasons the FOID was invalidated would also make you a prohibited person, I don't see how this could be constitutional. Buy hey it's Illinois.
2) Judging by their response, the meanest thing you can do to people on the Internet is to give them really good software for free.

3) Three things never work: Voice chat, printers and projectors.

7) Most websites treat "I like it" and "This is good" as the same thing, leading to most people on the Internet refusing to distinguish between "I don't like it" and "It's not good".
So What Do Bears Actually Do In the Woods?
Luckily that tree can't talk.
Weekly AoSHQ Commenter Standings
Top 10 commenters:
1 [595 comments] 'Vic' [83.52 posts/day]
2 [559 comments] 'EC'
3 [495 comments] 'Anna Puma (+SmuD)'
4 [446 comments] 'thunderb'
5 [426 comments] 'AllenG (Dedicated Tenther) MFM Delenda Est'
6 [415 comments] 'Jane D'oh'
7 [365 comments] 'Oldsailors Poet  Palin/Bolton 2016'
8 [365 comments] 'logprof'
9 [361 comments] 'Miguel Ambivalence'
10 [361 comments] 'J.J. Sefton'
Top 10 sockpuppeteers:
1 [104 names] 'phreshone' [14.60 unique names/day]
2 [85 names] 'Adam'
3 [73 names] 'Cicero (@cicero)'
4 [68 names] 'logprof'
5 [62 names] 'The Political Hat'
6 [51 names] 'AnonymousDrivel'
7 [44 names] 'andycanuck'
8 [40 names] 't-bird'
9 [40 names] 'ChristyBlinky, Redneck Queen'
10 [39 names] 'zsasz'
The group. Yeah.
Where it's at - the Twitter
Tonight's post brought to you by Earth, Jupiter, and Venus seen from Mars: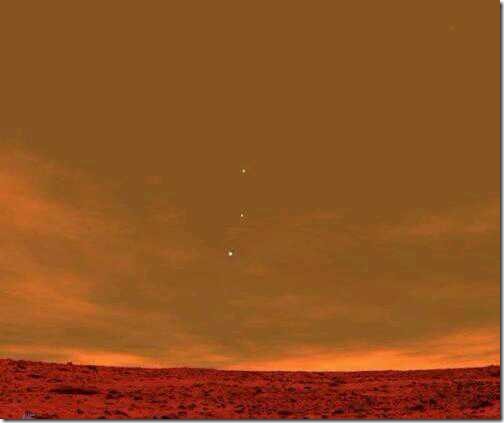 Notice: Posted by permission of AceCorp LLC. Please e-mail overnight open thread tips to maetenloch at gmail. Otherwise send tips to Ace.

posted by Maetenloch at
10:17 PM
|
Access Comments