« Breaking: Kathy Griffin is a Bent, Desperate Hosebeast
|
Main
|
Four major bio-med stories [Purp] »
April 25, 2013
Overnight Open Thread (4-25-2013)
Meet The World's Most Beautiful Woman: Gwyenth Paltrow
So declares People magazine. I'd say that at best she's cute but hardly a world beauty. Hell she's only the 3rd best looking woman just on the magazine cover.
Given that she's super-wealthy and has no real job this is probably the best that science and teams of cosmetic technicians with nearly unlimited resources can do with her. And if I were an auditor I'd start looking for some large unexplained deposits in People magazine editors' bank accounts. And/or demand a piece of the next great shameless cover sell-out.
Oh and if you don't like Gwyneth, it's because you're lazy and jealous. Also and because you're American and hence stupid.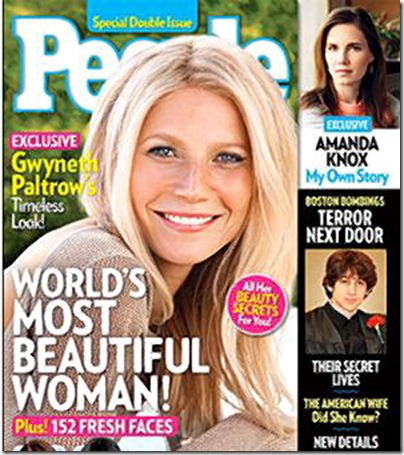 Also the Hollywood height chart. There sure are a lot of short people not named Danny Devito who are big in Hollywood. (click for full size)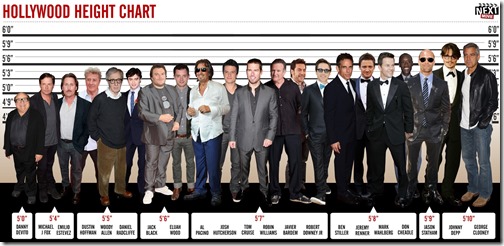 Jonah Goldberg in the LA Times: 'Right wing' doesn't equal 'terrorist'
But terrorists by and large have more in common with the left.
As the Washington Examiner's Philip Klein recently noted, among the myriad reasons conservatives take offense at this idiotic knee-jerk slander is that the term "right wing" is also routinely used to describe mainstream Republicans such as Paul Ryan and Mitt Romney. I can exclusively report that neither of them celebrate Hitler's birthday.

Every Muslim terrorist enjoys not just the presumption of innocence until proven guilty but the presumption that he's a fan of Ayn Rand.

Ah, but some would respond that "right wing" is different than "Muslim" because there's so much similarity between mainstream conservative ideology and the terror-filled creeds of the far right.

Except there isn't. Timothy McVeigh, an atheist, wasn't part of the conservative or libertarian movements. He wasn't even part of the militia movement. And what on Earth was right wing about the Columbine shootings?

In plenty of cases of multiple killings, from the Unabomber to Christopher Dorner, the perpetrators espoused views closer to the mainstream left's than McVeigh had to the mainstream right.
Islam - the prisoner's friend (and not because it brings remorse, redemption, and amends)
From a prison chaplain who happens to be a cousin of Bookworm:
It is not a contradiction to be a Muslim and a murderer, even a mass murderer. That is one reason why criminals "convert" to Islam in prison. They don't convert at all; they similarly [sic] remain the angry judgmental vicious beings they always have been. They simply add "religious" diatribes to their personal invective. Islam does not inspire a crisis of conscience, just inspirations to outrage.
Unshockingly James Holmes has supposedly become a Muslim convert in prison.
Gingers Now An Officially Protected Minority
At least in NYC since the police now are forbidden to profile or persecute gingers. No word on whether people with James Holmes-style orange hair can be profiled or not.
NYPD supervisors have been put on red alert: Don't discriminate against carrot-top cops! An anti-bias message went out this month to Manhattan sergeants and lieutenants, who were told that redhead harassment would not be tolerated.

"We're apparently victims now," said one cop with ginger locks. "We're protected from discrimination."

Red hair qualifies because people with that color are found in higher numbers in Britain and Ireland than elsewhere, according to the federal Equal Employment Opportunity Commission. Experts say it's 13 percent in Scotland and less than 1 percent in most countries in Asia, Africa and South America.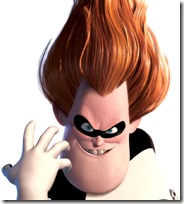 Patton Oswalt's Star Wars Filibuster From Parks And Rec
This has probably already appeared here but it's too geekily awesome to let it get overlooked. Supposedly a complete ad-lib by Oswalt.
After 34 Year Alien Toy Figures Finally Released
Now that the prime market for them back then are now middle-aged with much higher incomes.
Back in '79, Kenner inked a deal with 20th Century Fox to release a line of toys and action figures based on their new sci-fi film, Alien. That deal resulted in an awesome 18" figure of the titular xenomorph - a toy that bombed when parents found it too scary for their kids. Also, there was some controversy about making toys for children based on an R-rated horror film (collectible toys for adults was a market that didn't exist yet). Kenner reacted by cancelling their plans for a line of Alien action figures at the 3.75" size of their popular Star Wars line.

Well, after After 34 years, fans of the Alien franchise will finally be able get their hands on the abandoned toy line thanks to the folks at Super7. With the aid of collectors and toy industry employees, Super7 has acquired original reference material for the abandoned toy line from 1979 as well as 34-year-old prototypes and, with authorization by 20th Century Fox, the full series will be released this year with preorders beginning at the San Diego Comic-Con.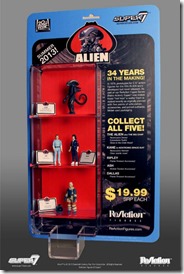 Also the infamous 'cunt punt' sorority girl has now resigned from her Delta Gamma chapter.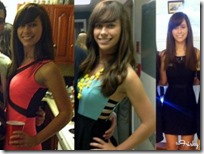 Yahoo group. That is all.
And my Twitter spew.
Tonight's post brought to you by what the solar system really looks like: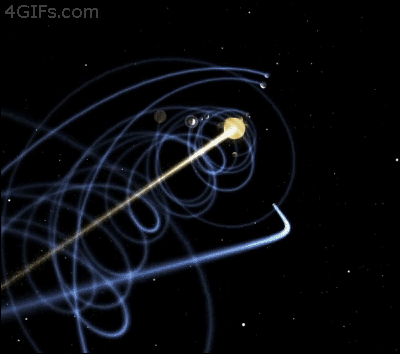 Notice: Posted by permission of AceCorp LLC. Please e-mail overnight open thread tips plus $1 for S&H to maetenloch at gmail. Otherwise send your scraps to BizarroAce.

posted by Maetenloch at
09:23 PM
|
Access Comments