« Jay Carney: President Obama Takes No Position on Gosnell or His Crimes
|
Main
|
New Thread: Bombs Packed With Ball Bearings?
New Report: Two More Bombs Being Disabled?
SUSPECT IN CUSTODY?!
Explosion at JFK Library Confirmed »
April 15, 2013
Explosion at Finish Line of Boston Marathon
Report: At Least 12 Dead? (Update: New Reports Say Only 2 Dead, 22 Injured)
Retracted "Bomb" From Headline: I immediately wrote "a bomb exploded" because I couldn't imagine other possibilities. However, as a strict factual matter, there are other possibilities, such as (as soothsayer keeps insisting) a gas main explosion (or two of those in rapid succession, in a chain reaction explosion-- something that seems plausible).
Now, the placement and timing of this explosion would seem deliberate -- do gas main explosions usually conspire to go off near huge throngs of people while being photographed for TV -- but it's wrong to say this is a "bomb" as of now. It would guess it's bombs, but we don't know that.
Update: The Boston PD says The police also just performed a controlled demolition on a 3rd suspect device -- this may have been the suspected incendiary device outside the JFK library, but I don't know. I also think they blow up suspect devices to render them harmless -- so an explosion isn't proof that the device detonated was itself a bomb.
Of course the cameras would naturally be on at the finish line-- making this another terrorist event (assuming that's what it is) that's televised live, so that everyone can see the horror.
Patriots Day: @johnekdahl notes that Patriots Day is a big deal in Boston. I wonder if the day were chosen for the "Patriots" symbolism.
Live Video from Bloomberg: Here.
There's very little about this on the wires -- yet -- but George Scoville's Twitter feed is covering it.

Picture here, if the link doesn't work.
Another picture: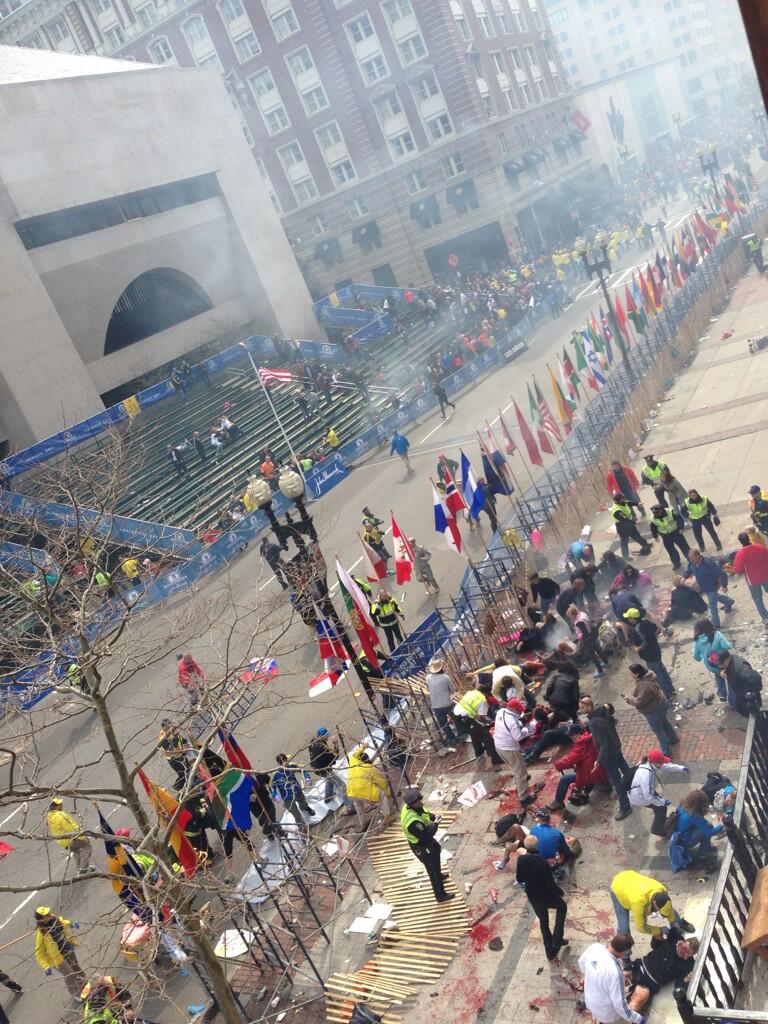 20-30 Injured? On open mic someone at the scene was heard saying, "Oh my god, they're dead."
Which doesn't mean that person was right to believe that. But bombs -- there were apparently two of them, the second bigger than the first -- usually have a death toll.
More Pictures: At Breitbart.
In this one you can see what I'd guess is a vehicle burning in the distance. Update: Someone else identifies this as a snapshot of the actual bomb blast, which I think is unlikely. Smoke and fire would come after a blast. Hm: More people are claiming this the "moment of the explosion." I suppose that might not be smoke, but rather dust blown at the forefront of the bomb's shockwave. On the other hand, the picture could be a fake; I don't know where it comes from.
Another Device?
Walkback: A Twitter user, @moronpundit, who was following the coverage says that this "device" is really just a suspected device -- after a bomb blast, cops are going to be very, very wary of anything that even looks slightly suspicious. He says this "suspect object" was listed of one of many -- so there's a good chance this is nothing at all, except some prudent suspicion.
On the other hand, he says cops now think they may have found an incendiary device outside the JFK library.