« Are You a Geek? If So, TV's Here to Help
|
Main
|
Saturday Morning Open Thread »
February 08, 2013
Overnight Open Thread (8 Feb 2013)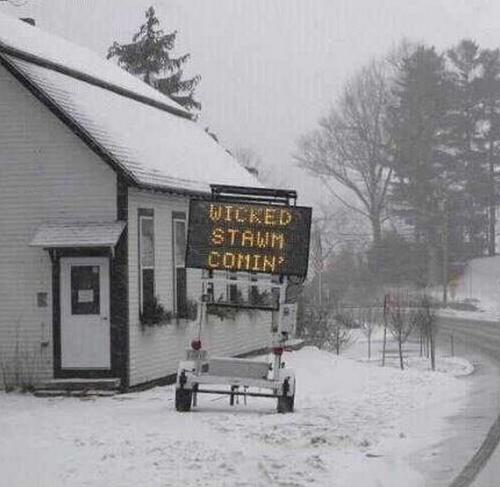 You morons stuck in the blizzard be safe. Hopefully you have ample amounts of medicinal booze on hand.
Over at the Laughing Squid, they've got some video and pics of The Blizzard of '78.
Iwo Jima Monument Up For Auction
You morons want to chip in and get a piece of history? Original Iwo Jima Monument To Hit The Auction Block. $1.3 to $1.8 million is all we need.

Bob Owens vs Greg Sargent
Earlier this week, Bob Owens Laid The Smackdown on WaPo's Greg Sargent in regard to gun control.


In any event, Sargent came out against tonight and challenged me with what Instapundit himself noted was an ad feminam argument.

@bob_owens @instapundit @brithume Is the Oklahoma woman who shot an intruder a threat to the Constitution, too? washingtonpost.com/blogs/plum-lin…

— Greg Sargent (@ThePlumLineGS) February 5, 2013


I responded to Sargent that I'd come around to his way of thinking: photo ID and background checks should be required to exercise all sorts of rights.

.@theplumlinegs Have you not been paying attention? I've revised my position. I'm pro- photo ID/background checks, for guns AND voting now.

— Bob Owens (@bob_owens) February 5, 2013


.@theplumlinegs you know, for logical consistency.

— Bob Owens (@bob_owens) February 5, 2013


.@theplumlinegs You have to agree: one right is no more sacred than another. Background checks for all, for every "right." It's only fair.
Sargent's response evidently was..........crickets chirping.
How To Get Out Of A DUI
I really don't think this will work here in the States but hey, you never know. 'High Tolerance' Cited In Man's Drunk Driving Win.

He claimed, however, that he didn't feel under the influence at all while driving to work.

He also blamed the glögg for putting him so far over the limit, but pleaded with the court that he shouldn't be convicted because he thought the traditional Swedish mulled wine he had been drinking was simply an alcohol-free variety.

The court agreed, stating in its ruling that as the man drinks alcohol every day, even before heading to work, he must have a high tolerance for alcohol, Skånskan wrote.

The court therefore threw out the charges altogether and the man was set free.
Boot Phone
What the...? These Boots Were Made For Talkin'. I guess whoever is gettin' stomped can dial 911 for assistance.
Beer Power
Behold, the power of beer. Beer Will Help Power Alaska Brewery. At least the $500K in Federal grant money that helped design this went to something that is useful. And tasty.
Condom Ad
Evidently, condoms deliveries are free.

Text Book Funnies
mpfs sends this one in. 33 Hilarious Things You Can Find In Textbooks.
White Rabbit Is Racist?
Just ridiculous. Family Sues Disneyland, Calls 'White Rabbit' Racist.
Hunting Equals Murder?
Of course it is NPR that asks the question, When We Hunt, Do We Murder? Bet you won't see an article that asks if abortion is murder.
Doggeh Video
Man, this doggeh has a guilty conscience. He's always checking his six when he hears the fart.


Tonight's ONT brought to you by:
Notice: Posted by permission of AceCorp LLC. Please e-mail overnight open thread tips to maet or CDR M. Otherwise send tips to Ace.
PUT TEXT YOU WISH TO USE AS VISIBLE LINKING-LANGUAGE HERE
&topic=world_news">

posted by CDR M at
09:57 PM
|
Access Comments