« Stanley Kurtz: Obama's Tactics May Be Small, But His Political Ambitions Are Vast
|
Main
|
Just in Time? Rasmussen Finally Has Romney Up Two In Ohio, 50-48
Update: Gallup's Poll of National Party Identification Finds... Republicans Leading, R+1 »
October 29, 2012
Dude's Freaking Me Out
A guy in DC tweeted that a news crew was down on his street, covering the hurricane. He tweeted (paraphrased) "Hey maybe I'll put on a horsehead mask and swimming trunks and run out in the rain and see if I can get on TV."
It would just be a typical dumb Twitter nonsequitor except he did it.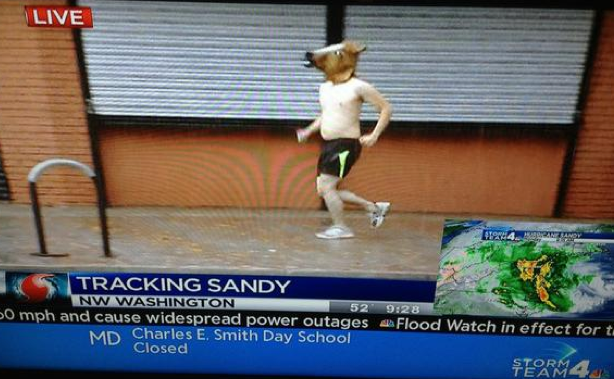 Here's the guy back at home, reviewing his "victory." This is where he begins to play games with my mind:
Creepy, right?
So many questions. So many questions I don't want to ask.
Stunt aside, I hope everyone in the storm's path has relocated to higher ground. It's looking grim.
Via Curbed, thanks to The Lopper.
Unrelated, But Also Strange: A woman claims she was "raised by monkeys" and then later caught by hunters sold into sexual slavery in Cucuta (a Columbian city), only to be saved by a family which adopted her.
I don't think I buy this at all but "raised by monkeys" gets an automatic link.
An extraordinary story slowly emerged: Marina had been abducted as a small child, then abandoned in the jungle where she lived alongside colonies of monkeys, foraging for food and sheltering in trees.

Even after she was found by hunters and brought into Cúcuta, her ordeal continued. She initially lived rough in a park with other homeless children. She was then taken in by an abusive family who treated her like a slave.

But her odyssey did not end with her adoption by Nancy's family. For the little girl up the mango tree is now Marina Chapman, a Yorkshire housewife, married to a church organist, mother and grandmother, volunteer and enthusiastic cook of South American cuisine.

posted by Ace at
02:45 PM
|
Access Comments