« Overnight Open Thread (10-28-2012)
|
Main
|
Top Headline Comments 10-29-12 »
October 28, 2012
Hurricane Sandy 10/29 update (tmi3rd)
Good evening yet again, Morons and Moronettes, and we maintain our vigil on Hurricane Sandy from the AoSHQ Weather Desk.

If you're in Virginia, Maryland, or North Carolina, obviously, you're already getting tropical storm conditions. If you're in eastern Pennsylvania, any part of New Jersey, or anywhere from southeastern New York to the eastern shores of Rhode Island and Massachusetts, you're on deck for hurricane conditions.

More below the fold...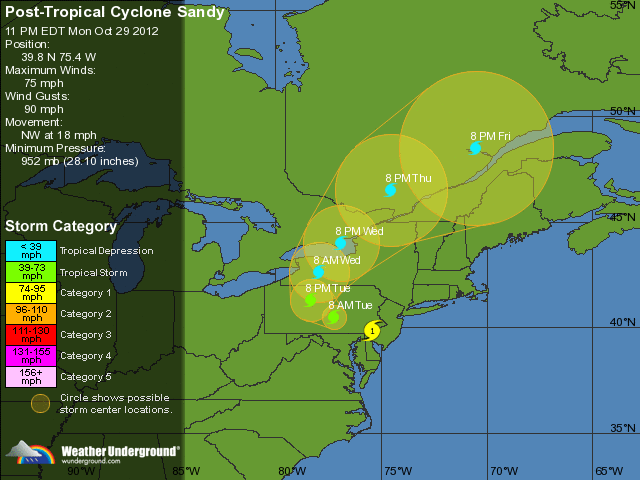 To my surprise, Sandy is sticking to what the NHC forecast indicated... as such, confidence is high that the center of Sandy will come ashore somewhere between Delaware Bay and Atlantic City around 2 AM on Monday. This will put the business end of the storm into such areas as Philadelphia, New York City, Wilmington, Boston... you get the idea.

Sandy is currently headed northeast at 13 mph, and maximum sustained winds remain 75 mph with gusts to 90 mph. The minimum internal pressure is a very impressive 950 millibars.

Rather than breaking down each individual state's threat, here is a list of state-by-state impact forecasts. What I'd like to impress upon you is please, for the love of God, do not go near high water. I know that seems utterly obvious, but I'm anticipating that nobody is insane enough to go stand on the coast during this storm.

Obviously, if you hear the call to evacuate from your locals, heed it. Because it's going to hang out longer than Irene did, this is likely to be a bigger deal than Irene was. We had the same thing happen with Isaac in New Orleans- it wasn't a big deal until the storm slowed down, and then stuff started breaking.

A question was asked earlier of me this evening on Twitter about calculating storm surge- it's calculated by taking the tide height at the moment and then adding the surge on top of it. The bottom line is that if you're on the north side of the storm, you're looking at a baseline of four feet of extra water, and it'll vary from there, depending on where you are. Consult the above link for details.

Other than that, guys, there's not really that much more to add prior to landfall. What I do want to turn to now is the inland effects- if you're in upstate New York, Vermont, New Hampshire, and Maine, you still want to be prepared for some serious rain simply because of how Sandy will slow down on its way through.

Finally, we're getting some snowfall forecasts for the back side of the storm (this is the joy of these hybrid storms forming up; they're a headache)... the mountains of WV are looking at 2-3 feet, SW VA and eastern KY are looking at 1-2 feet, and the mountains of NC, TN, and MD are looking at 12-18 inches.

To close, I unintentionally annoyed LauraW this evening about being careful around high water... the thing is, guys, I covered way too many stories of people who were being careful but got a little too close to high water. The amount of water in this storm is going to be impressive, and I want there to be as many Morons around after the storm as there were before the storm.

So, please pardon my concern- in the meantime, please charge up your batteries, guard your Val-U-Rite, and enjoy the big show that you're about to get... these storms don't come along very often.

Okay, that's it from the weather desk! If you need me, drop me a note on Twitter at @tmi3rd, and I'll be around. Everyone stay safe!

-tmi3rd

posted by Open Blogger at
11:14 PM
|
Access Comments