« Sunday Morning Open Thread
|
Main
|
Sunday NFL Football Thread »
September 23, 2012
Sunday Morning Book Thread 09-23-2012: Wild West Edition [OregonMuse]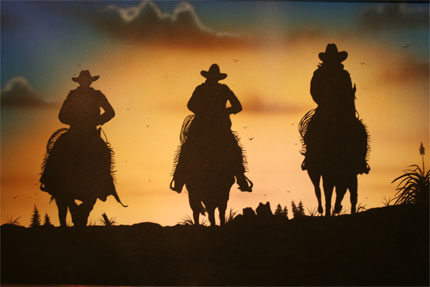 Good morning morons and moronettes and welcome to the too-wonderful-for-words Sunday Morning Book Thread. Now with tumblin' tumbleweeds.

Louis L'Amour
So here I am, in the latter half of my life, with middle age fast dwindling behind me in the rear-view mirror, an avid reader since boyhood, and I have never once read a book by Louis L'Amour. Sad, but true. "Oh, he's just one of those western writers", I used to think. I never was a big fan of westerns, anyway I always found other things to read.
My loss.
According to wikipedia, L'Amour led a varied and interesting life:
Louis Dearborn LaMoore was born in Jamestown, North Dakota, in 1908, the seventh child of Dr. Louis Charles LaMoore and Emily Dearborn LaMoore. He was of French ancestry through his father and Irish through his mother. Dr. LaMoore was a large-animal veterinarian, local politician and farm-equipment broker who had arrived in Dakota Territory in 1882.

Although the area around Jamestown was mostly farm land, cowboys and livestock often traveled through Jamestown on their way to or from ranches in Montana and the markets to the east. L'Amour played "Cowboys and Indians" in the family barn, which served as his father's veterinary hospital, and spent much of his free time at the local library reading, particularly G. A. Henty, a British author of historical boys' novels during the late nineteenth century. L'Amour once said, "[Henty's works] enabled me to go into school with a great deal of knowledge that even my teachers didn't have about wars and politics."

After a series of bank failures devastated the economy of the upper Midwest, Dr. LaMoore and Emily took to the road. Removing Louis and his adopted brother John from school, they headed south in the winter of 1923. Over the next seven or eight years, they skinned cattle in west Texas, baled hay in the Pecos Valley of New Mexico, worked in the mines of Arizona, California and Nevada, and in the saw mills and lumber camps of the Pacific Northwest. It was in colorful places like these that Louis met a wide variety of people, upon whom he later modeled the characters in his novels, many of them actual Old West personalities who had survived into the nineteen-twenties and -thirties.

Making his way as a mine assessment worker, professional boxer and merchant seaman, Louis traveled the country and the world, sometimes with his family, sometimes not. He visited all of the western states plus England, Japan, China, Borneo, the Dutch East Indies, Arabia, Egypt, and Panama, finally moving with his parents to Oklahoma in the early 1930s. There, he changed his name to Louis L'Amour and settled down to try to make something of himself as a writer.
And this doesn't include his military service and his time spend in the merchant marine, both of which came later. That's quite a life.
L'Amour obviously was a real man. In order to do all the things he did, you would have to have almost as much testosterone as Rachel Maddow.
Also, his life was a very American life. I think when immigrants come to thie country, this is exactly the sort of thing they're looking for. Freedom to make your own way, freedom to excel, freedom to find your own place. They don't come here so Nanny Bloomberg can tell them how big a soft drink they're allowed to buy.
But, I digress.
Of course, it never crossed my tiny little mind that anyone with a life like Louis L'Amour's might have some interesting stories to tell.
So a few days ago, I talked to a friend of mine who owns every book LL ever wrote, and asked him for some recommendations. He basically said "all of them" and I had trouble getting him to narrow it down, but I finally forced him to cough up The Quick and The Dead and Sackett's Land as well as the several sequels in the Sackett series (is that great alliteration, or what?).
He also mentioned two that aren't westerns, The Walking Drum, set in 11th-century Europe, and Last of the Breed, a modern thriller. I started with Breed, and I have to say I'm very impressed. A very good story, interesting characters, and great action. Mrs. Muse checked out the audio-book version from the library and so we're reading it together.
I will probably start the Sackett series next.
Books by morons for morons
Long-time moron commenter "Mr. Wolf", who is a co-author over at www.blackfive.net and BigPeace, writes to say his first-time contribution to a 'real' book, has been published. Profiles in Patriotic Leadership is a book about (surprise!) leadership, and more precisely, military leadership. All the contributors to this book have extensive military backgrounds, and offer their insights from the lessons of the military and how they can be applied to civilian life:
The need for leadership has perhaps never been more important than it is today.

Leaders who come from a military career or have previously served in the military have a perspective on how to lead and how to be effective. In the military, when a person is given the responsibility to lead, he or she does exactly that – they lead.

Those serving under them can trust and believe in what they say. Their word is their bond.

Today we need such honesty… we need such faith and trust… more importantly we need our leaders to do the job required of them.
As always, book thread tips may be sent to aoshqbookthread@gmail.com
So what have you all been reading this week? Any other Western authors I should be looking at?

posted by Open Blogger at
11:00 AM
|
Access Comments