« Another Recession Approaching?
|
Main
|
Top Headline Comments 7-23-12 »
July 22, 2012
Overnight Open Thread (7-22-2012)
The Top 150 Conservative Websites - July 2012
As determined by their Alexa traffic rankings. Here are just the top 20. 
And AoSHQ (and the other mu.nu ilk) aren't too far down either:
Not too shabby.
On Obama's You Didn't Build It Quote
That brings me back to the creepiness of it all. It is as if a Dutch politician-an intelligent, well-meaning Dutch politician-were somehow running for the American presidency, but bringing with him the Rawlsian, social-democratic ethos that, in the Netherlands, is the natural way to talk about a properly run society. We would listen to him and say to ourselves, "He doesn't get this country." That's the thing about Obama. Time and again, he does things and says things that are un-American. Not evil. Not anti-American. Just un-American.
Back in 2008 I kept pointing out to family and friends that given Obama's foreign background, Hawaiian childhood, and education and job experience he was profoundly out of touch with how middle America actually lives. And nothing since then has made me think any different.
And Was Obama's Quote a 'Gaffe'?
Nope - here's was what he was saying back in 1995 when he was a community organizer about to run for office:
In America we have this strong bias toward individual action. You know, we idolize the John Wayne hero who comes in to correct things with both guns blazing. But individual actions, individual dreams, are not sufficient. We must unite in collective action, build collective institutions and organizations.
Plus this: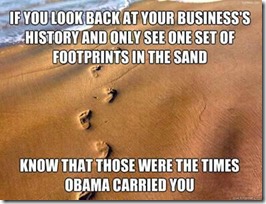 Every Obama Speech in One Paragraph
Thanks to Peter Kirsanow of NRO:
If you've got a business - you didn't build that. Somebody else made that happen because you've been a little lazy over the last couple of decades and you've lost your ambition, your imagination and your willingness to do the things that built the Golden Gate Bridge, causing you to become bitter and cling to guns and religion and antipathy toward people who aren't like you, and to act stupidly, just like a typical white person or our troops who are just air-raiding villages and killing civilians. Frankly, that's why I believe in American exceptionalism, just as I suspect the Brits believe in British exceptionalism and the Greeks believe in Greek exceptionalism, and that's why it's necessary for me to fundamentally transform America and spread the wealth around - just as soon as I get more flexibility in a second term.
"Overpopulation" and Population Density
The world only looks overcrowded if you live in a major metropolitan area. America, for instance, may look overcrowded if you live in New York or Los Angeles, but the view from Montana is quite different.

...There's no real point to this-it's a rhetorical exercise. But it highlights pretty nicely how uncrowded the world is. There are other arguments against population growth, but overcrowding isn't one of them.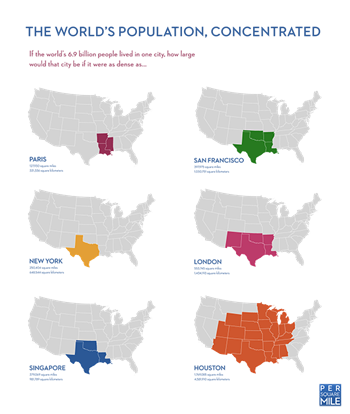 Apollo 11 Flight Director Gene Krantz: "How To Park On The Moon"
Gene Krantz: The "1201? and "1202? were two program alarms we learned about in our final day of training for the Apollo 11 team deployed to the Cape [Kennedy]. We made a wrong call in simulation, and didn't understand the nature and significance of the alarms. So we sent the team back to work overnight to come up to speed with implications of the alarms on the mission and the LM [Lunar Module] guidance computer during the process of going down to the Moon. The amazing thing was this was our final training run. Normally final training is a graduation ceremony, but the instructors didn't treat it that way. We thought we weren't quite ready. When the real mission came along, we had come up to speed on what the program alarms meant. And, right in the battle of getting the crew down to the surface, we saw the alarms. We knew exactly what to do, continued the mission and landed on the Moon with less than 17 seconds of fuel remaining.

JC: In the Apollo movies, everyone looks to one young guy for a signal whether to abort or continue when those alarms come on.

The average age of my entire team at Mission Control was 26. That was a young man by the name of Steve Bales. He knew exactly what to say. We were all glued to our own consoles because we had a lot of other problems at the same time. We knew we were going to be landing long, we had trajectory changes, we were waiting to get our landing radar in. We also had a minor electrical problem - communications weren't all up to snuff - so we had our hands full.
Plus you can watch live coverage of the moon landing synced to today here.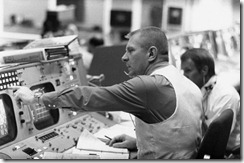 Dépaysement: The sensation of being in another country.
La douleur exquise: The heart-wrenching pain of wanting someone you can't have. Even a Sex in the City episode was named after it!
Chômer: To be unemployed, but because it's a verb, it makes the state active.
Profiter: To make the most of or take advantage of.
Flâneur: As defined in the book Elegant Wits and Grand Horizontals, it's "the deliberately aimless pedestrian, unencumbered by any obligation or sense of urgency, who, being French and therefore frugal, wastes nothing, including his time, which he spends with the leisurely discrimination of a gourmet, savoring the multiple flavors of his city."
Esprit d'escalier: The literal translation is staircase wit, but it means to think of a comeback when it's too late.
Retrouvailles: The happiness of meeting again after a long time.
Sortable: An adjective for someone you can take anywhere without being embarrassed.
Voila/voici: It's so necessary that we use it all the time. "Voila" literally means "there it is" and "voici" means "here it is."
Empêchement: An unexpected last-minute change of plans. A great excuse without having to be specific.


The Place in Israel Where Jews Are Banned
There is actually a place in Eretz Israel that Jews are strictly forbidden from entering. Notice how the sign reads "Jewish Access Forbidden" rather than "Israeli Access Forbidden." This means that Israeli Arabs-who make up 20% of Israel-are allowed to access this Arab neighborhood of Hebron, but not Jews. I spoke to many experts throughout Israel, and they told me that there is nothing comparable to this within Israel that forbids Muslim access.

The Israeli soldiers are guarding the check point because if any Jew gets through they are likely to be murdered.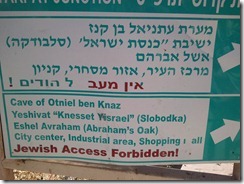 Philly's Top Cop: If a Theater Patron Had Been Armed, 'Now You Got Two People Randomly Shooting'
I think he's confused on what random actually means since there was nothing random about Holmes' shooting.
The commissioner of the Philadelphia Police Department said on ABC's "This Week" this morning that he didn't think a theater patron carrying a gun during the Aurora massacre would have helped stop the killings.

"You had tear gas in there, and unfortunately, many states, and I don't know about Colorado, but many states that authorize concealed carry have no provisions at all for people to receive training, marksmanship, proper handling of firearms, or whatever," said Charles Ramsey. "So now you got two people randomly shooting in a movie theater. I don't know how that helps."
Weekly AoSHQ Commenter Standings
Top 10 commenters:
1 [446 comments] 'toby928?' [62.61 posts/day]
2 [301 comments] 'Vic'
3 [266 comments] 'wheatie'
4 [258 comments] '@PurpAv'
5 [257 comments] 'AllenG (Dedicated Tenther) Channelling Breitbart'
6 [257 comments] 'kbdabear'
7 [249 comments] 'steevy'
8 [233 comments] 'Nevergiveup'
9 [219 comments] 'Cicero'
10 [200 comments] 'CharlieBrown'sDildo (NJConservative)'
Top 10 sockpuppeteers:
1 [86 names] 'Ed Anger' [12.07 unique names/day]
2 [77 names] 'kbdabear'
3 [76 names] 'Cicero'
4 [53 names] 'toby928?'
5 [47 names] 'andycanuck'
6 [46 names] 'toby928?'
7 [34 names] 't-bird'
8 [33 names] 'Jack Kerouac'
9 [31 names] 'Truck Monkey'
10 [28 names] 'Belinda Carlisle'
The group. Yeah.
Where it's at - the Twitter
Tonight's post brought to you by Apollo 11 crew and families, 1969: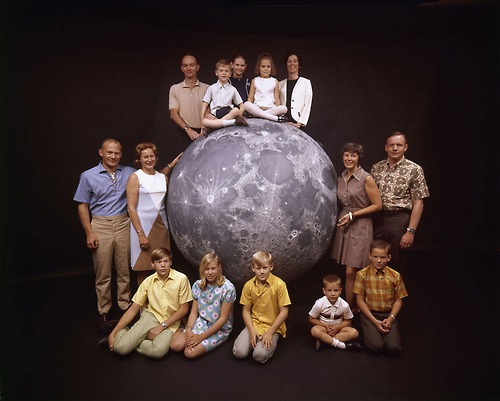 Notice: Posted by permission of AceCorp LLC. Please e-mail overnight open thread tips to maetenloch at gmail. Otherwise send tips to Ace.

posted by Maetenloch at
08:47 PM
|
Access Comments