« Sunday Morning Open Thread
|
Main
|
Penn State Removes Paterno Statue »
July 22, 2012
Sunday Morning Book Thread 07-22-2012: eReader Edition [OregonMuse]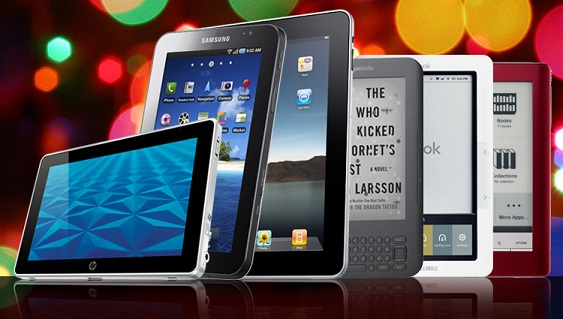 Good morning morons and moronettes. Welcome to the witty and urbane Sunday morning book thread
I will be out of town next week for a few days, so I will not be able to post a book thread next Sunday.
EReaders, and tablets, and eInk, Oh My!

I recommend this recent post by ace on eBook sales, and there's plenty of good discussion about the various eReaders in the comments.
For example, someone mentioned buying an el cheapo $99 Android tablet, downloading the free Kindle and Nook apps, and you're all set. This may be the best suggestion yet.
About 10-12 years ago, I just stopped reading. It's not one of those you realize you're doing, you do it unconsciously and then one day it just occured to me, "Hey, when was the last time I actually read a book?" and then I knew what I had done. And it didn't take much thought to discover what had happened. All the time I used to spend reading was now being used being on the internet, clicking on this link or that link. Oh, I read stuff, but it was all short articles and blog entries, nothing long or sustained.
So I made a conscious effort to step back, and buying a Nook helped with that.
I bought the Nook over the Kindle because it had expandable memory and because it reads ePub files. The Kindle does neither. But there's just so much stuff out there for the Kindle in its proprietary azw format that not reading ePub files isn't a problem. And I'm finding out that 2GB is plenty.
So, if I had to do it over again, I'd probably by a Kindle.
But I wanted to take advantage of the tons of ebooks in azw format. So I googled around for an azw-to-ePub converter and found out that azw files are usually loaded with Amazon DRM, so they can't be easily converted.
But it can be done.
This blog shows you how. You basically have to download and install Calibre, an open-source eReader for your PC along with an azw conversion plugin for it. The blog has all the links you need. So what I do is buy the Kindle book from Amazon, download it to my PC, and bring it up in Calibre. Calibre, because of the installed plugin, automatically strips off all the DRM and saves it as a mobi file, which I then can convert to ePub format in Calibre and download to my Nook via USB cable.
Easy-peasy, lemon squeezy.

Books I've Discovered While Looking For Other Books
This week's grim events in Colorado sent me searching on Amazon for books on serial killers as a topic for this thread, but I couldn't find anything I thought was really suitable. The books I found were about serial killers who committed their crimes over months and years, rather than doing it all in a brief frenzy of violence. But while I was poking around, I found this book about someone rather rare, a female serial killer. This one plied her trade in New England at the turn of the 20th century. No, it wasn't Lizzie Borden.
From one of the reviews:
Amy Archer-Gilligan—Sister Amy, she was called—was a murderess well-enough known to be cited as an inspiration for Joseph Kesselring's perennial grim farce, Arsenic and Old Lace. She took in elderly and frail roomers and dispatched them with loads of cyanide. Along with husband James, she opened the Archer Home for the Elderly and Infirm in Windsor, Connecticut, in 1907, having succeeded with a similar, smaller facility in nearby Newington. James dying in short order, Amy married wealthy widower Michael Gilligan, who expired suddenly not long after, willing his estate to his new bride. Because of her friendships with local bigwigs, including the coroner, nobody noticed the rather high death rate among her patients until local newspaper stringer and jack-of-all-trades Carlan Hollister Goslee started poking around. Discovering the large quantities of arsenic Sister Amy had been purchasing, ostensibly to control rodents, he pressed his findings on authorities who eventually responded by exhuming bodies. Amy's sensational trial attracted great interest, and Phelps wraps the whole dirty business in a delightfully cozy narrative. A genteel true-crime excursion.
So the play 'Arsenic and Old Lace' was based on true events. I did not know this. Does everyone know this except me?
Also, this sounds like it would make one hell of an interesting movie. In fact, I wonder why it hasn't. It's got a liberal hero (a reporter) and the villain, 'Sister Amy' was probably one of those damn tea-bagging Christians. If she wasn't, hell, make her one, anyway. Who's to know? Brian Ross would certainly approve.
Apropos of nothing, here is a cartoon about boobs: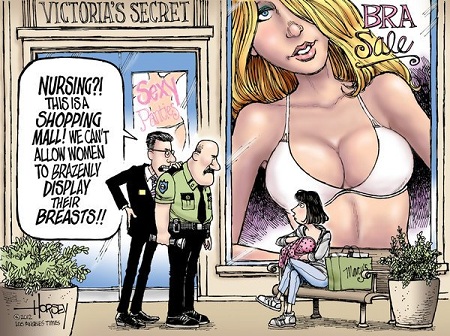 So that's all I have for this week. See you all in a couple of weeks.
As always, book thread tips may be sent to aoshqbookthread@gmail.com
Hopefully, you all have been reading some good stuff this week. Let's hear about it!

posted by Open Blogger at
11:00 AM
|
Access Comments