« CBS/NYT Poll: Romney, Obama In Statistical Tie (Romney Nominally Ahead) Among... Registered Voters
|
Main
|
Top Headline Comments 7-19-12 »
July 18, 2012
Overnight Open Thread (7-18-2012)
Childhood's End - The Shrinking Range of Kids
It's not your imagination - kids today really do roam their neighborhoods far less than they did even a generation or two ago.
A British study called One False Move, investigating the mobility of children, found that the average eight-year-old saw its 'home habitat' shrink to one-ninth of its size within a single generation. In 1970, 80% of British kids 7 or 8 years of age were allowed to go to school unsupervised; by 1990, this figure had dropped below 10%.

The result of this gradual shrinkage of children's habitat, is the effective end of the outdoor childhood.
And here's a map showing how much the range of one family's children in Sheffield, England has shrunk in four generations: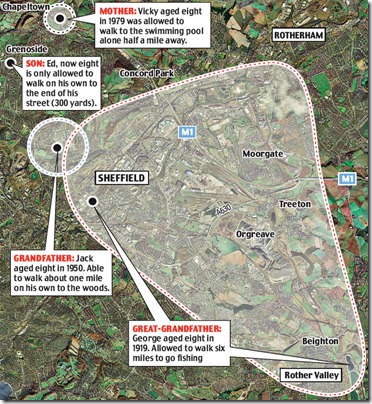 I've seen this in my own lifetime as well. As a kid I was lucky to have some woods just a mile or two from our house so quite often my friends and I would announce that we were going 'exploring', stuff some food and water into our backpacks, and head off into the woods with our dogs for most of the day.
We probably only got a mile or two into woods - and in retrospect given their size couldn't have gotten truly lost if we'd tried - but to us it felt like we were very, very far from home and on our own. And I won't even go into the many hours of fun we had wandering along the railroad tracks.
But my nephews (9 and 11 years old) who now live just on the other side of the very same woods have never walked into them on their own. In fact I doubt they've ever walked or biked beyond a half mile radius of their house. And it's not like they're lazy or homebodies - they're quite active and play sports year round - or in a bad neighborhood or that my sister is the over-worrying mother type.
Mostly it's because they have far less free-time to wander around than I did, there's already a lot of fun stuff to do at each others houses and there is constant low grade pressure from *all* the parents to not stray too far. So I doubt that they'll ever walk into the woods just a mile and half away. And that's a shame.
U.S. Becoming a Nation of Dependents
The Obama administration is rapidly pursuing its vision of a "transformed" America-an America in which most people are dependent on government, and therefore the party of government, the Democrats, will be dominant.
And one of the stealth ways of doing this is by slowly expanding the reach of government benefits until nearly everyone is compromised to some degree or other by them. And we're pretty much already there.
Here are the effective tax rates i.e. taxes paid minus government benefits received as a percent of income from back in 2009.
Bottom quintile: -301 percent
Second quintile: -42 percent
Middle quintile: -5 percent
Fourth quintile: 10 percent
Highest quintile: 22 percent

Top one percent: 28 percent

The negative 301 percent means that a typical family in the bottom quintile receives about $3 in transfer payments for every dollar earned.

The most surprising fact to me was that the effective tax rate is negative for the middle quintile. According to the CBO data, this number was +14 percent in 1979 (when the data begins) and remained positive through 2007. It was negative 0.5 percent in 2008, and negative 5 percent in 2009. That is, the middle class, having long been a net contributor to the funding of government, is now a net recipient of government largess.
"What is the most Burkean line from Animal House?"
A classic 2001 column from Jonah Goldberg.
Regardless, now that my spirit has been renewed and I, like Jackson, can return to my public ministry (if he can have one, why can't I?), I feel I must fulfill my covenant with my readers and address the deeply pressing question, "What is the most Burkean line from Animal House?"
If you're not familiar with Edmund Burke, well the short version is that he was The Man of original conservative thought. Probably a good half of all the conservative ideas rattling around in your brain were first (and better) expressed by him back in the 1790s.
And here are some suggestions that were rejected by Jonah:
Many readers were convinced that "fat, drunk, and stupid is no way to go through life" was the apotheosis of Burkean thought. This can't be right, because it would rule out the lifestyles of many British Monarchs, whom Burke supported.
A more promising guess comes from the line during the trial of the Delta House. Eric "Otter" Stratton says: "The issue here is not whether we broke a few rules, or took a few liberties with our female party guests - we did. [winks at Dean Wormer]...Well, you can do whatever you want to us, but we're not going to sit here and listen to you badmouth the United States of America!"

This is an excellent suggestion on several points. It shows a deep appreciation of the integral role that institutions play in the social fabric. But it also displays a degree of unquestioning patriotism bordering on jingoism. No, sorry: close but no cigar.
Then there's my absolute favorite suggestion: "The Negroes stole our dates!"

Considering Burke's moral clarity on racial issues, I must say this fails, but I just think it's hilarious. Hold on to it for my quiz on the line from Animal House most befitting Calhoun.
You'll have to read the column to find out the answer.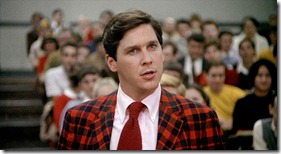 How to Really Test Bullet-Proof Vests
It's one thing to design a bullet-proof vest that based on specs can also stop intermediate powered bullets - but it takes true confidence in your design to let someone fire an AK-47 into your chest from a few feet away.
I wonder what ever happened to those guys.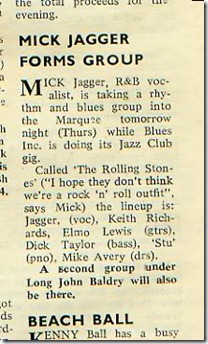 There's a special hotel just for you:
Located in the Elqui Valley in Chile's Norte Chico region, Elqui Domos is one of the few astronomical hotels in the world. The area is renowned for its sparkling clear skies and Elqui Domos takes advantage of this by offering lodgings in a series of geodesic domes with elevated loft beds and open rooftops as well as recently added wooden cabins designed with star-gazing in mind. .Both the geodesic domes and observatory cabins are furnished with their own telescopes for guest use.

...Daytime activities include hiking, horse riding, mountain biking, wine tasting and yoga. Prices at Elqui Domos start from US$120 per couple per night.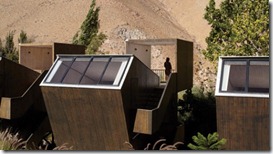 Upon defeating the Oklahoma City Thunder in five games, two porn stars made a bet on Twitter with the stipulation they'd give oral sex to Heat fans if their team won the title.

In order to fulfill their promises, the duo, better known as Sara Jay and Angelina Castro, formed a website, TeamBJNBA, for fans to cash in on their "winnings." They set up the rules of their free giveaway because, you know, if they were actually paid for their services that would be both wrong and illegal. But who are we to judge?

Needless to say, this got the duo in a bit of hot water with the ultra-PC NBA. Not wanting to see their carefully crafted image destroyed, the league moved to stop the giveaway.

...The NBA has demanded that the entire website and picture be pulled off the Internet and that the URL Teambjnba.com and Twitter handle @teambjnba be transferred to its ownership.

Not phased, the duo are still planning to go ahead to make many people's day.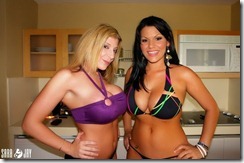 Teh Tweet!
Yahoo group. That is all.
Tonight's post brought to you by subterranean lady lovers: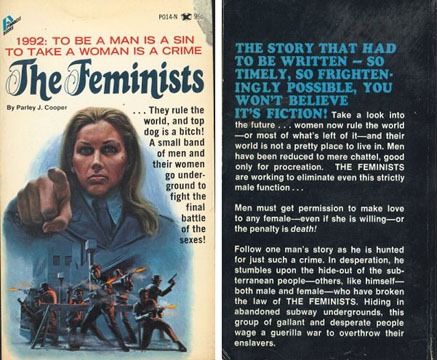 Notice: Posted by permission of AceCorp LLC. Please e-mail overnight open thread tips to maetenloch at gmail. Otherwise send tips to Ace.

posted by Maetenloch at
10:00 PM
|
Access Comments