« Wisconsin Students May Not Be Reliable Vote in Recall. In Other News Sun to Rise in East Tomorrow, Baffling Astronomers.
|
Main
|
Top Headline Comments 5-14-2012 »
May 13, 2012
Overnight Open Thread (5-13-2012)
I'm back my pretties! 
Newsweek (and Obama) Jumps The Rainbow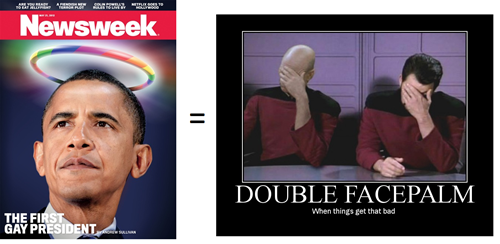 Okay at this point it's well known that Newsweek columnist Andrew Sullivan is a single-issue writer/kook - everything revolves around gay marriage. And he will rearrange entire worldviews, logic systems, and even his own memories to always make it so that support for gay marriage is the 'conservative' choice.
But how did this crap ever get past the editors to make it to the cover of a major 'serious' news magazine? The very fact that Newsweek would let a crank like Andrew Sullivan write a front-page story for them shows how far the overvalued-at-$1 magazine has fallen.
Sad.
Washington Post Ombudsman Admits They're Shameless Hacks
In response to suspicions that their story on Romney's 1965 'gay bullying' was a weakly sourced story (it contained a quote from a dead man) and was timed to help the Obama campaign:
That's a fallacious appeal to authority. Just because David Maraniss had a hand in it and a committee of liberals handed him a trophy does not make this story factual or fair. Walter Duranty won a Pulitzer too.

If I were an editor I might have sped it up a little, too, to take advantage of the national discussion on gay marriage. Does that mean Post editors are timing stories with the White House? I hope not, and I doubt that is the case.

But he didn't pick up the phone and ask them, so deep is his curiosity on the subject. Pitiful.

The accusation that the Post times a big story to assist a president in the midst of a re-election battle is kind of a big deal. It's an accusation that the Post is engaged in partisan propaganda, not journalism. It's worth looking into.

Merida said they held the printed version for a day because they didn't want it clashing with the Thursday front page coverage of Obama changing his mind on gay marriage."It just happened to coincide with the time when President Obama made his statement. We factored it in and that was the decision not to run it in print on Thursday," Merida told me.

It just happened to coincide.. Sure.

The Post's ombudsman thinks we're stupid.
Here a Seattle anarchist attacks Niketown while wearing...Nike shoes. (thanks to genghis)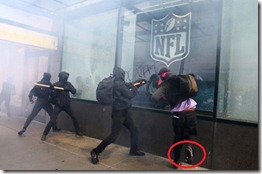 Unclear on the Concept - Part Deux
Being a Socialist leader means you get to inflict Socialism on other people:
"Socialist Hollande owns three homes on the Riviera," according to the London Evening Standard. "Francois Hollande, 57, who 'dislikes the rich' and wants to revolutionise his country with high taxes and an onslaught against bankers, is in fact hugely wealthy himself."
If the United States Was a Movie...
This would be its trailer. And I'd actually be lured out of the lighthouse to go see it.
Books Every man Must Read - Part Two
The Great Gatsby by F. Scott Fitzgerald
The Republic by Plato
Blood Meridian by Cormac McCarthy
Things Fall Apart by Chinua Achebe
The Kentucky Derby is Decadent &
Depraved by Hunter S. Thompson
Well as is usual I've only read 1.5 of these. Luckily HST's essay on the Kentucky Derby is available online so I should be able to bump my score up to 2.5 fairly easily.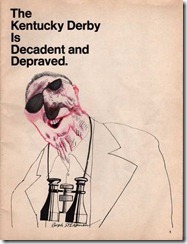 Ford To Start Making Cars Out of Money
Well not the whole thing but pieces of it:
As part of an ongoing effort to find sustainable alternatives to petroleum-based vehicle components, the Michigan-based multinational automaker is looking to re-use retired dollar bills in the manufacture of trays and bins, in the same way wheat straw is currently used in the Ford Flex.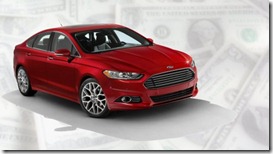 Well according to scientists - top scientists! - your best shot is at 11pm on Saturday night since that's when women's sexual appetite peaks.
There's a time and a place for sex, and latest research suggests for women their desire peaks at 11pm on a Saturday night - the venue TBC.

The finding is just of the statistics to emerge from a nationwide study investigating the truth behind female libido.
The next best time - Thursday mornings.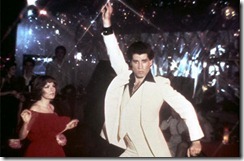 Weekly AoSHQ Commenter Standings
Top 10 commenters:
1 [511 comments] 'Robert' [71.73 posts/day]
2 [509 comments] 'Niedermeyer's Dead Horse'
3 [367 comments] 'AllenG (Dedicated Tenther) SMOD 2012'
4 [292 comments] 'toby928?'
5 [284 comments] 'chemjeff'
6 [269 comments] 'Lampshade'
7 [262 comments] 'mama winger'
8 [258 comments] 'ThePrimordialOrderedPair'
9 [257 comments] 'nevergiveup'
10 [244 comments] 'Jimbo'
Top 10 sockpuppeteers:
1 [59 names] 'he's just going to be trickling out these turds til nov' [8.28 unique names/day]
2 [46 names] 'toby928?'
3 [42 names] 'Romeo13'
4 [42 names] 'Scobface'
5 [38 names] 'Cicero'
6 [34 names] 'fluffy'
7 [33 names] 'kbdabear'
8 [30 names] 'Elizabeth Warren'
9 [29 names] 'Robert'
10 [29 names] 'Billy Bob, pseudo-intellectual'
The group. Yeah.
Where it's at - the Twitter
Tonight's post brought to you by Johnny: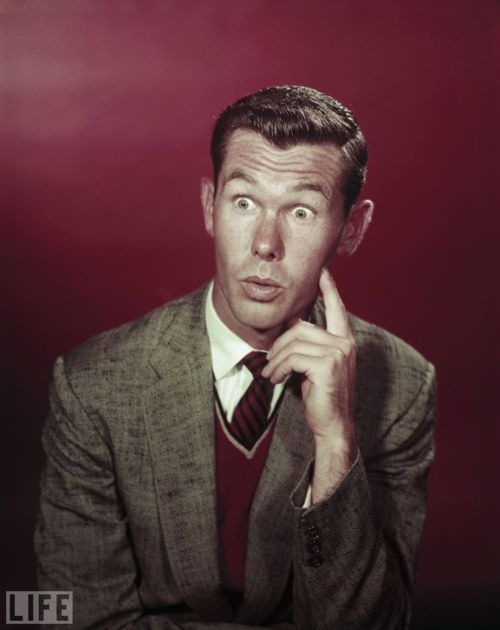 Notice: Posted by permission of AceCorp LLC. Please e-mail overnight open thread tips to maetenloch at gmail. Otherwise send tips to Ace.

posted by Maetenloch at
09:30 PM
|
Access Comments