« SNL Does Oddly Racial Episode for Black History Month
|
Main
|
Crowdsourcing For the SCOAMF »
February 19, 2012
The Wackiest Ship in the Navy
Sillier than McHale's Navy, which was just a little PT boat commanded by Ernest Borgnine and Tim Conway. The epic tale of the USS William D. Porter, possibly the unluckiest WWII destroyer ever.
They wrecked another ship pulling out of port on their maiden voyage, which incidentally was to escort the USS Iowa carrying the President of the United States, FDR, his Secretary of State and the Joint Chiefs of Staff on their way to Yalta to meet with Churchill and Stalin.
They dropped a live depth charge by mistake, sending panic signals throughout the convoy. And if that wasn't funny enough, they fired a live torpedo at the Iowa by mistake during a drill.
The way this particular drill worked was that the Iowa would release balloons that served as targets for anti-aircraft guns. Fair enough. Until some of the balloons drifted over to the Porter and someone (Captain Walter) thought it was time for redemption. So he ordered his crew to fire on any balloons missed by the Iowa's gunners. That part went fine. Then, feeling cocky, he ordered a practice firing of their torpedoes. And the practice target would be the Iowa.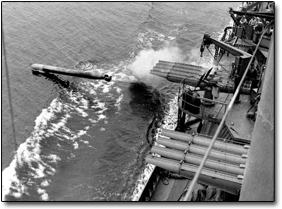 A Republican Torpedo
Things got so bad the Admiral in charge of the convoy ordered the Porter to detach from the convoy and sail to Bermuda. Where the entire crew was arrested.
It gets worse.

via Sean M. over at the Splitters.

posted by Dave In Texas at
03:32 PM
|
Access Comments