« Open Thread
|
Main
|
The Wackiest Ship in the Navy »
February 19, 2012
SNL Does Oddly Racial Episode for Black History Month
One sketch knocks the hypocrisy of sportscasters for making jokes about Jeremy Lin's race while getting all pissy about similar jokes aimed at blacks, and another sketch asks what it would take for Obama to lose the black vote.
Plus goofing on Maya Angelou.
Regarding that first sketch: I agree on the hypocrisy but I think the solution here is for everyone to lighten up, not for everyone to submit further to PC.
Saturday Night Live knows well that racial jokes are funny -- since they use them themselves a lot. Oh, they don't do it in a mean way, and they often (as here) have some kind of defensible thesis they can point to, but still. If you're using them, you're not really against them.
On the other hand, the stuff with Lin seems deliberately nasty. See, e.g., this ESPN headline, now retracted and apologized for.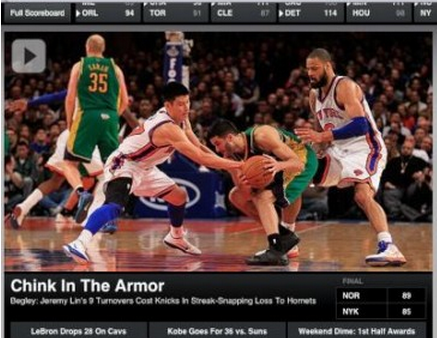 Get it? Get it?! Get it?!
Media workers have so much to teach the nation about racial sensitivity.

Plus, Obama as Cosby.
I really liked the band they had, or their first song at least. The sound mix on the show was off and the singer was too buried under the guitars, so here's the recording-studio version, with the video.
Adding to the show's weirdly right-wing-ish vibe is that song, which includes the metaphorical lyric "get your gun ready" in a positive way (meaning, I guess, just "get into the game").

ESPN headline thanks to JohnE.

posted by Ace at
03:02 PM
|
Access Comments