« Indoor Skydiving
|
Main
|
UPDATE: 8 Dead in Israel, Dozens Wounded
Rumors Are That Israel Has Fired Into Egypt
Not Israel, but "Gunmen"? »
August 18, 2011
Obama's Job Creation up 5.2%!(in regulators)
[ArthurK]
Since we're thinking about it lately (EPA farm dust rule, the regulatory stuff in day 3 of After America Blogging) here's a look at a booming sector of the economy.
If the federal government's regulatory operation were a business, it would be ...the third largest in terms of employees, with more people working for it than McDonald's, Ford, Disney and Boeing combined.Regulatory agencies have seen their combined budgets grow a healthy 16% since 2008, ... That's at a time when the overall economy grew a paltry 5%.... employment at these agencies has climbed 13% since Obama took office ... while private-sector jobs shrank by 5.6%.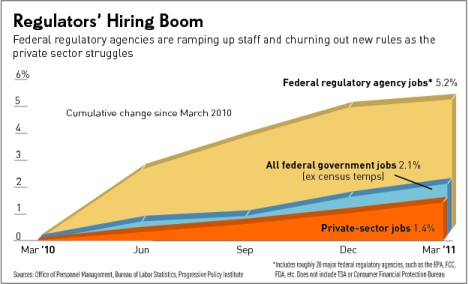 Meanwhile, in Bizarro World...
Not everyone in the Obama administration sees a problem. The EPA thinks new regulations can fuel the economy and hiring.The EPA wrote in February that "in periods of high unemployment, an increase in labor demand due to regulation may have a stimulative effect that results in a net increase in overall employment."
It's not that excessive regulatory growth hasn't been a problem before Obama. It just that now, like so many other things, it's in turbo mode.

posted by Open Blogger at
04:53 PM
|
Access Comments