« Obama Calls On Syria's Assad To Resign
|
Main
|
I Think We're In A Second Recession »
August 18, 2011
Perry On Softening Remarks About Obama: I Love My Country More Than I Care About The President's Feelings
As I said yesterday, this is pretty clever. In theory, he's "responding" to the President's criticisms of him, and so it's news, a remotely-conducted dialogue between two rivals.
In reality, he's not directly speaking to the subject matter in question, but instead offering up the messaging he wants in the guise of a "response."
After attempting to feminize the president by speaking of his hurt feelings, he goes after the other Big Theme, the president's incompetence.
"The rhetoric will probably get heated. I'm going to be outspoken, I'm going to be passionate, I'm going to be calling it like I see it," Perry told the Herald in a one-on-one interview, as he shrugged off Obama's recent scolding that he should be "more careful" about what he says.

"And if I hurt the president's feelings, well, with all due respect, I love my country and I love future generations more than I care about his feelings," the 61-year-old governor added.

Perry, who embraced the Tea Party even before GOP presidential hopeful Michele Bachmann, also brushed off Democratic attempts to paint him as a marginal candidate.

"It's the height of hypocrisy for this president to call anyone a marginal performer. If anyone is a marginal performer, it's him. He has downgraded the good name and credit of this country," Perry said. "Talk about someone who has marginalized America."
At the link there is much more on whether QE3 is a good thing or not (not), but the impressive thing is that Perry just will not go off-message.
It's akin to yesterday where, in response to a dispute over whether the troops would respond more to a president who's worn the uniform, Perry launched into Obama's pitiful economic record and boosted his own.
He seems to have adopted the polite version of the campaign theme developed in the comments here.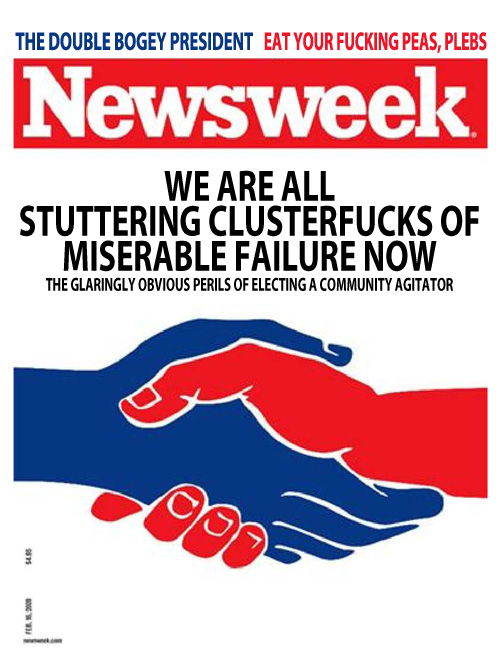 Actually, Romney does this too, and I imagine that several candidates would do this if they were given the media microphone and had the opportunity for a dialogue with Obama over the air.
Still, I think Perry manages the right amount of bite and dismissiveness.

Again, thanks to John E. I have a small library of these thanks to him, and another reader has gotten in on the action too.
Gallup Unchanged... at 40/52 for today.
Like a stock's price, the fundamentals have finally caught up with him, and have brought him low.
And there's still bad news not yet reflected in the price.


posted by Ace at
12:50 PM
|
Access Comments