« With Obama's Approval Numbers Flagging, It Must Be Time For Another "We've Given Up On Government" Piece
|
Main
|
Top Headline Comments 8-5-11 »
August 04, 2011
Overnight Open Thread
No matter where you are in the world you're probably not very far from a McDonalds. And since Big Macs are more or less the same in most countries and served in standardized restaurants, the price of a Big Mac is a pretty good indicator of the purchasing power of the local currency relative to the dollar. So in Norway a Big Mac will set you back the equivalent of $8.31 while in Hong Kong they go for just $1.94.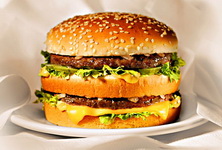 And in fact the local dollar price of a Big Mac correlates pretty well with the per capita GDP of a country. So whenever the 'Big Mac Index' deviates from this line, it's a sign that that a currency is valued more or less than it 'ought to be'. So based on the July BMI the Brazilian real is way over-valued while the US dollar is currently undervalued.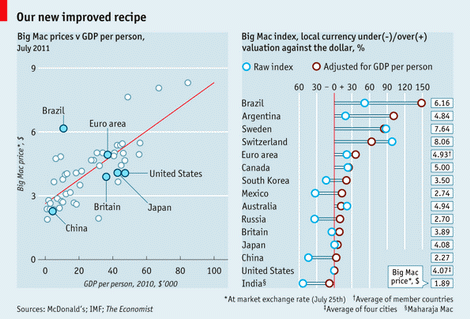 American vs. Russian Friendships

Not long ago I attended an evening-long discussion group on this topic, comprised mostly of Russian emigrants and their spouses. The Russians were generally keen to argue that they have deeper and closer friendships than do the Americans. They also dislike that Americans will call their acquaintances "friends."
It's a common trope among Europeans - particularly Russians and Germans - that American friendships are shallow and that we don't have
true
friends like they do.
I think they're wrong. And much of the misunderstanding is due to a terminology difference - Americans tend to refer to people as 'friends' even when technically they're really just casual acquaintances that they're on good terms with.
Plus the default mode for Americans is to be polite and 'friendly' even with complete strangers which is not the standard in many other countries. So yes American 'friends' tend to be shallower relationships than Russian друзья but that doesn't mean that Americans don't have друзья too.
Woo Hoo: The New 2012 Obama Banner Ads Are Here!
Courtesy of Doug Ross.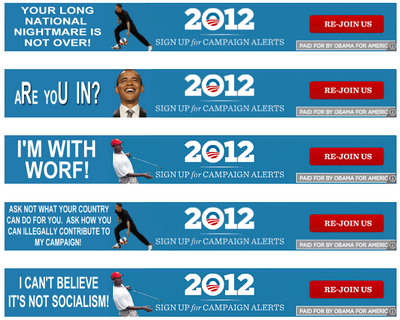 The Mossberg Chainsaw Zombie Boomstick

Mossberg, an American armsmaker, has produced a pistol-grip shotgun that is supported with the type of grip that you'd commonly find on a chainsaw or weed eater. Here's a video of YouTube user bigdaddyhoffman1911 trying it out in a short-range zombie attack scenario. I'm not a fan of shotguns against zombies. Really, if you've led the undead get within shotgunning range, you've screwed up in a big way.
Evolution of the Hipster
They've seemingly appeared out of nowhere in the last few years but they've been with us for millennia.

The Story of the Naval Academy Ring Found in Korea

In the spring of 1962, the United States Navy was excavating a site in Inchon, Korea, when the discovery of human remains led officers to believe they had come across the site of a prisoner-of-war camp...But the 1962 Inchon excavation led to an unexpected find.

Yi So-young, a Korean laborer at the site, noticed that one of his fellow workers had discovered a gold ring buried in the mud
It had been partially melted down, but once it cooled and he was able to wipe away the grime, [Rear Admiral] Pressey recognized that it was indeed an Annapolis class ring. Class of 1932. Pressey had been at the U.S. Naval Academy at the same time. His heart began to pound as he tilted the blue stone ring toward the light. Engraved on the inside was a name he knew: Dial.

Nathaniel Minter Dial had been one of Pressey's best friends at Annapolis.
Read the rest to find out how this ring ended up buried in Korea.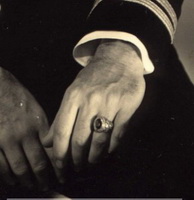 The Difference Between Men and Women in Pictures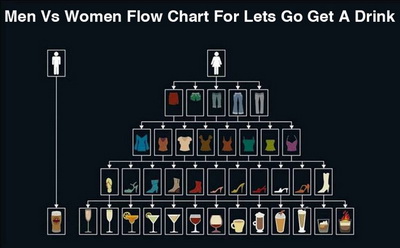 Yahoo group. That is all.
Tonight's post brought to you by Laurie and Fry at Cambridge, 1980: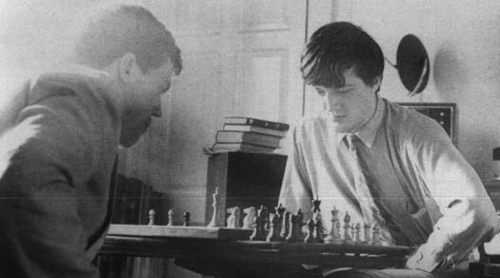 Notice: Posted by permission of AceCorp LLC. Please e-mail overnight open thread tips to maetenloch at gmail. Otherwise send tips to Ace.

posted by Maetenloch at
09:38 PM
|
Access Comments