« Open Thread- Light Pollution in Your Area Map
|
Main
|
Top Headline Comments 7-18-11 »
July 17, 2011
Overnight Open Thread: Controversy!
What's the big deal? She had legs. She knew how to use them.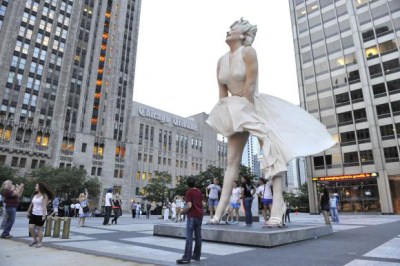 Not seeing the problem here.
Don't you wish you had a skirt? Those hot pants.
But Chicago Tribune columnist Mary Schmich gave the sculpture a scathing review. She called it "as tawdry as a peep show," and complained about the men walking by who were seen "shooting photos of her crotch while one stuck out his tongue to mime a lick."
Oh hello. People do that shit at the giant ball of twine in Cawker City all the time Mary. Lighten up for once in your life.
(story via rdbrewer)
3 days early, but this is my gig tonight. James Doohan, RIP. Ace wrote Elegy for a Chief Engineer and it's still on my all time AoS funnay list.
Doohan was an officer in the Royal Canadian Artillery, a veteran of D-Day. Shot two German snipers, and was wounded by friendly fire, 6 machine gun bullets, one of which banged off of a cigarette case and another that took a finger. Stunt hands on the transporter controls in Star Trek. March 3, 1920 – July 20, 2005.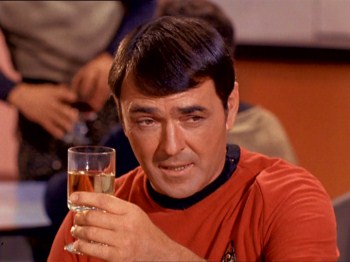 It ain't Tranya or Romulan ale, but it doesn't suck either.
Hope you knuckleheads are having a great Sunday evening. I'm exhausted with this thing, and appreciating Maet's work a lot more than I did!

posted by Dave In Texas at
09:41 PM
|
Access Comments