« The Strange Death of Liberal England [Truman North]
|
Main
|
BREAKING: Obama To Address Nation At 10:30 EDT UPDATE: CNN Says It's "National Security Related". Multiple Confirmations: Bin Laden Dead. CNN Says Not A Drone But "Human Action". "Shot In The Head" »
May 01, 2011
Overnight Open Thread
Hey this week is the first week of the rest of your life - so you've got that going for you.
So How Do You Stop A Truck Bomb?
Well luckily for us at least one company has been working on this problem for a while and has some good, field-able systems.
The Vehicle Arrestor is probably the most powerful since it's able to stop a 15,000lb truck travelling at 50mph - more than sufficient to have stopped the truck used in the 1983 Marine Corps barracks bombing. But the Crash Beam has the advantage of being portable and looking deceptively innocent.
Note that unlike pretty much everything the TSA does, these would actually stop a determined terrorist attack.
Libya Then, Libya Now
25 years ago we were bombing Libya and trying to kill Qaddafi without 'targetting' him. So here's what the Left was saying back then:

Ellen Goodman: "There is more to all this than rage at Muammar Kadafi, the terrorist it is safest to hate. There is also in our reaction a lust for action, for hitting back ... even if this punch kills another baby.... I am sure the president and his men see in this muscular policy the return of the mythical man, the American striding alone to High Noon in every trouble spot. But I keep seeing Slim Pickens in Dr. Strangelove, gleefully riding the bomb to Doomsday." (The Baltimore Sun, April 22, 1986)
Flora Lewis: "America has shown that there are limits to its patience. Now it must show it also means what it says about promoting civilized behavior, accepting international rules in concert with friends, eschewing force and prefering diplomacy even when it stings." (The New York Times, April 17, 1986)
Given that our on-going bombings have less justification than the 1986 one, I wonder why they aren't wringing their hands over the current attacks. Okay that was rhetorical - I know why.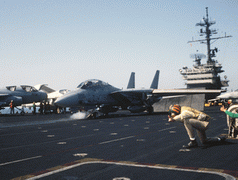 On Greg Mortenson: Do We Want To Be Fooled?
Now that 60 Minutes and Jon Krakauer have revealed Greg Mortenson, the author of the bestselling "Three Cups of Tea", as a hoaxer who lives off his charities that collect money for building schools for Afghan women, Bruce Bawer asks why Mortenson was wasn't unmasked much earlier:

But it was impossible to forget Greg Mortenson's name. For he was the star of his own story. The whole point of his talk was how much one brave, selfless individual can accomplish in this world even against the most formidable of odds. And that individual was him. The premise of his spiel was that he's a miracle worker, pacifying belligerent jihadist types by sitting down with them over three cups of tea and listening to their concerns. Yet the egomaniac I saw that day was somebody you couldn't picture listening to anybody else for more than thirty seconds.
I read the part where he finds out that Mother Teresa has died, so he goes to her mission in Calcutta. He's a total stranger, but a nun lets him in and leads him to a room where she leaves him alone with Mother Teresa's body. Nobody else is around. I remember thinking: this may be the most far-fetched-sounding anecdote I've ever read.

...Not until after 60 Minutes caught up with him did I discover that the Mother Teresa story was not just exceedingly improbable but utterly impossible — for Mother Teresa actually died two years before the date on which Mortenson claimed to have paid his respects in Calcutta. Mortenson's own duplicity, in short, was hidden in plain sight all along — in a book that has sold more than 2.5 million copies in over two dozen languages.
This wasn't just a harmless money scam - supposedly the US military brass were heavily influenced by his book and based much of the Afghan COIN strategy on it.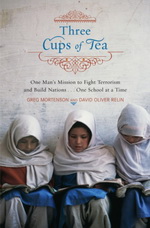 Boston Globe Reporter Hid Information on Obama's Father For 2 Years
It turns out that the recently-revealed story on how Harvard wanted to deport Obama Sr. was known to a Boston Globe reporter for at least two years, but she and the paper kept it quiet while she worked on a novel about Obama:

Sally Jacobs is later identified as a member of the Globe staff and the author of "The Other Barack, The Bold and Reckless Life of President Obama's Father,'' to be published in July.

This revelation — that the Boston Globe had these documents since 2009 — could be the biggest story of all, and it certainly has me rethinking the role of journalism in rural America.

I can't help but wonder how many other reporters at the Boston Globe — and other major news outlets for that matter — are working on novels while they are withholding information from their readers?
No doubt others in the press are sitting on information about Obama until their books are ready or it's safe to release - whichever comes later.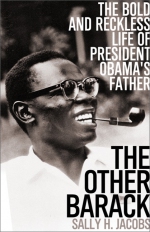 UK Police Confiscate Women's Guns For a Pre-Crime
Because she was being threatened by 'traveller' squatters on her property, UK police took her guns away in case she might need/want to use them.

Having confronted travellers cutting down trees on her farm, terminally-ill Tracy St Clair Pearce found herself subjected to a terrifying ordeal.

Some of the group pelted her with rocks while a youth threatened to slit her throat and slaughter her cattle.

When she dialled 999 she expected the full weight of the law to be on her side.

Instead, however, police officers criticised her for inflaming the situation and confiscated her legally held shotguns – even though they had been locked away in a cabinet at home throughout the incident.
Weep for how far Britain has fallen.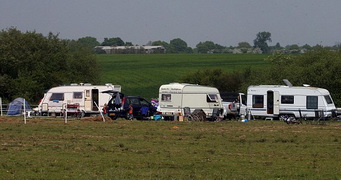 Hawt Farm Babes From Germany
From thе 2011 еdition оf German calendar "Bauerkalender 2011". This may have appeared before on the ONT but I say why take chances.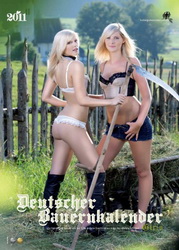 'Mudflap Girl' Was My Mom
So says Ed Allen:

Dad kept the photo in the cab of his truck, which always bore his wife's name on the hood. When a new corporate owner forbade Stewart from decorating a company-owned vehicle, Stewart put his wife's silhouette on his trailer's mudflaps so his boss couldn't see her when the truck was backed up to a loading dock.

In 1967, Ed Allen said that a local truck-accessories manufacturer named Bill Zinda saw the design. He liked it and, with dad's permission, started selling it. No one ever trademarked the image, and Mudflap Girl got around a lot during the freewheeling '70s.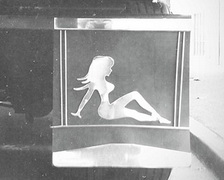 The Other Royal Wedding
This time from 1923 when Prince Albert (the future King George VI) married Lady Elizabeth Bowes-Lyon (later the Queen Mother).

14 Unexpectedly Naughty Products
Sometimes the most innocent looking things are really quite naughty.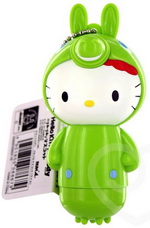 Weekly AoSHQ Commenter Standings
Top 10 commenters:
1 [383 comments] 'Jane D'oh' [53.75 posts/day]
2 [373 comments] 'garrett'
3 [300 comments] 'ace'
4 [297 comments] 'Soothsayer'
5 [286 comments] 'Kratos (Ghost of Sparta)'
6 [261 comments] 'Merovign, Dark Lord of the Sith'
7 [257 comments] 'runningrn'
8 [256 comments] 'iknowtheleft'
9 [212 comments] 'Y-not'
10 [209 comments] 'momma'
Top 10 sockpuppeteers:
1 [76 names] 'Methos' [10.67 unique names/day]
2 [60 names] 'garrett'
3 [53 names] 'fluffy'
4 [50 names] 'Cicero'
5 [46 names] 'Mallamutt, RINO President for Life'
6 [46 names] 'kbdabear'
7 [38 names] 'Wyatt Earp'
8 [36 names] 'logprof'
9 [35 names] 'runningrn'
10 [31 names] 'The War Between the Undead States'
The group. Yeah.
Tonight's post brought to you by 1965:

Notice: Posted by permission of AceCorp LLC. Please e-mail overnight open thread tips to maetenloch at gmail. Otherwise send tips to Ace.

posted by Maetenloch at
09:20 PM
|
Access Comments