« Yea, Though I Walk Through the Valley of DOOM!, I Will Fear No Evil
|
Main
|
Hey, Who Is Up For Political Unrest In....Syria? »
March 25, 2011
Watching the liberals peel off [Fritzworth]
A few days ago, it was Richard Cohen. Now it's his fellow Washington Post columnist, Eugene Robinson:
Is it just me? Am I the only one who's utterly confused about the rationale, goals, tactics and strategy of the U.S.-led military intervention in Libya?

Thought not.

I call it a U.S.-led operation because, people, let's be real. Without U.S. diplomatic leadership, there would have been no U.N. Security Council resolution. Without U.S. military leadership, there would have been no coordinated shock-and-awe attack to put dictator Moammar Gaddafi's rampaging forces back on their heels. On Thursday, after days of bickering, we heard a grand announcement that NATO will take command of the operation. Don't believe it. The United States will be functionally in charge, and thus on the hook, until this ends.

So what the hell are we doing? I realize that President Obama and his advisers have answered this question many times, but I feel it's necessary to keep asking until the answers begin to make sense.

Yeah, pretty much sums up my own feelings. And Robinson, unlike Cohen, feels no need to throw in some cheap shots at Bush, probably because right now Bush is looking pretty good in how he handled Afghanistan and Iraq. In fact, I think that Obama has done and is doing more to rehabilitate Bush's reputation and popularity than anything the Right could have done. But he has done so at a terrible cost to us, to our children, and to our country.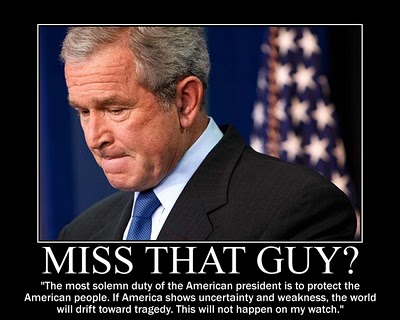 [update after the jump]

From the comments comes a link to this video:
"Do you realize you are making Charlie Sheen look rational?" ..fritz..


posted by Open Blogger at
11:10 AM
|
Access Comments