« Newsweek: America's Back Again, Baby! Democrats Easily Beating Republicans in Congressional Ballot; Obama's Approval Spiking Up*
* Among Registered Voters, Who Nobody But Newsweek Is Polling Anymore
|
Main
|
Pence: GOP Must Not Compromise With Obama »
October 22, 2010
Overnight Open Thread
Happy Friday all. Genghis is busy 'de-rat-ing' his truck tonight. And unfortunately I don't think that's a euphemism for something more pleasant.
With a 'funny' video here from HCAN (Health Care for America Now) starring Jack Black and America Ferrer. You see if you don't like Obamacare or disagree with Obama's policies, it's really because you're just mis-informed children. Now what do good children who like Jack Black do? That's right - they vote for Democrats. Now go get me a fucking slurpee you little brats.
I'm pretty sure this video has convinced exactly zero people. It's only real purpose seems to be to make liberals feel smug.

The Credentialed Gentry and The Unpersuaded Yahoos
The so-called 'elite' don't seem very elite these days. They're 'educated' but make dumb decisions and aren't very wise. And they get cranky when their 'lessers' don't go along with them:

Elites or gentry, the people who described the electorate as "ineducable" in 2004 but "enlightened" in 2008 are running out of big words with which to condemn their unpersuaded lessers, and so for 2010 they are falling back on calling them "yahoos" and referring to their non-elite preferred candidates as "crazy" or "dumb." If the preferred candidate is a female, the credentialed gentry—including their liberated women—feel no compunction in labeling her as "crazy," "dumb", "mean," or even "a whore."
Never Cross The Bronson
Because he'll still get you even after dying as Jan-Michael Vincent found out to his dismay in The Mechanic.

>
The 19 Countries Most Likely To Default
Luckily we weren't on the list. Yet. Here are the current top 10:
1. Venezuela [with a whopping 54% Cumulative Probability of Default]
2. Greece
3. Argentina
4. Pakistan
5. Ireland
6. Ukraine
7. Portugal
8. Dubai
9. Iraq
10. Romania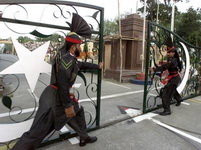 Mr. T: Gold Salesman
Here Mr. T talks up why you should be buying gold. He has some credibility here since he was into gold before it was cool the first time around. And he's looking pretty good for a guy who's almost 60 and has fought off cancer three times.

Mothers Shouldn't Read This:
Restaurant High Chairs Harbor More Bacteria Than The Average Toilet Seat
The truth is we're awash in bacteria everywhere so it's not just the sheer number, it's also the type of bacteria. And I'm guessing the toilets germs are a little rougher than the dried jelly germs on the high chair.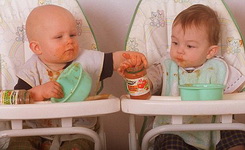 Make High-Quality Bacon by Curing Your Own
Seems easy enough:

You'll need about five pounds of fresh pork belly and assorted spices, and you'll have to let it sit for seven or so days and cook it for an hour or so before you can actually fry it up, but it's worth it.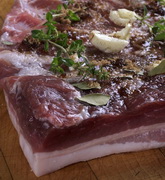 The $2 Million Dollar Bra
As worn by Adriana Lima. It's called the Bombshell Fantasy Bra and was designed by Damiani for Victoria's Secret. Does anyone actually buy these luxury bras?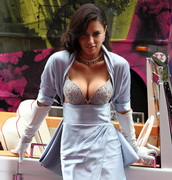 Sweet Home Alabama - The Sexy Wal-Mart Edition
She may not be much to look at but she sings her tooth out. And guys, she's single and available!
Trivia: How many teeth does she actually have?

Oksana Grigorieva May Be Prosecuted For Extortion
Apparently it's still illegal to extort people even if they're kinda crazy and have anger issues.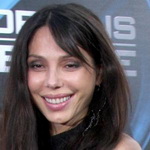 The Yahoo clique. Are you worthy?
Tonight's post brought to you by men of distinction: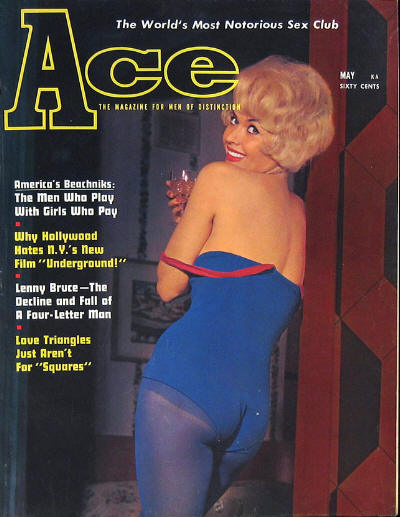 Notice: Posted by permission of AceCorp LLC. Please e-mail overnight open thread tips to maetenloch at gmail. Otherwise send tips to Ace.

posted by Maetenloch at
09:25 PM
|
Access Comments