« Former Liberal Darling Candidate For House Says He Won't Vote For Pelosi As Speaker
|
Main
|
Top Headline Comments 10-07-2010 »
October 07, 2010
The Boys of October
Aside from me being pretty happy to see my Rangers back in the playoffs (5-1 over the Rays this afternoon), it's also cool that Phillies pitcher Roy Halladay made a little history today with a no-hitter over the Reds.
The only other time it happened in post-season play was 1956, Don Larsen for the Yankees against the Brooklyn Dodgers, which not only was a no-hitter, it was the crown jewel for a pitcher, a "perfect game" (27 up, 27 down, no one reached base).
This Yahoo pic put em side by side, Yogi Berra and Larson, and Phillies catcher Carlos Ruiz and Halladay.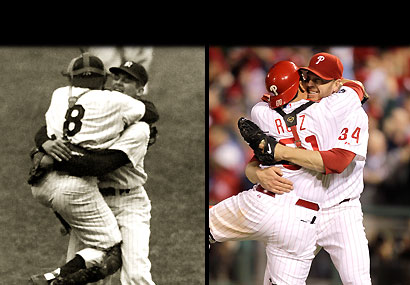 Hey, normally I'm off baseball by August, except for the couple of times I watched the Rangers eat the schnitz against the Yankees (who just downed the Twins 6-4) in less than 5 games.

posted by Dave In Texas at
12:16 AM
|
Access Comments