« CoffeeParty About As Much As Hip, Happenin' Party As You Expected
|
Main
|
Top Headline Comments 09-28-2010 »
September 27, 2010
Overnight Open Thread
A Portrait of the Artist as a Young Moron
So before the whole Mexican midget tranny deal went south I was doing my annual clean up of the computer room/laboratory and stumbled across some old boxed up documents. One of them turned out to be a photocopy of the very first short story I ever wrote, way back at the wee age of 5 and a half.
I remember begging my mother to write it down for me being that I was illiterate at the time. So she sat down and duly typed it out on the family typewriter. She may have corrected a word or two and added in some punctuation (and breathing pauses), but it is pretty much is as it tumbled out of my young hyperactive mouth.
I do recall that it was loosely based on a dream I had. Probably brought on after watching a marathon of Johnny Quest and Lost in Space. And you can already see in it some of the themes that make up the Maet of today - concern over the extraterrestrial menace, an unhealthy interest in explosives and chemicals, and a fondness for technology-enabled violence. Clearly I was Abby Normal already at the tender age of five.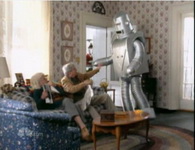 Of course reading it again I can see now that it has some continuity issues and needs better characterization and more fleshing out in the second act. And possibly a love interest. But hey, for a little guy who had been talking for less than a year and a half, had at best adequate bladder control, and who could barely dress himself at the time all in all I think it was some decent work.
So here it is in all its glory below. And yeah I know it's no smashing figs in grottoes but really what is?
The Unknown Thing By a young Maetenloch

Once upon a time there was a flying saucer that swooped down from the sky. Crowds of crowds were around it. The door opened and robots came out. They swooped around the world and took over houses, and shot people who were in the houses. When they shot them, what they shot them with were tranquilizers. The tranquilizers lasted for thirty seconds.

The robot came in my house and I was busy making a bomb. I saw the robot down the steps. The robot came up the steps and it was in my room. It hit me, and I had the bomb in a cup in my hand. It knocked me over. When it knocked me over, the chemical in the cup in my hand fell on the robot. The robot blew up. Just before it blew up, it shot me with the tranquilizer, and I was asleep for thirty minutes.

When I woke up I found that one of my valuable chemicals had been stolen by one of the robots because one of the robots was downstairs. When it heard the bomb it went to see what caused it. It found me there and shot me. It was the one that stold the chemicals. It stold the chemicals because they needed it. They came to earth to get it.

When I got through with the first robot I had a million more robots to get rid of. Then mom went in the door and told me that there were lots of robots outside. But I told her that there were robots in other countries too. Me and mom sat for hours. Then I came up with an idea especially about robots in other countries.

I had some big bags that were waterproof. I put the chemicals in them. And then I put a weather balloon on top of them. And I sent them off. I had a control panel on it. I controlled it and when I worked it, it told me how high the balloons were going. It had a camera on it. So I could see the robots. I saw one in the camera and so I cut the balloon and let the chemical over it. And so I did it to every other robot I saw in the camera. There was no robots left.

When the world found out that I got rid of the robots, I was famous. I got to go on a parade and made millions of dollars. And that's how I became a famous scientist.

THE END
And yes it
is
copyrighted so don't even think about it.
More Torture of the Detainees at Gitmo
I thought this kind of thing would end once Obama took office, but apparently the Bush-Cheney torture regime continues.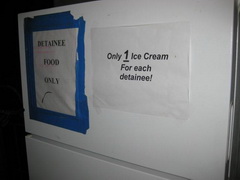 How To Commit Suicide by Cop
Here's how:

The first is this: If it is your custom to spend your afternoons getting drunk, wielding knives, and menacing passers-by on busy street corners, and if, after the police have arrived as they must when this behavior has been brought to their attention, you fail to drop your knife when ordered to do so, and if then you further tempt fate by advancing toward a police officer with the knife raised in such a way that the officer reasonably believes his life is imperiled, it is as close to a certainty as this world can produce that you will be shot and maybe even killed.
Works every time or your money back.
Also
The Joy of Tasing
by our own Wyatt Earp.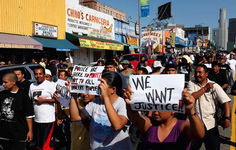 More Oktoberfest 2010 Pictures
In case you were wondering what you were missing.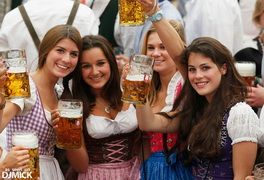 Some Nice Civil War Photos
Some you may have seen, but some you haven't. I believe the American Civil War was the first war ever to be photographed and reported on in near real-time.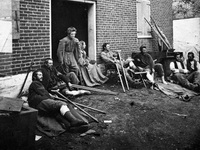 Drew Barrymore - Actually Looking Good
Truthfully I never thought Drew B. was all that good looking, but she's one of the few actresses who actually gets better looking as she gets older. Plus she's a sloth and I find that kinda attractive as well.

"I actually really love to lie in bed, watch TV, be a total sloth, and eat my favorite food: Kraft macaroni and cheese. Last night I was watching The Next Food Network Star, eating mac and cheese, and feeling grand. And that was after I wore a sequined Givenchy gown with giant holes cut out of it."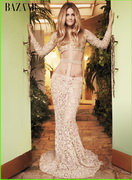 Mayonnaise Spill Leads to 8 Car Pile Up
I guess it could happen anywhere, but of course it actually did happen in Japan. I await the eventual Taiwanese animation to explain it all to me.

George Washington, Hottie
Today we mostly imagine Washington as a dour looking older guy who didn't smile because of his dentures. But back in the day ole George was considered a hottie and apparently had some smooth moves with the ladies:

And he was ripped: modern experts who reconstructed Washington's appearance using techniques from forensic anthropology say he had a quarterback's physique, weighing 220 pounds with wide shoulders, a narrow waist, and muscular legs. Legs were a particularly important feature in colonial America, where styles favored breeches and knee stockings so women could admire men's calves. In 1759, at the age of 27, Washington's masculine wiles snared Martha Custis— the young, beautiful, and spectacularly wealthy widow of a Virginia planter.
So he was father of our country and probably father of a lot of other countries IYKWIMAITYD.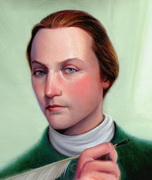 The group thingy. You can figure out the rest.
Tonight's post brought to you by Morticia: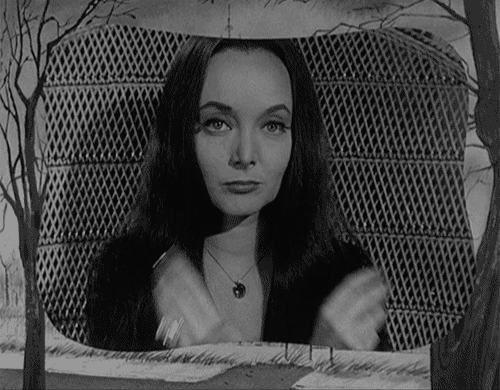 Notice: Posted by permission of AceCorp LLC. Please e-mail overnight open thread tips to maetenloch at gmail. Otherwise send tips to Ace.

posted by Maetenloch at
09:33 PM
|
Access Comments