« Overnight Open Thread
|
Main
|
Top Headline Comments 9-23-10 »
September 22, 2010
DioGuardi Within One of Gillibrand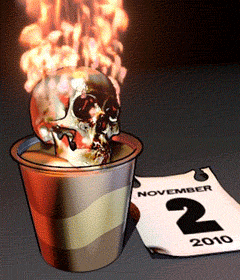 "Quenchy," by George Orwell
In the Special Election to fill the final 2 years of Hillary Rodham Clinton's term, incumbent Democrat Kirsten Gillibrand and former Congressman Republican Joe DioGuardi today finish effectively even, with Gillibrand's nominal 1-point lead being within the survey's theoretical margin of sampling error.

Gillibrand leads in the 5 boroughs of NYC but trails elsewhere.

Men vote Republican, women vote Democrat and, in this contest, cancel each other out.

Lower-income voters break significantly Democrat. Middle-income and upper-income voters break slightly Republican.
And... Schumer's not doing so hot, either.
In New York's general election for US Senate, incumbent Democrat Chuck Schumer leads Republican Jay Townsend 54% to 33%.
The poll also confirmed a tight race between Paladino and the Idiot Nepot Cuomo -- 49-40.
Here's CAC's post on DioGuardi, with his Doomsday Map for the Democrats in the Northeast.
And Chuck Paladino. Who, by the way, proposed the state exercising its right of eminent domain to declare an easement on the Ground Zero property (not seize it outright) to make it impossible to establish the mosque there. So he's got a pair (and the bit about using eminent domain to declare an easement only was pretty smarty-pants of him too).
And Jay Townsend, who's also a Tea Partier.
In case you're confused, NY state has two Senate elections this year. Chuck Schumer is up for reelection as scheduled for his 6 year term. But Gillibrand severed the middle two years of Hillary's 6 year term, and so there's a special election for the last two years.

Thanks to DavidM.
Oh: Via Ken, we might have to all get subscriptions to this.