« Race-Baiting From Loretta Sanchez: "The Vietnamese and The Republicans Are Trying to Take This Seat from Us"
|
Main
|
DioGuardi Within One of Gillibrand »
September 22, 2010
Overnight Open Thread
Holy Effin Shit: Federal Spending Is Out of Control
You know you hear all kinds of statistics about the growth of the federal budget and deficit - sands on the beach, dollar bills to the moon, bla bla bla - but even if you care about government spending it's easy to lose track of just how fast it's been growing recently. This kind of stuff just seems perfectly designed to make your eyes glaze over.
Well get a load of this graph from the guys at Powerline and Political Calculations: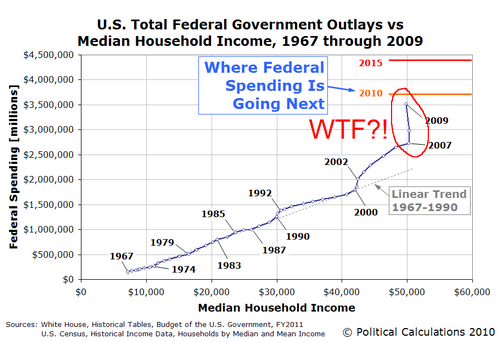 You can see that from the late 60's up until 2000 federal spending was pretty much a straight line relative to the median household income. Then jumps to a new higher growth rate around 2002 (most likely due to 9/11). But look at what happened in 2007 when the Democrats took over the House.
Ho-ly crap!
Not only did federal spending shoot up but median income actually fell. This isn't just new unsustainable growth - this is an effin death spiral where spending has become completely decoupled from people's incomes. This is the kind of graph you see in engineering when a system is heading into failure. A few more years of this and we will be in Greek bankruptcy territory.
So if you're looking for a single chart that crystallizes the current greatest danger to the US and why the Tea Party has appeared, this is it.
Oh Yeah It's Oktoberfest Time
And this year marks the 200th anniversary of the first one which was held in 1810 to mark the wedding of Crown Prince Ludwig. Traditionally it starts in September and ends after the first weekend in October but this year it will run for 17 days to celebrate the anniversary. So hoist some brews as part of the world wide virtual Oktoberfest.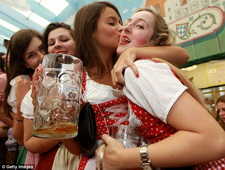 And of course what event would be complete without a little
Kardashian fame-whoring
.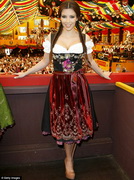 What Do The Dying Regret Most?
Here are the top regrets according to a longtime hospice worker.

2. I wish I didn't work so hard.

This came from every male patient that I nursed. They missed their children's youth and their partner's companionship. Women also spoke of this regret. But as most were from an older generation, many of the female patients had not been breadwinners. All of the men I nursed deeply regretted spending so much of their lives on the treadmill of a work existence.

5. I wish that I had let myself be happier.

This is a surprisingly common one. Many did not realize until the end that happiness is a choice. They had stayed stuck in old patterns and habits. The so-called 'comfort' of familiarity overflowed into their emotions, as well as their physical lives.
There's never a better time to avoid regrets than when you aren't dying.
Vaccines Don't Cause Autism
Period. Sorry Jenny McCarthy:

So get your kids (and yourselves) vaccinated and save them & their playmates from this whooping cough bullshit, which is actually killing actual kids and not, you know, magically infecting them with autism. Vaccination is one of the greatest human discoveries ever -- yes, Kanye, OF ALL TIME -- has saved countless lives, and has made countless more lives significantly better. So: Buck. Up.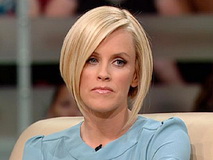 How To Record The Cops
Or anyone else who might not like you videotaping what they're up to. These days people are basically walking around with video recorders but police and security guards have gotten wise and either confiscate the phone or force people to delete the video. So the new best option is to do instant online video streaming:

Qik and UStream, two services available for both the iPhone and Android phones, allow instant online video streaming and archiving. Once you stop recording, the video is instantly saved online. Both services also allow you to send out a mass email or notice to your Twitter followers when you have posted a new video from your phone. Not only will your video of police misconduct be preserved, but so will the video of the police officer illegally confiscating your phone (assuming you continue recording until that point).
There's also a
Justin.tv app
that lets you broadcast live from your iphone. Perfect for capturing thuggery and debauchery at the next Moron Meetup.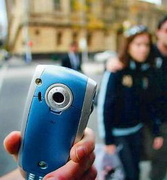 Movie Review: Eat Pray Love … Vomit Rinse Repeat
Ann McElhinney watched Eat Pray Love and was depressed by its superficiality:

However nothing in the cinema this decade has depressed me as much as Eat Pray Love's hymn to vacuous selfishness. There are 16 year olds who have more profound insights. Talking of 16 year olds, the journey of enlightenment taken by Liz Gilbert (Julia Roberts) in the film is very reminiscent of 16 year old's experiences; girl meets a boy, falls in love with him, gets bored, chants a bit and meets another boy, bliss.

Back to the story, Eat Pray Love is criminally dull.

In brief, a very rich 40 something woman who has EVERYTHING including the love of everyone she ever meets and a good husband and a home in the country as well as a place in Manhattan and a terrific writing career, feels sad, feels there is something missing. She sets off on a quest to find food (Italy), God (India) and Love (Indonesia) or more simply she goes off on a self indulgent holiday around the world for A YEAR.

SPOILER ALERT: She finds a new man, problem solved.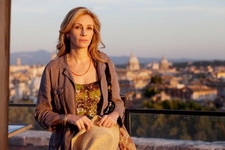 How To Make Your Own Moonshine
Since home brewing beer and wine has taken off in the last decade or so, it's only natural that people might take an interest in crafting their own liquors. Unfortunately due to laws left over from Prohibition it's basically impossible for someone to distill liquor legally for their own use. But Johnny Law has never stopped Americans before when it came to alcohol-tech.

Distilling is fun -- but it's really best as an addition to home-brewing or home wine making. Distilling is a great way to recycle a bad batch of wine or beer by converting it into brandy/vodka. You mentioned the importance of failure as part of the DIY process in your book. Distilling turns failed wine/beer experiments into booze, and I call that a success.

Home distilling has two camps -- purists who aim for the cleanest, clearest neutral spirit, and adventurers who take advantage of the ability to play around making concoctions that won't ever be found on liquor store shelves.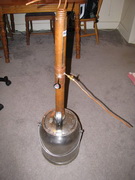 Tonight's post brought to you by sensitive chicks: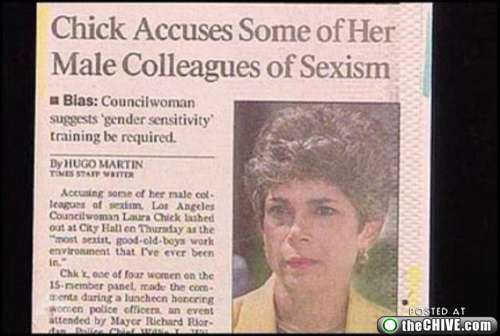 Notice: Posted by permission of AceCorp LLC. Please e-mail overnight open thread tips to maetenloch at gmail. Otherwise send tips to Ace.

posted by Maetenloch at
09:10 PM
|
Access Comments