« 8 (8 What?) Arrested In Bell City, CA Salary Scandal
|
Main
|
Cloture on DADT Repeal Fails In Senate, 56 - 43; AP Reports "Blocked by Republicans," Because, Oh That's Right, There Are 43 Republicans, My Bad
Update: Was Also the DREAM Act Pander »
September 21, 2010
DioGuardi for New York U. S. Senator; DioGuardi for New York U. S. Senator DioGuardi for New York U. S. Senator [CAC]
Oh Yeah, one more thing...
DioGuardi for New York U. S. Senator

Firstly let me thank Ace for the opportunity to write this big push for the next Senator from New York. I am in no way affiliated with the campaign and as a Californian I am busy helping Carly Fiorina so all I can do is help light the fire and donate. That being said, why would I be pushing for a guy who during the primary polled at best 11 points behind Gillibrand?
Because- its fucking Kirsten Gillibrand, another Democratic incumbant who is, despite what you may have heard, is vulnerable and that vulnerability dominoes downwards. [She is a fan of the Ground Zero mosque and also tweeted ecstatically about Judge Walker's lawless decision to make gay marriage a constitutional right across the entire country -- ace.]
Joe DioGuardi was one of three Republicans brave enough to step up to the challenge of knocking her out now. The establishment Republicans- Peter King, Rudy Giuliani, and George Pataki- all dilly dallied and waffled on whether to run or not, ultimately deciding against since they probably assume it will be ripe for the taking in 2012. God forbid they actually, you know, campaign twice in two years? Perhaps the possibility of winning but then facing 2012, with Barack Obama running for re-election and thus turning their reelection into a very expensive preservation fight, also scared them off. Funny- that did not scare off Scott Brown, who was just token opposition in late 2009 when he was behind Martha Coakley, the shoo-in, by over 20 points. He went on to win in January 2010 by 5. There is no two-way polling for DioGuardi and Gillibrand that has happened post-primary, and during said primary less than a third of New Yorkers even knew that much of any of the candidates, so there is a natural unknown disadvantage for DioGuardi in the polling below. But look at GILLIBRAND'S numbers, and tell me what you notice.
She is stuck at 50% without a significant push from the Republicans to knock her out, hardly the commanding leads (and high 60s draw) of Cuomo and Schumer.
As for DioGuardi, he is appearing on the ballot as both the Conservative Party AND Republican Party nominee- a very good start at consolidating the power and factions of the right in his drive to beat the New York Bimbette. His positions on the debt, taxation, and the rest are available directly on his website and...you know what, visit his site here DioGuardiforsenate.com if you want the outlines because this post is more of a strategic reasoning one to pump up his electability as most are not aware his race is:
A) VERY CRITICAL HELPING DOWN THE BALLOT TO FLIP HOUSE SEATS AND THUS CONTROL OF THE HOUSE.
B) A WINNABLE ONE WITH THE RIGHT MONEY AND ENERGY.
If we can help bump DioGuardi up into the 40s, Gillibrand and the Democrats will be in full-full-full-on panic mode- for yet another "safe" seat has joined the other dozen vulnerable ones (North Dakota, Indiana, Arkansas, Pennsylvania, Colorado, Illinois, Wisconsin, Nevada, California, Washington, Connecticut, and West Virginia) to yield a bakers dozen of potential Republican bombshells.
MORE importantly than forcing a Senatorial triage amongst the Democrats though is potential boost to downticket races.
A quick rundown on the Northeastern-Rust Belt states and the number of RCP and polling-based vulnerable seats:
Connecticut, competitive governor and Senate race, 3 vulnerable House seats.
Rhode Island, competitive governors race, 1 vulnerable House seat.
Massachusetts, competitive governors race, 3 vulnerable House seats.
Delaware, potentially competitive Senate race, 1 vulnerable House seat of ours.
Maine, competitive governors race, 2 vulnerable House seats.
New Hampshire, competitive Senate and governors race, 2 vulnerable House seats.
Maryland, competitive governors race, 1 vulnerable House seat.
Vermont, competitive governors race, no potentially vulnerable House seat.
New Jersey, no top ticket competition but 2 vulnerable House seats.
Pennsylvania, competitive governor and Senate race, 8 vulnerable House seats.
The Empire State has EIGHT potential house races that will come down to turnout.
The biggest potential sweeps by state are in those with either a competitive Senate race, a fight for the governors mansion, or both. People typically don't turn out just for their congressman, and with moderates already pulling for Cuomo and Schumer, their wrath at Patterson could be directed at Gillibrand (if DioGuardi can get the airtime to remind New Yorkers she was appointed by their not-so-popular current governor). If they are already then splitting the top of their ticket, they may give pause to voting straight ticket further down the line, aiding the Republican House candidates.
Still not convinced? Still want to see what would happen if the impossible breaks into reality, and we pick up the 13 Senate races above? We are under the assumption such an event happens in a tsunami and will carry much of the "lesser" races out to sea as well.
Here is what the House of Representatives looks like after that wave hits. Dark red indicates districts already held by Republicans; bright red represents potential pickups: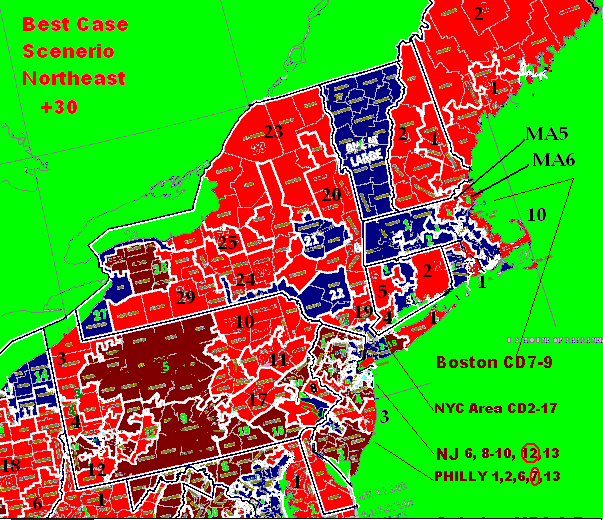 [It looks like O.J. Simpson's carry-on bag -- Ace.]
The extinction of the northeastern Republican my aching ass.
Note in the above map that the biggest potential shifts are in states with competitive Senate races (or those in which major Republican upsets have happened in the last year like New Jersey, Massachusetts and Virginia), in case you didn't believe the printed type that preceded this very, very exciting picture full of pudding-dipping-and-dripping goodness.
It is very simple. Get behind DioGuardi. Donate. Help if you are in the New York area Donate here. [And also -- volunteer! -- Ace]
I am aware to the rumor he has a lot of money hiding in an attic somewhere to spend on this race, but it ALWAYS looks better- and scares the piss out of the Democrats, if we can get a moneybomb going.
If you morons and moronettes can contribute money to O'Donnell when the establishment said no initially, you can cough up a few more dollars for a guy who did what NONE of the New York establishment would this cycle- oust an incumbent Democratic U.S. Senator.
Also check out John Fund of WSJ's take on the state of the race.

AND Dick Morris' weigh-in as well.

(I will also note that if I am allowed to guest blog again, I will be happy to include more morongasm-inducing illustrations of the Mass Liberal Extinction Event of 2010.)
- CAC, the Conservative Art Critic.

posted by Ace at
02:41 PM
|
Access Comments