« It's Time For Some Mel Gibson Photo Parodies, But First, You Will Bl** Me
|
Main
|
Overnight Open Thread »
July 12, 2010
NASA Director Thrown Under The Bus
Sure by the end of the year we won't be able to put anyone in space any more but we still lead the world in throwing people under the bus.
White House Press Secretary Robert Gibbs said Monday that NASA Administrator Charles Bolden must have misspoke when he told Al Jazeera last month that one of his top priorities is to reach out to Muslim countries.

"That was not his task and that's not the task of NASA," Gibbs said.

Bolden, though, said last month in the interview that it was President Obama who gave him that task. He made a similar claim in February.

The White House also backed up Bolden last week when his remarks first stirred controversy. A White House spokesman last Tuesday said Obama wants NASA to engage with the world's best scientists and that to meet that challenge, NASA must "partner with countries around the world like Russia and Japan, as well as collaboration with Israel and with many Muslim-majority countries."

NASA last week walked back Bolden's claim that Muslim outreach was the "perhaps foremost" plank of his mission, saying that Bolden was merely talking about his "outreach" responsibilities and that space exploration is still NASA's No. 1 job.
As you can see, this isn't any old bus throwing. No, this one has a bit of John F. Kerry, I was for making NASA reach out to the Muslim world before I was against twist. Not everyone can pull that off.
I have a confession to make, I wouldn't mind if part of what NASA did was to inspire kids around the work (including Muslims) to value science and dream big. I'd much rather Muslim kids aspire to be great engineers and astronauts than spend all their time in school memorizing the Koran and becoming embittered against the west. We aren't going to kill them all, so using whatever leavers we have at our disposal to win a some hearts and minds is a good thing.
The best way to do that of course is by example and success. You know, do some really cool space stuff. Believe it or not, NASA actually used to do that back in the day. If you want to throw in the occasional conference and scholarship aimed at kids in Muslim nations, that's fine with me. The problem, as always, is the way the administration went about this. They tried to score cheap points by saying it was the most important thing. They came off as valuing style over substance and dressed arrogance up as compassion.
I wouldn't be surprised if Obama never said any such thing to Bolden (though I wouldn't be surprised if he did). The thing is, given the unprecedented level of stupidity and arrogance exhibited by this administration Bolden had every reason to believe this is the kind of thing Obama would want him to say even if he never actually was explicitly told to.
Now that it didn't work out with the public....it's under the bus for Administrator Bolden.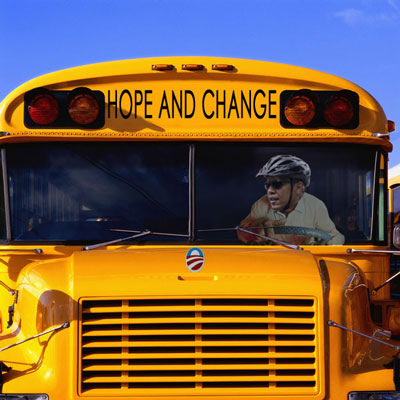 NASA story via Keep America Safe, funny picture via Slublog.
Maybe when Bolden is done at NASA, which maybe sooner than later, he can start working on a Muslim version of this.

posted by DrewM. at
03:30 PM
|
Access Comments