« Axelrod: When We Illegally Offered Sestak the Bribe of a Federal Job to Not Seek Office, We Were Careful to Leave No Evidence of Our Crime
|
Main
|
Author Joe McGinniss Now Stalking Sarah Palin From Neighboring House; McGinniss' Son Suggests (Somewhat Humorously) That McGinniss is Obsessed and Deranged »
May 25, 2010
Will Folks: Actually, It Turns Out I Do Have a Lot More To Say About My Alleged Affair With Nikki Haley
I simply could never, in a thousand years, have predicted this.
Will Folks told me -- straight shooter he! -- that he was only interested in defending his sacred honor in the growing rumors (which he was in fact responsible for) that he'd shagged Nicky Haley, and, apart from a simple statement about the truthfulness of the rumors he himself was spreading, he would speak no more of this, ever again.
He managed to make it a full 24 hours.
"In the end, I think the record of communication here will end up speaking for itself," Folks told The Daily Caller.

...

But Folks says he can prove the claim with a record of correspondence that started in November 2005 with an email sent from Haley to Folks complimenting him on an article he had written on her.

"That four-and-a-half year record of correspondence ended on Saturday, May 22, 2010 – three days ago – with a text message sent from Folks's cell phone to Haley's cell phone at 1:04 p.m. alerting her to the fact that he had been placed in a position where he felt that he had no choice but to address the rumors regarding their relationship on his website," the blog said.

"Those are the bookends … but what happened in the interim?"

The blog speculates that the reason Haley's team have not pursed any legal remedies against Folks is because subpoenas would result in the publication of the damning records.
This worries me, but I take heart in the thrust of Folks' purported evidence: He seems to want us to infer an affair from the simple fact they emailed for a number of years and then stopped.
There is room for additional worry: Seattle Slough linked an article from Monday noting that Folks had blubbered some kind of tearful confession to someone else a year or so ago. Or so the tale goes. (I believe it.)
Correction! I originally wrote the article itself appeared last year; that is wrong. It appeared just yesterday, but reported on a supposed tearful confession from last year. Thanks to Seattle Slough.
Past statements do have some evidentiary weight.
Or do they? Folks has taken money to push stories before. He now says he wasn't paid money but rather pressured by a rival of Haley's to make his disclosure. (These would be the switch-blade wielding enemies who threaten to cut off pieces of one's face in the bloodsport of SC politics... I suppose.)
The blogger who rocked the state's political scene Monday by claiming to have had an "inappropriate physical relationship" with gubernatorial candidate Nikki Haley says he was pressured to disclose the affair by the campaign of fellow candidate Gresham Barrett.

In his original blog post on Monday, Folks said a "network of operatives has made it abundantly clear that in the process of 'taking down' Rep. Haley, they will also stop at nothing to humiliate me." Folks elaborated in an email Monday night that he believes Barrett is behind the takedown. "All of my sources pointed their fingers directly at the campaign of Gresham Barrett," Folks wrote.

Haley continues to say the alleged relationship with Folks never happened, and Barrett spokesman Luke Byars categorically denied that any pressure on Folks came from the Barrett campaign. "This is absolutely not true," Byars said. "Mr. Folks seems to be full of allegations lately without any proof."
Ugh.
And he could be lying about that, of course: He may well be in the service of one of the other candidates, who he won't name, and is going for a two-fer: Take out Haley with the charge, and take out Barrett with the claim that Barrett pressured him to take out Haley.
I just don't know what to believe. On the one hand, Will Folks assures me he's a straight shooter who calls it like he sees it and is so full of integrity and courage that in some countries the oath to tell the truth is made upon one of his incorruptible bowel movements.
On the other hand, he takes secret money to plant stories and doesn't see anything wrong that and obviously need a buck and broke a promise to speak no more of this within 24 hours.
No, but seriously? This guy is loathsome and either taking cash for this or else a heartbroken stalker who really did have an affair with Haley and got obsessed with her and now is letting her know, as stalkers do, I will not be ignored.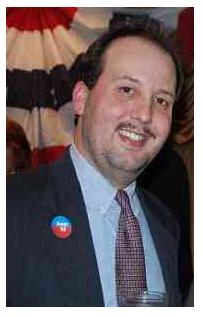 Let me put my integrity in you.

I've Gotta Tell You... I really, really have a problem with guys who never shut up about how uncompromising and courageous and principled they are.
Sometimes someone gets into that kind of jag in the comments, and I just kind of roll my eyes.
It's too much. Braggin' on you virtue is braggin' like any other kind.
And you know, one of the greatest virtues (and I have this from no lesser authority than Jesus) is humility.
So... I am just immediately suspicious of anyone who starts waving their self-proclaimed virtue in my face.
There are exceptions to this rule, I suppose (and I say "I suppose" with the heroic, jaded weariness of a stalwart like Will Folks), but honestly, I find it's a good rule of thumb.

posted by Ace at
01:49 PM
|
Access Comments