« Fill'er up -- with algae.
|
Main
|
Overnight Open Thread »
February 21, 2010
US V. Canada Hockey: US WINS! Mass Suicides Expected In Canada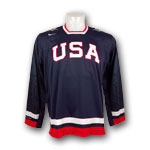 Above the post update:
I know hockey isn't everyone's thing but you really should give this game a chance. It's being played at an insanely high level and fast pace. The US is leading 2-1 off a pair of goals by NJ Devils Detroit Red Wings Defenseman Brian Rafalski.
I know it's tempting fate to poke a sleeping bear but here's what American born NY Ranger, though not Olympian, Brandon Dubinski had to say about Canada's all world player Sidney Crosby last week.
The game is on MSNBC and really worth a look.
Heh, I just got a text message from tmi3rd: "If this were the NHL, there would have been a monster fight after the third goal".
I was thinking the same thing...you can tell some of the boys wanna go. Alas, it's the Olympics.
It's the day before the 30th anniversary of the Miracle on Ice game and the US is playing it's biggest game of the tournament so far. Let's not kid ourselves, beating the Canadians isn't the same as beating the Soviets at the height of the Cold War but a US win will pretty much cause the entire nation of Canada to curl up in a ball and cry.
Someone asked me (expert that I am) if I thought the US could win and yes, I think they can.
First, Canada has not been world beaters in their first two games. They needed to go to extra shots in the shoot out to beat Switzerland (the US handled the Swiss pretty easily). They also can't seem to find anyone to play with their superstar Sidney Crosby.
Now, they still have a ton of talent and probably the best goalie to ever play the game, so they are very dangerous.
If the US thinks they can run and gun with Canada they are in trouble. If they play a responsible defensive game and take chances when they are offered, they can win.
As always in hockey, goaltending will be key. Ryan Miller will face more and tougher shots in the 1st period tonight than he has in the first two games combined. He needs to be very good tonight.
Earlier the Russians beat the Czech Republic 4-2 in a game that saw the world's best player, Alexander Ovechkin, do his thing...
FTR- Jagr isn't a small Euro forward. He goes 6'3", 245 and Ovechkin just blew him up. Ovechkin however is a freak of nature, a magical scorer with a nasty streak a mile wide.
tmi3rd's thoughts on today's games....
First of all, a signature win by the Russians over the Czechs... they needed their stars to step up, and they did. Malkin was superb, and Ovechkin decided to play a more enforcer-type role. It worked perfectly, and it took Tomas Vokoun to keep the Czechs in the game.

USA-Canada... the US needs to play a perfect defensive game, and the lineup shifts Ron Wilson has made are intelligent- adding power and grit to all lines. I expect Patrick Kane to have a reduced role precisely because he's a defensive liability so far.

The Canadians seem a bit nervous, but that means little- they'll be buoyed by a Superdome-esque home crowd. If they stay out of the box, they'll be tough to beat tonight.
US-Canada 7pm eastern (now it looks like face off is 7:40) on MSNBC. Unlike football, there's no Olbermann anywhere in sight. Hockey 1- Football 0.
Oh and congrats to Jack M. and NASCAR...they appear to have been able to run their event today without a 2+ hour delay due to a pothole. Well done guys. And look, Jimmy Johnson won. There's something new and exciting.


posted by DrewM. at
06:50 PM
|
Access Comments