« Chris Dodd Is Getting His Butt Kicked In Latest Poll
|
Main
|
Visual Metaphor for America's Image Abroad Under Obama »
November 12, 2009
Could Doug Hoffman Still Win NY-23?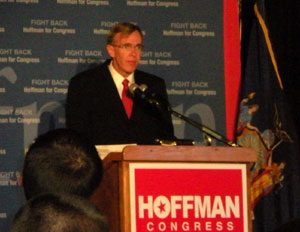 A Premature Concession?
Very unlikely. Extremely unlikely. It's virtually impossible...but, uh, yeah, it technically seems like he could.
Conservative Doug Hoffman conceded the race in the 23rd Congressional District last week after receiving two pieces of grim news for his campaign: He was down 5,335 votes with 93 percent of the vote counted on election night, and he had barely won his stronghold in Oswego County.

As it turns out, neither was true.

But Hoffman's concession -- based on snafus in Oswego County and elsewhere that left his vote undercounted -- set off a chain of events that echoed all the way to Washington, D.C., and helped secure passage of a historic health care reform bill.

...Now a recanvassing in the 11-county district shows that Owens' lead has narrowed to 3,026 votes over Hoffman, 66,698 to 63,672, according to the latest unofficial results from the state Board of Elections.

In Oswego County, where Hoffman was reported to lead by only 500 votes with 93 percent of the vote counted election night, inspectors found Hoffman actually won by 1,748 votes -- 12,748 to 11,000.
Read the whole story to see how mistakes on election night have upped Hoffman's totals.
There were about 10,000 absentee ballots requested but the story only notes that 1,303 were returned to the county that is home to the 10th Mountain Division at Ft. Drum. There's also still time for military ballots to be returned and counting won't begin until next week.
Even if all the 10,000 ballots were sent back (and it won't be anywhere near that number) they'd have to break overwhelmingly for Hoffman to have a chance of overcoming the current deficit. The one upside is that most of those ballots were presumably cast before Scozzafava quit the race and endorsed Owens.
It would be interesting as hell to see what would happen if Hoffman is able to pull this off. Owens has already been seated in the House. Presumably he'd have to be removed by a vote of the full House. Would the Democrats delay that long enough under the pretense of 'investigating' what happened? Would they order a new election? The Constitution grants each house of Congress exclusive power over who they will and won't sit as well as they will remove them, so their options are almost limitless and nearly unchallengeable.
Mostly this is just a curiosity because there's really no way Hoffman can pull this off.
Thanks to IreneFingIrene for the heads up.
More: Politico says about 5,400 absentee ballots have been returned, so no way he gets near enough.

posted by DrewM. at
11:17 AM
|
Access Comments