« Mathematically modeling the proper response to Zombie outbreaks
|
Main
|
What the Heck? Fire Chief Shot by Police Officer in Court! »
September 04, 2009
Thank Sweet Heaven, Football is Back UPDATED
Florida. Texas. Oklahoma. USC. Alabama. AP and USA opening poll rankings.

Talk your trash here tonight, there's a game tomorrow at Southern North Dakota at Hoople. (You're a complete dork if you caught that without lookin).
And don't forget you NFL goofs, the AoSHQ pickem slots are here.

Here's a bunch of kid cheerleaders. Punks.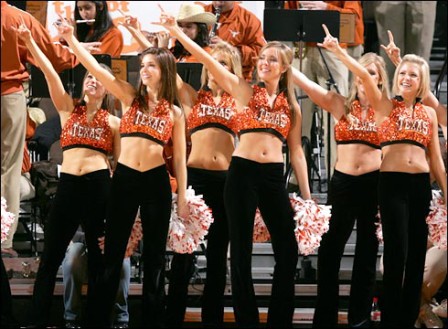 Pro Pickem details below the fold.
UPDATE: Forgot the commisioner's contact info, in case you want to ask BenK to create another group or order a pizza.
first league
Group ID#: 20672
Password: valurite

second league
Group ID#: 20682
Password: lacewigs
third league
Group ID#: 20687
Password: change


posted by Dave In Texas at
09:49 PM
|
Access Comments