« Latest AP Meme: Those Goddamned Governors Have too much Power
|
Main
|
AP Reporter Files Hard Hitting Story Sends Love Note To Obama »
January 24, 2009
Obama Offers Advice To Republicans...Rush Limbaugh Ain't All That
And on the 3rd Day He picked a fight with the country's most visible conservative.
President Obama warned Republicans on Capitol Hill today that they need to quit listening to radio king Rush Limbaugh if they want to get along with Democrats and the new administration.

"You can't just listen to Rush Limbaugh and get things done," he told top GOP leaders, whom he had invited to the White House to discuss his nearly $1 trillion stimulus package.

One White House official confirmed the comment but said he was simply trying to make a larger point about bipartisan efforts.
Ah yes, the great cry of bipartisanship. Allow me to translate that bit of revelation for you..give up your principles and do what the Democrats want and you will be hailed as a great exemplar of bipartisanship (Hello? Senator McCain, is that you?). Stick to your guns and fight for what you believe in? Well, you are just a divisive loud mouth like Limbaugh.
Of course Rush isn't going to let this gift go by with comment.
There are two things going on here. One prong of the Great Unifier's plan is to isolate elected Republicans from their voters and supporters by making the argument about me and not about his plan. He is hoping that these Republicans will also publicly denounce me and thus marginalize me. And who knows? Are ideological and philosophical ties enough to keep the GOP loyal to their voters? Meanwhile, the effort to foist all blame for this mess on the private sector continues unabated when most of the blame for this current debacle can be laid at the feet of the Congress and a couple of former presidents. And there is a strategic reason for this.
There's more from Limbaugh at the link, including a shout out to Obama's cribbing from the Alinksy playbook.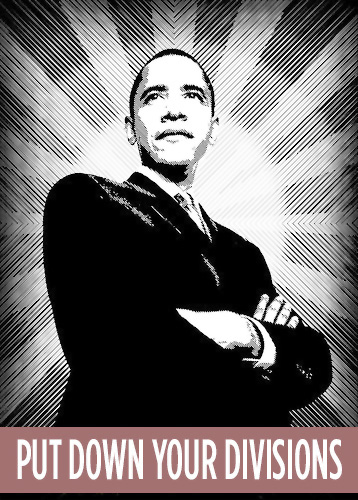 From the Slublog collection

posted by DrewM. at
04:28 PM
|
Access Comments