« Sunday Football Playoffs Thread [someone]
Bumped for Second Game
|
Main
|
More Creepy Stuff From The Cult Of The One [Vinnie] »
January 11, 2009
President (still!) George Bush Defends "Harsh" Interrogation Techniques
I can't believe he has to defend this.
"The techniques…were necessary and are necessary to be used on a rare occasion to get information to protect the American people," Bush said during an expansive exit interview that aired on Fox Sunday.

Citing an interrogation with Al Qaeda strategist Khalid Shaikh Mohammed, which included simulated drowning, otherwise known as "waterboarding," the outgoing president said, "We believe the information we gained helped save lives on American soil."

Roughing up scumbags (with sincere apologies to bags of scum, everywhere), kept more of this from happening.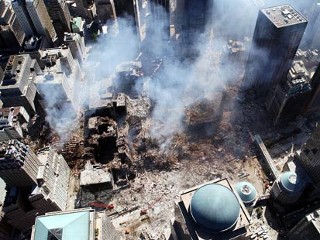 Have we forgotten this horror?
I haven't.
The dirty little secret about hand-wringing over interrogation, and waterboarding, and Gitmo, and all the other things the left and their accomplices in the goddamn media have screamed about up until today, that have passed since that horrible day, is that we, by and large, we Americans, don't care what you have to do to these monsters to prevent this from happening again. To forestall another Beslan in Kentucky, or Indiana.
We. Don't. Care.
Fuck them. If they had to yank some fingernails to keep your children safe, which by the goddamn way they've NEVER done...
yank em.
Nail bombs, AK-47s and guided airplane missiles are unhealthy for flowers and other living things.

posted by Dave In Texas at
05:15 PM
|
Access Comments