« Perfidious Headline of the Day: "Israel Deaf to Truce Calls as Gaza Battles Rage On"
|
Main
|
Information Bleg: My Christmas War With KFMB-AM »
January 05, 2009
Winter Sets In, Water Freezes, Gaia Worshipers Are Confused
Remember all the drowning polar bears we were supposed to worry about because there wasn't enough ice in the arctic?
Well, not so much.
Thanks to a rapid rebound in recent months, global sea ice levels now equal those seen 29 years ago, when the year 1979 also drew to a close.

Ice levels had been tracking lower throughout much of 2008, but rapidly recovered in the last quarter. In fact, the rate of increase from September onward is the fastest rate of change on record, either upwards or downwards.

The data is being reported by the University of Illinois's Arctic Climate Research Center, and is derived from satellite observations of the Northern and Southern hemisphere polar regions.
Interestingly, it's kind of hard to find stories on the sea ice levels now that they don't fit the 'we're going to die unless you give up your car' narrative. Something tells me that if the levels were going down, we'd be hearing an awful lot about it.
Funny how that works, isn't it?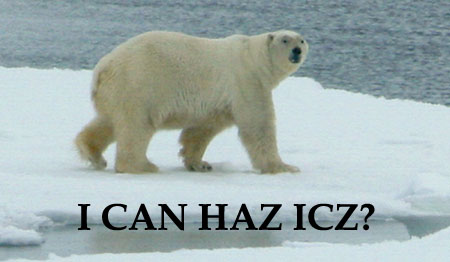 Yes, yes you can.

posted by DrewM. at
11:37 PM
|
Access Comments