« Preview: Obama Spoke of Pushing "Bold" "Progressive Legislation" -- If He Had Democratic Majorities to Work With
|
Main
|
Charles Schumer Echoes Obama, Licks His Chops »
November 03, 2008
Final Rasmussen Polling: McCain Barely Ahead in FL, NC; Tied in OH, MO; Behind by 4 in VA, CO; Behind by 6 in PA
This is actually pretty good news.
If you assume, as I do, that the Bradley effect, "socially desirable answer" phenomenon, and general underperformance of Democrats at the voting booth as compared to polling -- Barack Obama especially so -- accounts for a 4-6 point illusory advantage for Obama, and you assume Obama's new (and fraudulent) voters account for less than that, we've actually got a shot here.
Oh, I think Barack Obama's new, fake, and illegal voters will get him closer to the predicted values than for previous Democrats. But all the way there? I don't think so.
Are we favored? No, I wouldn't say that. We're underdogs. We need to win in just about every gettable state. But underdogs win every single week. Sometimes because it turns out the underdogs were never really underdogs at all -- they were only underdogs on paper. The oddsmakers got it wrong.
Sometimes underdogs even beat an unbeatable team and shock the world on the biggest stage there is. Just takes commitment and determination and perseverance and catching one or two lucky breaks.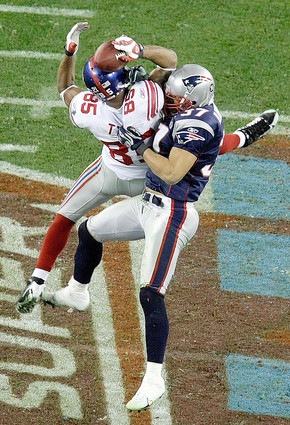 Latest TIPP: TIPP's new numbers -- a 4.5% advantage for the New England Patriots, I mean Barack Obama.
9% undecided.
If you're undecided at this point, the odds are low you're voting for Obama.
Now many of these may simply not vote. But hopefully many are more regular voters who will show up -- and vote for the smart, accomplished, maverick, non-radical socialist candidate.
And also for McCain, while they're at it.
Correction: Those weren't TIPP's final numbers -- they have one more coming tongiht, Watchdog tells me, and you know the old saw about weekend polls being bad for Republicans.
Since People Like the Analogy: Sometimes your pocket, or your safe base, crumbles all around you, but it holds just enough for you to make a miracle pitch and and grab needed territory you really shouldn't have had.
And sometimes this happens against a team which had already been coronated as historic, unbeatable all-time champions a year ago.
Another Vid: Since Obama's such a bicycle enthusiast.
Sometimes the leader celebrates before he actually wins.
Thanks to Warden.

posted by Ace at
04:08 PM
|
Access Comments